---
IMAGE ABOVE:   Charles Burwell, Dialogue in Blue, 2013. Acrylic on canvas, 90 x 128 in. On view in Beauty Reigns: A Baroque Sensibility in Recent Painting at the McNay Art Museum. Courtesy of the artist and Bridgette Mayer Gallery, Philadelphia.
---
Abilene
Home on the Range
The Central West Texas region's 22 sparsely populated counties share a history as an important concourse for indigenous people, ranchers, farmers and merchants in the 19th and early 20th centuries. Work by important artists who documented early impressions of the area, historic photographs, oral histories and rarely-seen artifacts from private and public collections reveal a historical link to the area's past. Through Aug. 8, The Grace Museum.
---
Albany
West Texas Triangle: Ken Little
Discarded shoes, bodiless garments, animal masks and figures all suggest the existence of former selves in the work of San Antonio sculptor Ken Little, the selected artist for the 2014 West Texas Triangle exhibition. Little utilizes these "shells" to create works whose sense of humor belies notions of loss, nostalgia, death, voids and emptiness. June 7-Sept. 7,  The Old Jail Art Center.
---
Austin
In the Company of Cats and Dogs
Can you say "summer show"? This one may be a big, fat panderfest, or, if we're lucky, it may have something insightful to say about humans' special relationships with felines and canines. Artists from Goya to Takahashi (Shotei) Hiroaki are included, along with Egyptian sculpture, Chinese and pre-Columbian ceramics, medieval and Renaissance manuscripts, and prints, books, photographs, and paintings from an array of (mostly) Texas museums and UT alumni collections. June 22-Sept. 21, Blanton Museum of Art.
---
Undetermined Matter: Raul Gonzalez & Julon Pinkston
This could make for an interesting pairing of two abstract painters. Pinkston, whose work I've seen in person, slathers AbEx quantities of paint onto small panels, giving them a sculptural feel even as he borrows a trick or two from late 19th-century trompe-l'oeil realists. Gonzalez, whose "werk" I know only from his website, puts whatever the cat dragged in, including spit and duct tape, into his equally formal collages. June 6-July 6, grayDUCK Gallery.
---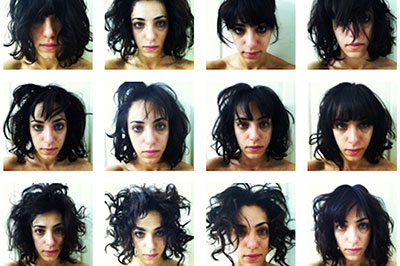 Danielle Georgiou: #hashtag
Danielle Georgiou's videos and photographs "exploit and explore femininity and a desire to document beauty. They investigate the psychological effect of pop culture and social media on perceptions of the female body. The videos raise questions about what are acceptable behaviors in representations of women in popular entertainment, and what activities are condoned by contemporary social norms for women. By calling on female pop artists to provide the soundtrack to her life, Georgiou's self-portraits are a direct response to her desire to be 'perfect.'" Through July 3, Women & Their Work.
---
Jason Middlebrook: Line over Matter
Middlebrook's work features "angular, geometric motifs layered over free-flowing patterns. The hardwood slabs—tall, slender, leaning pieces or smaller works that hang directly on the wall—have natural edges and fluid grain patterns that seem at odds with the crisp designs Middlebrook imposes upon them. Similarly in the works on paper, bold, straight, rigid lines sit on top of subtle, undulating underpaintings; paint seems to muffle whatever is beneath it." Through July 5, Lora Reynolds Gallery.
---
A Secret Affair: Selections from the Fuhrman Family Collection
Installed at Jones Center, with one Jim Lambie sculpture at Laguna Gloria, this group show addresses what senior curator Heather Pesanti describes as the "layers of meaning embedded in representations of the human form and the complex relationship between the dialectics of the viewer and the object." Expect works by Matthew Barney, Louise Bourgeois, David Hammons, Felix Gonzalez-Torres, Jim Hodges, Anish Kapoor, Juan Muñoz, Kiki Smith, Gillian Wearing, and others to tease out those layers, at times with great subtlety and wit. Through Aug. 24, The Contemporary Austin.
---
Dallas + Fort Worth
Archibald Motley: Jazz Age Modernist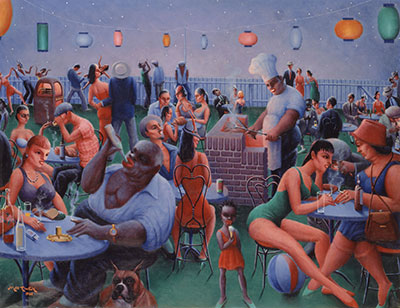 The first retrospective of the American artist's paintings in two decades includes 43 works spanning each period of Motley's career, from 1919 to 1960. Motley's scenes of life in an African-American community, often in his native Chicago, depict "a parallel existence of labor and leisure." His work "examines this community, carefully constructing scenes that depict Chicago's African-American elites, but also the worlds of the recently disembarked migrants from the South and other characters commonly overlooked." The exhibition also features his depictions of Jazz Age Paris and 1950s Mexico. June 14-Sept. 7, Amon Carter Museum of American Art.
---
Mark Grotjahn Sculpture
Los Angeles-based artist Mark Grotjahn came to prominence for "large, richly worked paintings that evoke aspects of contemporary discourse. In two different series—the Face and the Butterfly paintings—Grotjahn used essential subjects to explore textures, colors, and form with refreshing boldness and almost hallucinogenic intensity." Alongside his paintings, Grotjahn has privately made sculpture for more than a decade. The Nasher exhibit, Grotjahn's first sculpture show in a museum, will highlight many new, never-before-seen, three-dimensional works. May 31-Aug. 17, Nasher Sculpture Center.
---
Ben Sansbury: Next, Now, Then
"Whereas Sansbury's work has often been marked by excess and singularity, this exhibition focuses on his ongoing experimentation with simplified, serially produced sculptural forms," according to the Goss-Michael Foundation's website. "Careful meditations on the properties of various 'unknown' architectural structures, a field of freestanding monochromatic objects made from block-moulded plaster speaks not of the particular—but the universal." Through July 31, Goss-Michael Foundation.
---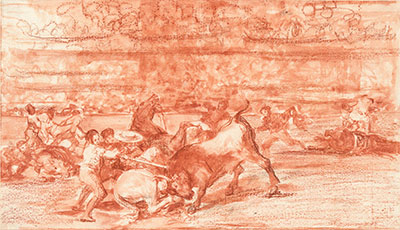 The Spanish Gesture: Drawings from Murillo to Goya in the Hamburger Kunsthalle
The Kunsthalle of Hamburg holds one of the most significant collections of Spanish drawings to be found outside of Spain. Much of the core of today's Hamburg collection was assembled by Bartolomé Esteban Murillo (1617-1682) and was produced in and around the Academia de Murillo he established in Seville in 1660 with Francisco Herrera the Younger, Juan de Valdés Leal, Cornelis Schut and others. Among later works, together with Goya's Tauromaquia prints and drawings from his Album B, the collection holds the majority of Goya's drawings after Diego Velázquez that he subsequently used (or intended to use) for his etchings. Through Aug. 31, Meadows Museum, SMU.
---
MAC@20 Part I
This anniversary group show features The McKinney Avenue Contemporary exhibiting artists from 1994 to 2004. Last chance: June 28, The McKinney Avenue Contemporary.
---
Nur: Light in Art and Science from the Islamic World
Impeccably curated by Sabiha Al Khemir, the Dallas Museum of Art's senior Islamic art advisor, and theatrically installed, Nur (the Arabic word for light) explores the use and meaning of light in Islamic art and science through 150 rarely-seen objects spanning more than 10 centuries. Featuring rare manuscripts and scientific objects from around the world, it may be the most salutary show you'll see this year. Last chance: Through June 29, Dallas Museum of Art.
---
Samurai: Armor from the Ann and Gabriel Barbier-Mueller Collection
The first traveling exhibition in the Kimbell's new Renzo Piano Pavilion traces the evolution of the distinctive appearance and equipment of the Japanese Samurai from the 12th to the 19th centuries. Highlights include warriors' helmets of lacquered metal, adorned with emblems often inspired by nature; combat-ready samurai in full regalia on similarly armored steeds; and accoutrements used both for battle and ceremonies. Through Aug. 17, Kimbell Art Museum.
---
Richard Phillips: Negation of the Universe
Presented in tandem with his monumental outdoor sculpture Playboy Marfa, which will be installed outside Dallas Contemporary, Phillips's first U.S. solo museum exhibition will feature both past and new works that emphasize his career-long exploration of political and social identity, consumerism, eroticized desire and social constructs. Through Aug. 10, Dallas Contemporary.
---
Houston
A Thin Wall of Air: Charles James
The exhibition presents a selection of evening gowns, suits, coats, and daywear from Dominique de Menil's personal collection complemented by furniture James, widely considered America's first couturier, designed for the de Menils and wall colors that evoke their home. Several of James's sketches for furniture and sculpture reveal his working process, and a carefully curated selection of works from the Menil Collection reflect James and the de Menils's mutual affinity for the surreal. May 31-Sept. 7, The Menil Collection.
---
Charles Marville: Photographer of Paris
The first major U.S. exhibition of the 19th-century French artist features his rigorously composed, highly detailed prints that he made beginning in the early 1860s as official photographer for the city of Paris. Marville has long been a mystery, partly because documents that would shed light on his biography were thought to have disappeared in a fire that consumed Paris's city hall in 1871. However, new research has helped to reconstruct his personal and professional biographies. June 15-Sept. 14, Museum of Fine Arts, Houston.
---
Francesca DiMattio: Housewares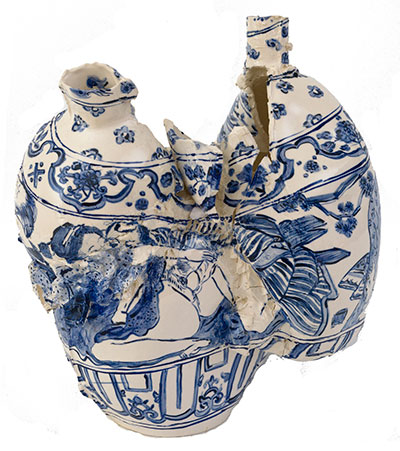 Treating her canvases like a stage set, DiMattio creates intricately layered scenes where architecture, furnishings, objects and figures collide in a continually shifting plane. The same is true for her sculpture. DiMattio's earlier work referenced the genres of history painting and landscape, but since 2010 her focus has shifted to the still life and domestic interior. It is in this context that she began making ceramic vessels, or, more precisely, sculptures about vases, and more recently sets of tea cups and pots. Like the paintings, the sculptures fuse together different traditions and techniques, ranging from 17th-century French Chinoiserie to mass-produced kitsch tchotchkes to the molten forms of Peter Voulkos's sculptures. June 1-Aug. 30, Blaffer Art Museum.
---
Liz Ward: Drawings for Unchopping a Tree by W.S. Merwin
Ward's paintings, drawings, and prints are informed by natural history and the environmental crisis. This exhibition features works created for illustrated gift edition of poet laureate W. S. Merwin's story about how to resurrect a fallen tree. June 7-July 5, Moody Gallery.
---
Alongside
This group show features new paintings by Ditte Ejlerskov (Sweden), Robert Kelly (New York), Mie Olise (Denmark), and Matthew Satz (New York); a site-specific installation by Paul Fleming (Houston); sculpture by Joe Mancuso (Houston); and a concrete collage on panel by Troy Stanley (Houston). The exhibit also includes a ten-part monoprint by Israeli-born Yizhak Elyashiv (Providence) and a large-scale print installation by Ruth Shouval (Houston). May 30-July 3, Barbara Davis Gallery.
---
La Frontera
Curated by Mike Holmes and Elizabeth Shypertt, founders of San Francisco's Velvet da Vinci gallery, and Mexico City-based jewelry artist Lorena Lazard, La Frontera (The Borderlands) is an international exhibition of contemporary jewelry that explores the physical space where the complex relationship between Mexico and the United States is most evident. Ninety artists from the U.S., Mexico, Europe, Australia, and Latin America explore the underlying currents of the border environment within geographic, political, social, cultural, and ideological contexts. May 30-Sept. 7, Houston Center for Contemporary Craft.
---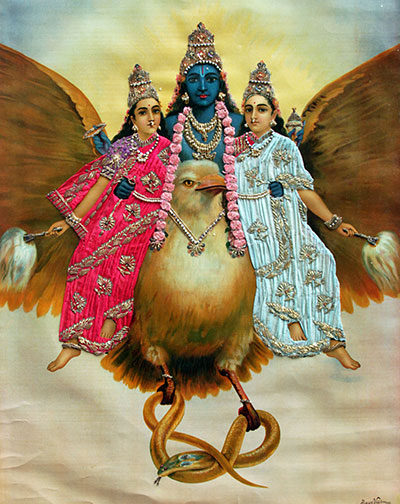 Transcendent Deities of India: The Everyday Occurrence of the Divine
This group show marks the first joint presentation in Texas of works by photographer Manjari Sharma, graphic novelist Abhishek Singh, and the Raja Ravi Varma Press. The three artists render Hindu gods and goddesses in modern and contemporary forms to refresh the classical imagery, resituate the deities in the viewers' frame of reference, and ensure their applicability in new eras. Through Sept. 14, Asia Society Texas Center.
---
Sharon Kopriva: Illuminations
In 2013, Kopriva was invited by the Art Museum of Southeast Texas to participate in the exhibition Mirrored and Obscured: Contemporary Texas Self-Portraits, which prompted her to address her physical image in her art. The results are her first self-portraits, though the works continue her ongoing themes from nature, life and death, and "the human relationship with the spirit and the self." Last chance: Through June 26, Deborah Colton Gallery.
---
Melanie Smith
"Smith's cinematic work has been moving towards painting since 2010," writes A+C contributor Michael McFadden. "This evolution in her practice comes from the transference of the sense of illusion, ever-present in painting, to the screen. It also acts as an extension of the story she was already telling. While before she would focus on her adopted city, she began to extend it into her personal history, adding narrative tension to the newer work. These new components—sensuality, surrealism, and humor—make her latest films and sculptures more seductive than her previous work." Last chance: Through June 15, Contemporary Arts Museum Houston.
---
Dinh Q. Lê: Crossing the Farther Shore
The artist presents an architectural installation of black-and-white photographic ephemera taken from the Vietnam War era, pre-1975. They are stitched together in monumental grids and paired with text handwritten on the back of the photographs. Through Aug. 28, Rice University Art Gallery.
---
Marfa
Sound Speed Marker: Theresa Hubbard and Alexander Birchler
"Through three video installations—Grand Paris Texas, Movie Mountain (Méliès), and the premiere of their most recent film, Giant—Hubbard/Birchler frame the traces that filmmaking leaves behind in physical places as well as in people's psyches," writes A+C contributor Nancy Zastudil. Sound Speed Marker also includes related photographs and a comprehensive catalogue due to be published in December. Through July 31, Ballroom Marfa.
---
San Antonio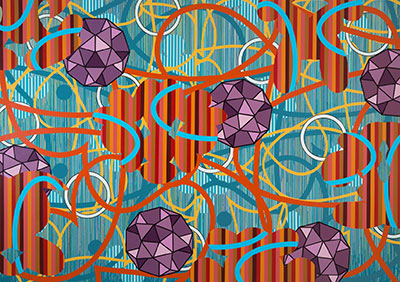 Beauty Reigns: A Baroque Sensibility in Recent Painting
This exhibition, organized by René Paul Barilleaux, the McNay's chief curator and curator of post-1945 art, assembles the work of 13 emerging and mid-career abstract painters whose art is characterized in whole or part by high-key color, obsessive layering of surface imagery, use of overall and repeated patterns, stylized motifs, fragments of representation, and a tension between melancholy and the sublime. The show includes works by Jose Alvarez, Kamrooz Aram, Charles Burwell, Annette Davidek, Fausto Fernandez, Nancy Lorenz, Ryan McGinness, Beatriz Milhazes, Jiha Moon, Paul Henry Ramirez, Rex Ray, Rosalyn Schwartz, and Susan Chrysler White. June 11-Aug. 17, McNay Art Museum.
---
Spinning Yarns: Photographic Storytellers
Curated by Anne Leighton Massoni & Libby Rowe, the traveling exhibition consists of 64 works by 23 artists focused on photography as a medium for storytelling and discusses the roles photographer, viewer and the image play in constructing narrative. This group show includes works by Bess Bieluczyk, Andy Bloxham, Darren Harvey-Regan, Priya Kambli, Libby Rowe, and Ruth Zelanski, among others. June 5-Aug. 3, Blue Star Contemporary Arts Museum.
---
GAGA: ROYGBIV
The Gentileschi Aegis Gallery Association (GAGA) presents a new collaborative work based upon the "roygbiv" color gradients. The organization's full name is a nod to Artemisia Gentileschi, a painter from the Early Baroque period, and invokes the protection of the Greek goddess Athena's shield, Aegis, named in "The Iliad." Benitez, an instructor at the Southwest School of Art, formed the organization to fill a void in promotion of mature women artists. Through July 3, Southwest School of Art.
---
Tyler
Mediterranea: American Art from the Graham D. Williford Collection
By the late 19th century, American artists began to show an expanded interest in points beyond the traditional cultural centers of France, Italy and Germany—casting an eye on Spain, the Holy Land, Egypt and much of northern Africa. Artists including Frank Duveneck, Charles Caryl Coleman and William Merritt Chase became captivated by the aspects of nature and culture they believed to define the Mediterranean: its distinctive flora, the legacy of the Greco-Roman past, and the influence of Christianity and Islam. Last chance: Through June 29, Tyler Museum of Art.
Email visual-arts submissions with hi-res images by June 13 to devon@artsandculturetx.com.
—DEVON BRITT-DARBY