Texas isn't the first state that people think of when it comes to Latinx playwriting. Perhaps due to coastal bias, people inevitably think of New York or California. And, while those places have been fruitful for Latinx theater artists, they aren't the only places Latinx playwrights call home. Texas is home to a growing cohort of Latinx playwrights working in all parts of the state who have chosen to remain here despite the unique challenges that they face as artists of color in the Lone Star State.
Playwrights such as Marisela Barrera, Marissa Castillo, Liz Coronado Castillo, Adrienne Dawes, Josh Inocéncio, Franky Gonzalez, Virginia Grise, Rhett Martinez, Briandaniel Oglesby, Amalia Ortiz, Rupert Reyes, Angeles Romero, and Jesus Valles call Texas home. Even though they find work all across the country, Texas is where they have chosen to establish roots and work to change the state's theatrical landscape to be more inclusive and representative of the Latinx community.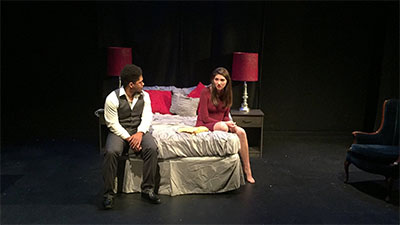 Finding support networks and artistic homes is a common challenge among Texas Latinx playwrights. For Austin playwright Adrienne Dawes, Salvage Vanguard Theater and ScriptWorks have been her most consistent artistic homes through funding opportunities, commissions, development grants, and productions. But, as an Afro-Latinx artist, Dawes has faced opposition from many who see her work as "not Latinx enough" in addition to the difficulties of being a playwright without representation when many of the state's larger regional theatres operate exclusively on closed submissions (read: agent submissions only). What is more, very few big theaters in Texas have new play programs to cultivate and maintain relationships with Texas writers, much less playwrights of color.
"I often write mixed-race Latinx characters and more often than not, the feedback I get that casting is just 'too difficult' in this region—despite the vast diversity of talent we have here," claims Dawes. "Or sometimes my plays are viewed as 'not Latinx enough' because they center around Black and Afro-Latinx experience; or sometimes they are 'not Black enough' because they center around Latinx experiences." Since producing is already a part of Dawes' artistic practice, when she encounters those kinds of roadblocks, "I will just produce the damn play myself."
Some artists have been able to leverage support networks across the state. Such is the case with Houston-based playwright and performer Josh Inocéncio, who toured his solo show Purple Eyes to Austin, Houston, Seguin, College Station, and the Rio Grande Valley before the show's premiere at Stages Repertory Theatre in 2018. The engagement at Stages proved quite fruitful: Following Purple Eyes, Artistic Director Kenn McLaughlin directed a workshop of rehearsals for Inocéncio's next play, Chocolate Gravy & White Jesus. These local successes have, according to the playwright, given him a "playwriting home."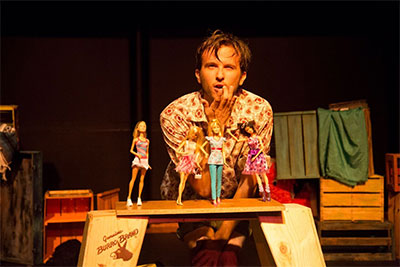 "There's always a temptation to move to New York or Los Angeles, whether it's picturing ideas of playwright 'success' or wanting to join colleagues in the field," notes Inocéncio, adding, "It can also be challenging to find work in Houston that allows you to pay rent but gives you enough time to focus on your writing."
Houston's Marissa Castillo echoes Inocéncio's thoughts about the economic challenges that accompany playwriting. Castillo adds that opportunities for local artists are few and far between. "As a Latina artist, I find that many are excited and enthusiastic about the idea of more Latinx work," claims Castillo. "However, I find that when it is time to show up and support the work, attendance and local funding is lacking." Readings of Castillo's plays by 50 Playwrights Project, the Alley Theatre's El Zocalo Festival, and TEATRX have provided space to develop her work and build a local audience, but Castillo is still waiting on more opportunity.
Franky Gonzalez, who calls Dallas home and is the DFW Regional Representative for the Dramatist Guild, has received space to write and develop his work at Bishop Arts Theatre Center, The Core Theatre, and Dallas Theater Center. Even so, Gonzalez believes that one of his greatest obstacles as a playwright is simply living in Texas. According to Gonzalez, "Because our plays are not coming from places associated with theater like Chicago or New York City, it can at times feel like there is a wall keeping local playwrights from being able to see their work presented in their hometowns." Gonzalez sees being Latinx as an additional obstacle to getting rare opportunities for local artists due to limited resources and, therefore, less time to write and network. Much like the other playwrights I interviewed, Gonzalez has self-produced his plays as a necessary means to getting the work seen.
One thing is certain—finding success as a playwright is difficult. In combination with roadblocks such as being a person of color, Latinx playwrights face a rocky road toward artistic success and financial stability in Texas. Even so, these writers remain in the Lone Star State and are dedicated to using their craft to make Texas a better home for Latinx theatermakers.
—TREVOR BOFFONE