Dorothy Hood (1918-2000) Untitled, late 1980s Oil on canvas, 96¼" x 120¼"
---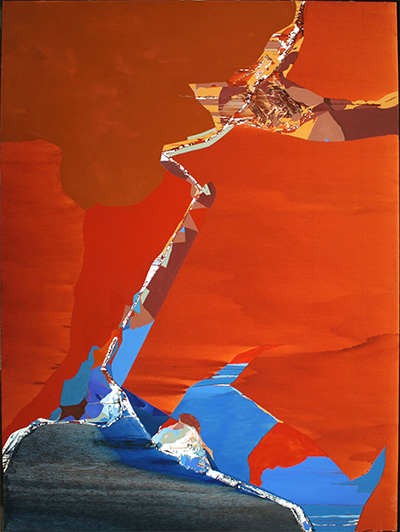 Dorothy Hood's artwork is a reflection of a life of unapologetic independence. Before man walked on the moon, the Texas native began making her own trailblazing discoveries in the art of abstraction. She risked everything to take one large step out into a male-dominated art scene.
In The Color of Being/ El Color del Ser: DOROTHY HOOD (1918-2000), which runs at the Art Museum of South Texas in Corpus Christi through Jan. 8, revisits the life and legacy of Hood. Through the exhibit and the publication of a companion book, the museum hopes to share the story of how Hood harnessed her own counter cultural thought to become one of the first women to venture into the art of abstraction.
"The aim of this book and this exhibition is to establish Dorothy Hood as a major American artist of the century and really put her on the national radar by sharing this story that nobody else knows," author and guest curator Susie Kalil says. "Texas will never be considered a major art center until its history and artists are documented and honored."
Hood's journey from a conflicted child to a revolutionary artist began with a search for self.  She absorbed every moment of life and then wrung it out in search of meaning until the only thing left dripping from her experiences was color.
"We have forgotten about what art can do and how it impacts our daily passage with one another and how we make our way through the world. Art gives us meaning," Kalil says. "None of her work is abstract in the sense of unpremeditated slathering paint. All of it is about meaning. Every single piece."
Her desire was to leave that all in front of the viewer to create a visceral reaction.
"We're all searching for meaning of spirituality, meaning in this world, and Dorothy has a lot to tell us," says Kalil. "Her art is extremely complex and very psychological. One time, I asked [Hood] what she wanted the viewer to take away. She told me she wanted the viewer to hear the drums beat and the lion roar."
The project began four years ago when Kalil scoured the museum's collection of Hood's personal effects and artwork. Rifling through leaflets of paper ranging from journal entries to receipts, Kalil began to piece together Hood's life.
The resulting retrospective exhibit will include works gleaned from collections across the country, from the Museum of Fine Arts, Houston, the Modern Art Museum of Fort Worth, the Blanton Museum of Art, the Whitney Museum of American Art and private collections.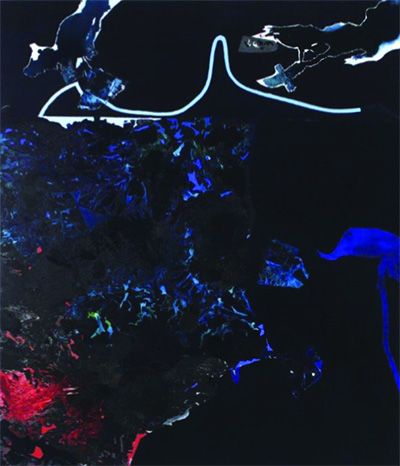 Hood's story starts as the daughter of a Houston banker and a poised mother. She had a comfortable life — until she didn't.  At 11 years old, Hood's life shattered at the divorce of her parents. Hood moved with her frail, tuberculosis-ridden mother to Colorado. When her mother's condition worsened to the point she was admitted to a sanitarium, Hood moved again with family members in Indiana. The ordeal took a physical toll on the isolated child. She developed severe pneumonia and was unable to walk for a year. Were it not for that isolation, Hood may never have unlocked the introspection and drive to move forward.
In Hood's adolescence, she blossomed into an active talent who began to experiment with illustrations at the annual summer camp she attended. That escalated throughout high school, and Hood earned a scholarship to the Rhode Island School of Design where she continued her higher education.
But she traded in the rigid structure she learned at RISD to live in the Big Apple. Her elegant features suited her lifestyle, and Hood took up modeling as a way to pay for art classes and the glamour of living in New York City.
New York had excitement, but she craved originality. On a whim, she and friends hopped in a sputtering roadster and drove to Mexico. The trip was supposed to be only two weeks, but when Hood arrived, the country and its people wooed Hood to stay for more than 20 years.
In Mexico, she rubbed shoulders with some of the country's biggest creative producers and thinkers at the time: Diego Rivera, Frida Kahlo, Pablo Neruda and José Clemente Orozco to name a few. She danced, dated, loved and rejected. All the while translating these experiences into color influenced by Mexican surrealism. It was in Mexico that she found her husband, Bolivian composer José María Velasco Maidana.
Hood aligned her intellectual discipline with her overwhelming sense of wanderlust and discovery to create. Her time in Mexico did much to shape her personal growth, which Kalil has honored in this retrospective by ensuring the project was bilingual.
Her story did not end in Mexico. She and Maidana moved back to Houston where she would be acknowledged in the art community, but never completely found her big break. Despite her ability to capture a spirit of innovation, exploration, science and progress in art, she never saw the recognition she deserved during her lifetime, Kalil says. She taught and painted and formed grandiose depictions of the cosmos, terrain and ocean depths, but her works still ended up archived or tucked away in private collections — dormant until now.
Kalil believes the exhibit can cause a reawakening in our culture, inspiring advocates to rally behind Hood's story and relevance, uncover other under-appreciated artists or provoke new thought.
But that impact is not left to the curator. It is in the viewer's hands. "Sometimes an artist's story and work gets lost in the shuffle. This is what I've learned from Dorothy: One's story is not over. It continues on and on, but you have to have someone there to interpret it. Nothing really ends. Her story, I think now, has even more relevance," says Kalil. "As a culture everything is very quick. Everything has been taken down to a soundbite. Dorothy teaches us to go deep and search for substance."
—ESTHER MARIE HACKELMAN