---
IMAGE ABOVE: Joe Kirkendall and Elizabeth Marshall Black the Main Street Theater's production of Heartbreak House. Photo by RicOrnelProductions.com.
---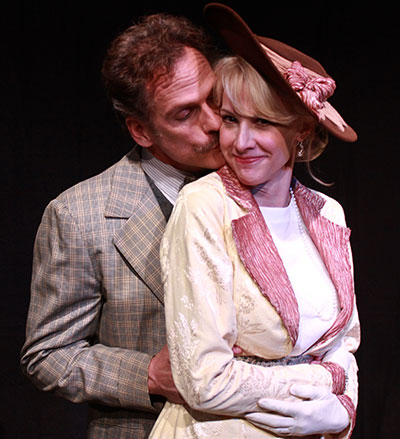 Joe Kirkendall takes on the role of Hector Hushabye in George Bernard Shaw's biting satire, Heartbreak House at Main Street Theater, May 8-June 1. He worked at MST steadily in the late 1980s and early 1990s and then, in 1997, left for Los Angeles. After MST artistic director Rebecca Greene Udden lured him back to Houston in 2012 with Tom Stoppard's The Coast of Utopia, he's back in leading man roles at MST. In addition, he's taken on the added responsibility of helping with the capital campaign to refurbish Main Street Theater's Rice Village home. He visited with A + C editor in chief Nancy Wozny on getting to the heart of Heartbreak House, the new building and all that has changed since his return.
Arts + Culture: I grew up a stone's throw from the Shaw Festival in Niagara on the Lake, which means I experienced a hefty dose of Vitamin GBS. What of Shaw's works are in your blood?
Joe Kirkendall: How wonderful that must have been! My first exposure to GBS, like many of my vintage, was probably as a kid, looking at the Al Hirschfeld caricature of him as a God-like puppeteer controlling Rex Harrison (who is, in turn, playing puppeteer to Julie Andrews) on the original cast album of My Fair Lady. Naturally, it took me a while to figure out that the bearded man isn't part of the cast, and that he actually wrote Pygmalion, the play My Fair Lady is based on. As a result, I became obsessed with reading the play and understanding how Alan Jay Lerner masterfully used as much GBS as he did in the musical's book and libretto. The 1938 "modern dress" film version with Leslie Howard and Wendy Hiller is interesting to watch, too. It was a great way to start reading his plays, so – yes – musicals can be a good gateway to literature! The first time I got to act in a GBS play was as "Bill Walker" (the angry Cockney guy) in Major Barbara when Main Street did it way back in 1991.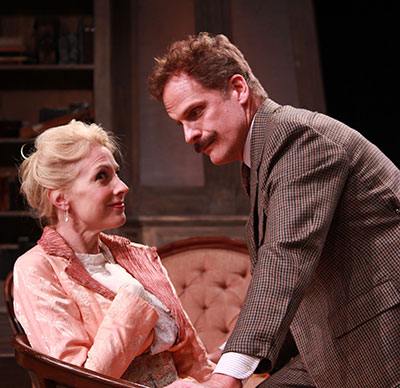 A + C: I wonder how many people wandered into planet Shaw through My Fair Lady? Let's get to Heartbreak House, which Charles Isherwood describes as a comedy about "British gentry waltzing toward the apocalypse." It takes place on the eve World War I, but was written post war. How do you take in the circumstances of Shaw's time in your process?
JK: In my research, I've found that Shaw, who very much objected to the war,  emerged from WWI in a darkly cynical state, and that his hopes for mankind's long-term survival were dimmed, thus the play's foreboding feeling. He was in his 60s by then, and he obviously gives crusty old "Captain Shotover" many of his own trenchant observations about society and commerce and war. Shaw seemed to love the idea of munitions (a motif he used earlier in Major Barbara), specifically dynamite: the kind used by mortals to blow things up and the verbal variety that he could write so brilliantly and use to lay waste to his lessors. He lived until 1950, so he definitely saw mankind take the whole munitions idea to a new extreme.
A + C: Isn't there some drumming or rumbling near the end of the play?  Please don't blow anything up over at MST, you are in building mode!
JK: Frankly, I wouldn't mind if the rumbling battlefield sound effects – that Heartbreak House's clueless characters begin to notice in the third act – hastened the demolition! Less for the construction crew to do come November, when Main Street's big renovation begins.
A + C: You are funny, and we will get MST's new digs in time, but let's get to the role of Hector Hushabye, the dashing man about town. So you! No?
JK: I wish! Hector is ridiculously confident of his charms, and enjoys traveling around and spinning tales of adventure and derring-do to captivate young ladies (like the lovely Joanna Hubbard). In typical Shaw fashion, he is also in the thrall of his free-spirit wife, Hesione (played by the bewitching Celeste Roberts), yet manages to find time to make (verbal) love to Hesione's visiting sister, Ariadne (played by the equally bewitching Elizabeth Marshall Black). As you can see, I've got my hands full. Except for my currently bushy moustache (specified by Mr. Shaw in the script), I am not much like Hector, which makes it great fun to play.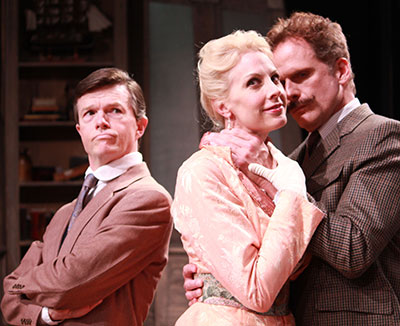 A + C: Hector sounds like a positively dreamy role for you. But, as GBS is so more talk than action, how do you shape your performance for modern ears?
JK: I think this is where MST's intimate size becomes so valuable. The actors are mere feet away from you most of the time, so it's very hard to miss the intentions and emotions that are afoot – if we're doing our jobs well, that is. And I think GBS is naturally more accessible to the modern English-speaking audience (than, say, the Bard) since he was writing in the 20th century. The language is so delicious, so perfectly constructed, that it would be hard not to enjoy it.
A + C: On the subject of luscious language, wasn't it Stoppard's The Coast of Utopia that brought you back to Houston and Main Street Theater? The production of the trilogy proved a historic event for Houston theater.
JK: Indeed it was. I was working at a non-profit in Los Angeles and hadn't acted in about five years when Becky Udden, after having me send her a YouTube video of me stumbling through a few of the Coast monologues, invited me to come home and dive into that big project. It changed my life!
A + C: How so?
JK: I had never been entrusted with such a huge part before. Playing the same character through three full-length historical dramas, and having a line load like that, tested me to the limits, especially after I had been away from theater so long. There were many, many times when I seriously doubted I was going to be able to deliver. Tom Stoppard plays are never for the faint-of-heart; they are broad-shouldered and full of lush words and big ideas – and Coast involved a period of Russian history that is really little known in the U.S. It was complex, dense storytelling, and I had forgotten how to learn dialogue and monologues.
A + C: Becky showed remarkable leadership throughout this project.
JK: To her great credit, Becky never wavered in her belief that we could do it, despite the hectic rehearsal and performance schedule and big cast. Her attitude was the engine that kept us going for four months on that project. One of the greatest memories I'll ever have, and one which I have to always thank her for, is performing all three plays in a row on closing day. Thinking about that very last scene, with Guy Roberts, Kregg Dailey and I together as (truly) exhausted old men, still makes me smile/cry. We had been through such an adventure!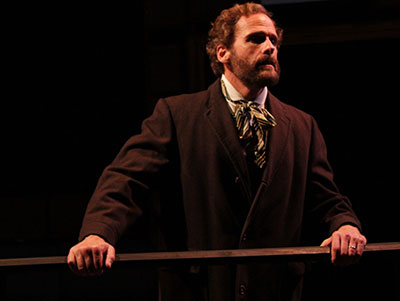 A + C: Did you miss acting during those five years?
JK: Oh, yeah. Definitely. I had gotten very discouraged, though, with the really bad theater I was doing in Los Angeles. People often don't believe me when I tell them this, but the variety and quality of theater in Houston is so far and away better than what is going on in Los Angeles it is comical. I'm not saying talented people aren't doing good stuff out there, but the preponderance of "showcase" theater – productions designed to lure those elusive casting directors to a performance – kind of suck the life out of you after a while. I just decided to stop acting for a while, and my job at the nonprofit got really busy, so away I drifted.
A + C: You have taken on a larger role at MST in their renovations. What made you want to do more than act?
JK: Well, I basically opened my big mouth! When I came back to town, I noticed that Main Street's Times Boulevard space looked almost exactly as it had looked when I left town in 1997. Same funny, leaky building that we all loved but that needed some serious "tender loving care". I asked Becky why no improvements had been done in all that time and she said, "We have a capital campaign committee formed, why don't you come and be a part of it?" Being on this committee then morphed into having a more formal part-time job of fundraising and managing the campaign.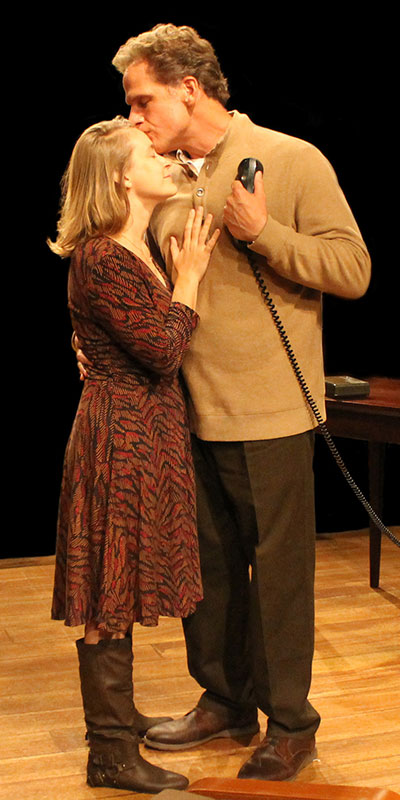 A + C: You have some background in this kind of work, right?
JK: Yes, my degree is in environmental/interior design from UH, so it's been a blast to work with the architects and use my perspective as an actor to help design the space and then turn around and talk to potential donors about it. What's so great about the project is that Main Street will have the same number of seats, the same intimacy, the same unique feel. We're just making it a much more comfortable building, with an auditorium that will allow for such greater freedom for the directors and designers and actors. We're scheduled to begin construction at the end of the year and, hopefully, be ready to open the renovated Main Street Theater in June 2015. My big takeaway: be careful what you complain about!
A + C: You were away from the Houston theater scene for 15 years. What has changed for the better?
JK: A lot, really! When I came back to town, I immediately noticed a lot of new (to me) people who were producing fresh and provocative theater: Philip Lehl and Kim Tobin Lehl, Jennifer Decker, JJ Johnston, Jordan Jaffe, and Michael Ross, in addition to the "old timers" like TheaterLaB, The Ensemble, Main Street, Stages and the Alley, who were all still presenting a wonderful range of new and old works. In addition, you have people like Tom Stell at Obsidian Art Space taking a gamble on a terrific play like Ruined by Lynn Nottage, or Paul Hope and Sharon Williams (with Bayou City Concert Musicals) producing a vintage musical in concert every year with a full orchestra.That takes guts! Producing theater is terribly hard to do, and doing it well while paying the artists is even harder.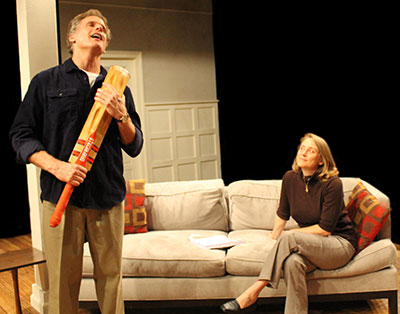 A + C: Paying artists better is on everyone's mind. Where else is there room for improvement?
JK: I also see a city that, because of its unprecedented growth and rising real estate prices, does not have enough affordable rental theater space. You have all these really talented young people coming out of UH and Sam Houston State University who want to work, and might be willing to roll the dice and produce their own stuff, but have no where to do it. The new MATCH theater complex in midtown, across from the Ensemble, will help alleviate that a bit, but it would be great to see even more attention given to this problem by the City of Houston, Harris County and the business community. Finally, because I like to sing, I think Houston is absolutely ready for a new 400-seat Actors' Equity-affiliated theater that produces musicals year-round with local talent and affordable ticket prices. There is an unbelievable array of musical talent in Houston that should be working constantly. As you can see, I've got a lot of big ideas. But I need to get Main Street Theater rebuilt first.