Joel Grothe as Thomas Cromwell in the Main Street Theater's production of Hilary Mantel's Wolf Hall Part II: Bring up the Bodies, through Dec. 19.
Photos by Pin Lim / Forest Photography.
---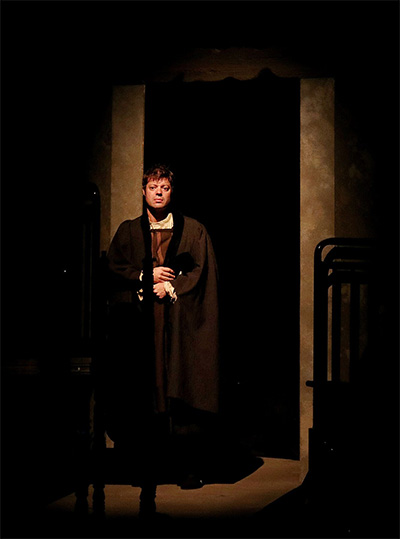 Joel F. Grothe holds court as Thomas Cromwell in Main Street Theater's production of Hilary Mantel's Wolf Hall and Bring Up the Bodies, through Dec. 18. Grothe's stoic/stunning performance as Cromwell had Houston theater fans wanting to know more about the actor, who is relatively new to the Houston scene.
Grothe has a M.F.A. in acting from the University of Virginia and a B.A. in English from the University of Toronto. He trained at the American Shakespeare Center, the Lessac Training Institute for Voice and Body, as well as with Tom Todoroff and Tom Logan.
In Houston, Grothe has appeared in MST's Peace in our Time and in Houston Grand Opera's Seigfried and Die Walküre. He is an Assistant Professor in the Department of Theatre & Dance at Lamar University, where he is directing a trio of Harold Pinter plays later this season. Grothe visited with A + C editor in chief Nancy Wozny on all things Cromwell and his varied life in theater.
Tell us about being Thomas Cromwell.
It's terrifying. It's humbling. It's given me great perspective and it's been an incredible opportunity and experience for which I will be ever grateful to Becky Udden and Main Street for.
How did you prepare? Did you take the history nerd approach and devour Mantel's books, watch the PBS series, or what?
I sat upstairs in my house this summer with our dogs while we had our floors done and read the books. I watched the mini series (I'm watching it again right now with one of my classes). I read Peter Ackroyd's history of the era and a Cromwell biography, and I read the script a lot. All that stuff helps, but ultimately all we have is the play script. Mark Rylance is a brilliant actor, but that kind of subtlety doesn't carry on stage, and the words are far more important in the play as well, so you have to do something different.
I understand that you were on stage for all of five minutes in Peace in Our Time, your first gig with MST. Wolf Hall is significantly different. The only time you are not on stage is during intermission. Watching you in Part II Bring up the Bodies is even more rigorous. What is the challenge for you to sustain an arc for three hours straight and over two plays?
I've joked that the next play I'm in, I want to be in one scene with my friends, and then be able to sit backstage and visit with them the rest of the time. That's how Peace in our Time was, but it was a great experience.
There's a lot of hanging around in the performing arts for sure! Not much of that for you in Wolf Hall.
Cromwell is a bit of an upgrade! He doesn't appear in one very short scene in each play and he is off stage for no longer than two minutes at any other time. The main challenge is energy. Cromwell has this massive interrogation scene in part II where he goes from cell to cell of all the prisoners. In the process, I could feel the bottom falling out here and there. It ends with a very short exchange with Anne Boleyn (Lisa Villegas) and that little scene was the hardest in the whole process to remember the lines for (Lisa helped me out so much!) because the energy was starting to drop.
I never noticed the energy drop. But what do you do when it does?
So you just have to find more of it. The quiet, still scenes need the same focus and rigor as the more active scenes. I run a couple miles as many times a week as I can find time to. I do yoga. I usually eat two or three power bars before the show/ during intermission. Beyond energy, the challenge is finding variety moment to moment; trying to be different to keep the audience engaged and keep the story clear. Once you've sorted out a lot of the technical aspects of the show (lines and blocking) a lot of that seems to take care of itself. And Becky and (assistant director) Elizabeth Black were a huge help in finding nuanced moments of difference.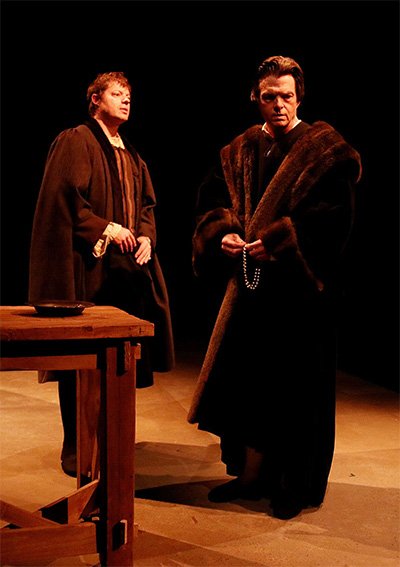 Cromwell didn't amass power by shouting. You have a very resonant quality to your voice, which contributed to the stamina of our attention spans.
Well, shouting on stage isn't very interesting anyway, not for more than two or three seconds. And as you mentioned, when the actor's voice is strained it shows and you become aware and sometimes concerned for the actor, much like in a poorly choreographed fight scene. I was born with a good voice – the breadth of my tonal range tests in about 2 or 3% of the population.
What about your training?
I have had great training. Kate Burke was my voice teacher at UVA and I worked with her every day for three years. She is an incredible person and teacher, and I learned so much from her. The methods I use to train are based in the teachings of Arthur Lessac, who was this incredible vocal/ physical powerhouse of a human being who lived into his 100's. Beyond UVA, I trained at the Lessac institute with Barry Kur, and also with Jan Gist at the American Shakespeare Center and Andrew Wade, who used to be the voice coach for the RSC. Lessac teaches what I call an organic, holistic approach to voice and vocal resonance. The short answer to all of this is that I work with my voice every day, and on performance days I warm up for at least 30 minutes doing a variety of techniques I learned in the Lessac method. I couldn't do the show each night if I didn't.
From Wolf Hall you turn to Pinter. It seems like an interesting choice to go from ultimate political animal to the master of menace. And, Houston has not seen a Pinter play in a long time. What are you excited about in bringing this material to your students at Lamar?
Harold Pinter holds a special place in my heart. I got to hear him speak at a PEN international event in 2001 in Toronto. He had an incredible cryptic sense of humor, and was so smart. His plays fall into the category of what I like to direct: British, classic, and not very often staged, especially at other universities. They're not exactly box office gold, as they tend to leave their audiences confused and disoriented.
Yes! I am still dazed and confused from an Irish Classical Theatre production of Pinter's The Birthday Party in Buffalo a while back.
I also think there are few directors who really understand what he was creating with "short pause/ pause/ silence" in his plays. The Soulpepper Theatre company in Toronto revived The Dumb Waiter and No Man's Land pretty successfully in the early 21st century, and of course there is that legendary production on Broadway of The Homecoming starring Ian McShane, but they are a huge risk for commercial theaters.
You just explained the Pinter drought in Houston. Your students are a lucky bunch.
I'm excited because I've never directed any of his plays before and they are truly their own unique challenge as a script. My students get the rare opportunity to take on such a challenge. And I'll be interested to see how the audience responds. Lamar/ the Beaumont community tend to take things at face value. A lot of our audience has never seen a play before. How they respond will be an interesting critique on the legacy of his work on stage.
How is it juggling teaching and being on stage?
Lamar is incredibly supportive of me and my professional work. But, if I had known about this farther in advance, I probably would have tried to go on sabbatical. My friend Amelia Fischer from Atlanta was directing at Lamar earlier in the semester and she bailed me out for awhile, but then she had to go back! It's a difficult balance; I can't always find time to do everything in a day. I can't go to everything I want to. So I try to never say I'm going to be some place I'm not. I don't honestly know how anyone acts with a full time, five day a week 40-hour job. And my wife is a band director so we haven't seen each other much. But I do get a nice break from school once the show closes.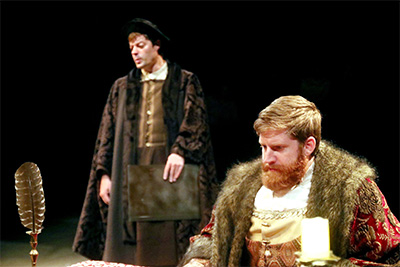 Give us a glimpse of your work at HGO in Seigfried and Die Walküre. What, no talking?
These are HGO co-productions with the Spanish company La Fura dels Baus. Carlus Padrissa and La Fura did the opening ceremonies at the Barcelona Olympics. They started doing street theater but have evolved into producing these incredible spectacles. The actors are the machines in their productions and make everything happen. One year I helped drive a crane, the next I played a robot, a lizard, a tree in the forest and a bunch of other things. They bring other actors from Spain each year and I love to collaborate with them. The associate director – Esteban Munoz – is a super interesting guy and he has such a different theatrical vocabulary than me. It's such a different experience. And HGO treats their actors very well. Their company manager (Lisa Oswald) is a great person to work with. And believe it or not, the singers they employ are some of the nicest people you will ever meet, incredibly talented, and appreciative. But no, no talking; a nice change of pace.
You have lived in several big theater towns (Toronto, Minneapolis, Chicago). How does Houston stack up?
I love Houston.
Correct answer! Carry on.
All of the places I've lived are different but there are the same kind of people in all of them, you just have to find them. I was also younger and single when I lived in those other places so my perspective is a little different than it would be now. Toronto has more going on- if you're Canadian and you want to be an actor, you really have to be there. The really big repertory theater are actually outside of Toronto (Stratford Festival in Stratford and Shaw close to where I grew up in Niagara-on-the-Lake) but there is still a lot of work in town. Toronto has a Fringe Festival in the Summer that is the envy of all other Fringe Festivals, save Edinburgh. The professional theaters are very protective of what they have and they are very hard to get in with. Minneapolis was a great place to live- there is a real sense that if one person does well, everyone will do well. People were so welcoming to me as an outsider – I still have a lot of friends there. I also think those cold weather cities really cash in in February because people just want to get out by that point, and are happy wherever they are to be out. I remember in Toronto, anytime I was ever in a show in February, anywhere, it was full and the audience loved it.
Enough about Canada! This is a Texas magazine. Now what were you saying about loving Houston?
I think Houston is a great place to be. Even since 2009 the landscape has changed and grown dramatically. I honestly wouldn't want to live anywhere else, and it is a vibrant, diverse international city where there is a great deal of patronage for the arts.
Your career has spanned running a theater company, being an educator, actor and director. Where in this ecology are you most engaged?
I wasn't a great artistic director.
Most theater folks (especially in Canada) have watched enough Slings and Arrows to know that it can be a hard, and sometimes thankless job.
I've grown up since then, but I still don't think I have the Becky Udden sociability and temperament, which is so much a part of the job. I reached a point with that company where I felt I could do all I could do, and someone else came along after me and they thrived even more. I don't think I'd like to do that again. I'm a lifelong learner; I'm not interested in doing anything that is business as usual. So, I'm completely invested in whatever I am doing at the time. But one thing is not enough either. I think it will eventually come down to being a professor or administrator and focusing on that. It gets more difficult, the more you move up the ladder in academia, to be away more and more. But I always like to keep my options open.
You have gotten rave reviews and the role of a lifetime. How can you top being Thomas Cromwell, unless Part 3 comes along? If so, you in? It doesn't turn out well.
What, it doesn't?
Especially for Ol' Tom C.
The book isn't even finished yet. It will be another year for the play and then at least another year for the rights to be available regionally. So I've got some time before part 3. I don't know how to top it; I'm just focused on enjoying it as it happens. I have most of next year planned already with a few gaps to do some things with my family and watch a lot of baseball. I'll be ready for whatever comes next, even if that is bird watching in Louisiana.
—NANCY WOZNY