Motionhouse Returns To Texas
---
IMAGE ABOVE:  Motionhouse in Scattered. Photo by Chris Nash.
---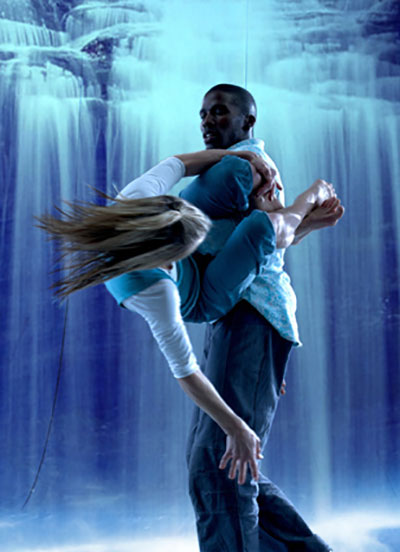 Motionhouse's Scattered proved a big hit in Houston last Winter through the troupe's appearance at Society for the Performing Arts. The UK-based multi-media movement troupe returns to Texas with shows at ARTS SA (April 9,  San Antonio's Carver Center), Texas Performing Arts (Austin, April 11 at Bass Concert Hall) and TITAS in Dallas (April 12-13 at Dallas City Performance Hall). Scattered is a collaboration between Motionhouse artistic director Kevin Finnan and the collective digital artists, Logela Multimedia. A mix of film and dance, Scattered concerns our relationship with water and plays out on a giant curved floor resembling a snowboard half-pipe.  Images of cascading waterfalls, rainstorms, arctic wastes and desert landscapes combine with inventive movement to create a full sensory experience. A + C editor in chief Nancy Wozny visited with Finnan on Scattered and fearless dancing.
A+C:  What drew you to the subject of water?
Kevin Finnan:  I was thinking a lot about the flooding in New Orleans and flooding where I live the UK. We all know that water will become the most important issue of this century, but the reality of that is incredibly hard to comprehend. In the western world with water on tap, it's impossible to understand the truly extraordinary role that water plays in our life, and to imagine a situation in which access to water will be massively restricted.
A+C:  What came first, the dance or the film?
KF:  Images in my head are the first stage; from that comes lengthy discussion with designers about the environment in which everything takes place.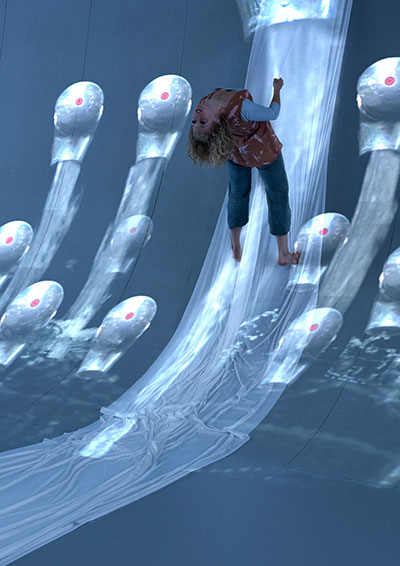 The set gives audiences an immediate context and sense of place. We strived for something that does not look like a set; it's a simple form like a wave. Water is only used in two places in the show, so we worked to manifest water through the staging, which is infinitely transformable and allows us to develop our physical language.
A+C:  What should we know about Motionhouse?
KF:  We are fundamentally focused on communicating with audiences through intense physicality and a dynamic dance language. The dance, music and film are immersive whether we are performing in a theater venue, in a found space, or outdoors.
A+C:  Now that Scattered has been out in the world for a while, how has it changed?
KF:  Scattered has been an incredibly successful show for us, and it has been running for some time. It is a real mix of the familiar and the new. Performance is a living art and the performers have experienced so much since Scattered began and new dancers have come into the company. The show is constantly evolving with time, sometimes in subtle ways, the material deepens for mature performers and new company members bring a fresh perspective. We love the show and we are really happy to share it with as many people as we possibly can. We have other shows out touring at the moment, so returning to Scattered is like returning to see an old friend.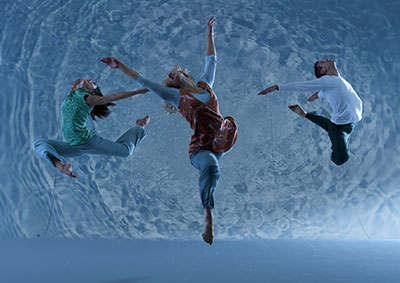 A+C:  Do you continue to tweak the piece as time goes on?
KF: We now have a repertory of shows that we are touring in different parts of the world but we only have one company. We are currently touring our new show Broken in the UK until we come to the USA. The dancers and I are constantly moving between shows and learning new things. This means that I'm constantly tweaking material as we continue to learn new skills and have new experiences. It feels like one big giant performance process.
We are very fortunate in that the show has been incredibly well-received. We love being able to blow audiences away. Those who have seen the show several times talk of seeing sections in new light, and gaining fresh insights into the piece, which is extremely heartening for us all. The show requires dedication from the dancers to bring it to life every night, and I'm very fortunate to have a great group of committed dancers who strive to bring their best every night.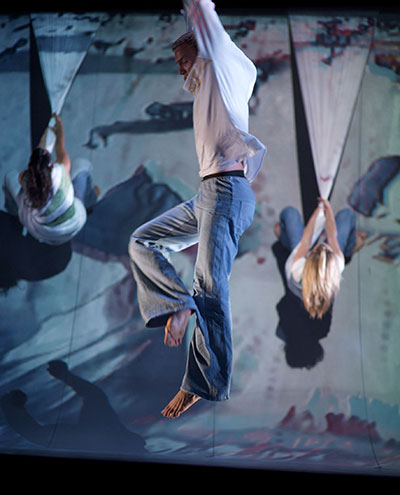 A+C:  Dance and film are related arts; they are both movement-driven. What have you learned about perception from creating the piece?
KF: The strongest learning experience for me comes from exploring dance, spectacle, outdoor work and film in combination. I believe that the rhythm of the images and movement is the most important element. Editing the dynamics to keep a sense of change and evolution in the material is paramount in engaging audiences and keeping a unity to the world of your performance.
A+C:  What kind of dancer succeeds in Motionhouse?
KF: Our dancers are courageous, committed, adaptable and talented.  One minute we are hanging from construction machines in front of thousands on a beach in Marseille, the next we are playing huge theaters in China, performing in the streets in London, building a full-size ship in a landlocked city or hanging from the rafters in opera houses in Italy.