Theater critic true confession: I love spoilers.
While that professional sacred oath that we critics must make under a full olive-harvest moon, inside the Theatre of Dionysus Eleuthereus, (and which I just made up) forbids me from divulging anything but the basic plot synopsis in a review, personally I want foreknowledge of the ending before the story begins. I like to be prepared, have all my emotional baggage already packed and cubed so I can just enjoy the sights and sounds of the journey already knowing my destination. This philosophy might seem abhorrent to fans of suspense, but I'd argue it's what made the Alley Theatre's latest Summer Chills contribution, Agatha Christie's Murder on the Orient Express (now-Aug. 25), a solid thrill for me.
If you have been living in a Christie-free zone for most of your life, then by all means, buy an Express train ticket for one of her most nifty puzzles, but if you've already seen even one of the many television and film versions, there's still no need to find a rail less traveled. Because beyond the whodunit, adaptor Ken Ludwig, director Rob Melrose and the grande dame of murder herself have laced Orient Express with commentary on the nature of justice and revenge all the while doing some subtle and occasionally comic deconstruction of mystery stories themselves.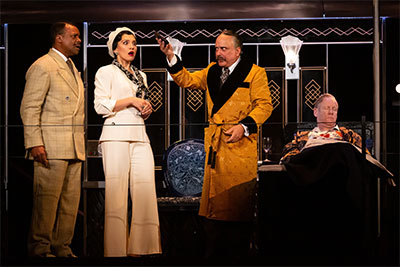 For those needing that barest of plot summarizes, the world's second most famous prickly literary detective, Hercule Poirot, forced to cut his holiday short for a mystery emergency in London, becomes a last minute passenger on the luxurious Orient Express. Of course the train gets caught in a snowstorm and of course a pretty nasty guest is murdered in the dead of night. Now Poirot has a train-full of suspects and too many clues.
Since the 21st century has pretty much reached peak Sherlock, Christie's Belgian (stop calling him French) detective is having his deductive day, as a few brooding Poirots (like Kenneth Branagh and John Malkovich) with secret angsty pasts have sleuthed their way onto large and small screens in recent years.
Refreshingly, Ludwig's Poirot played by veteran San Fransisco actor but Alley newcomer David Sinaiko wrestles with his notions of justice and the imperfection of human laws instead of personal demons. Sinaiko inhabits Poirot with a light touch that can also give the investigator self-doubting depths when the scenes call for it.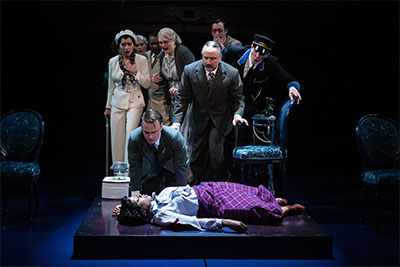 The cast of Alley regulars seem like they're having great fun, with everyone getting a different exaggerated to goofy dialect to play with. Elizabeth Bunch gives a standout performance as the many times divorced and widowed Helen Hubbard. In this production, Hubbard enjoys accosting Poirot and her fellow passengers with an almost violently Minnesotan accent. Shawn Hamilton also gets away with some slight scene-larceny as he elevates the thankless sidekick role of train company manager, Poirot's old friend, endowing Monsieur Bouc a comic dignity.
The newly appointed Alley director of design, Michael Locher, eschews the realistic style of previous Summer Chill sets–usually featuring English manor homes–for a design both vaguely art deco and experimental. Blue-lit suspended boxes, representing railcars, hover in midair. The staging allows Melrose to put the main action and murder inside the boxes while the mystery solution, occasional character studies and Poirot's soliloquies go underneath.
Orient Express at first seems an odd choice for Melrose's first production to helm since becoming the Alley's artistic director. Yet with a deeper gaze the AD picture becomes clearer. A good summer mystery usually provides plenty of roles for the Alley's large resident acting company, and this Christie fan favorite does have some Shakespearean nuances to help director and actors get a bit of exercise before the big fall production, A Winter's Tale.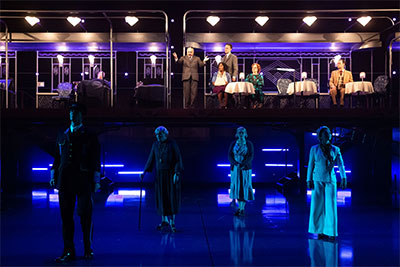 Admittedly, Orient Express doesn't contain Shakespearean heights of poetry nor breadth of human drama, but moments in this production do resemble that Bardian fourth wall-breaking winking nudge at the audience, a bit of: we know that you know, that we know, that you know, we're putting on a show just for you.
I'd even argue the production twists that "All the World's a Stage" tenet and turns it into all the world's a murder train and the men and women merely suspects. For in a staged or filmed murder mystery, the killer is always an actor playing the role of an innocent. Most suspects are usually lying, a.k.a performing, about something and the investigator is that audience member trying to see beyond all the masks to find some thematic truth. In Christie's Orient Express, as envisioned by Ludwig and Melrose, that subtext of mystery as performance piece becomes text for those spoiled, all the while wrapped up in fun summer puzzle for those who jumped aboard for the suspense of not knowing where they'll disembark.
-TARRA GAINES