Dallas Children's Theater in Skippyjon Jones.
Photo by Karen Almond.
---
Excellence & Innovation at Dallas Children's Theater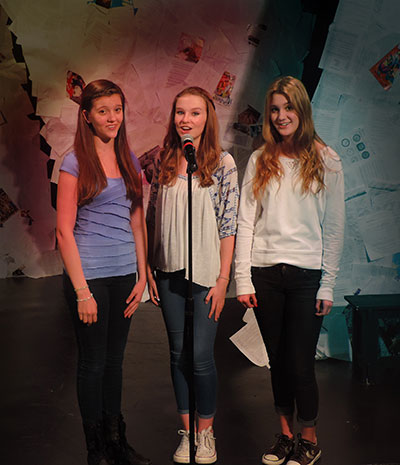 In the spacious lobby of the Rosewood Center for Family Arts in Dallas, there is a young boy walking around with a nametag that says "Blue Wiggly Bean." A little girl with an intricately painted pink butterfly curving up her cheek is racing after a small boy whose green striped cape is streaming behind him. All three have large brown paper ears sticking up from their heads—in fact, nearly everyone in the lobby, from toddler to teenager to tireless parent, is sporting a pair of these ears.
It's opening night of the world-premiere musical Skippyjon Jones at Dallas Children's Theater. The little Siamese cat with the big imagination from Judy Schachner's beloved series of children's books is about to enjoy a beautifully-designed production, complete with a selection of the area's most respected professional performers, a piñata-inspired giant bumblebee, and some seriously catchy tunes courtesy of composer/lyricist Nick Martin.
Skippyjon Jones is just one of many world premieres—more than 70, in fact—that Dallas Children's Theater has presented since it was founded in 1984. Once a three-person company operating out of a donated space, DCT is now unquestionably the gold standard in professional family entertainment in the Southwest.
"It's important that we give kids something provocative and challenging to watch, something that makes them think," says co-founder Robyn Flatt. "It's a different approach from some of the other entertainment available for young people. We're not trying to see how cute we can be."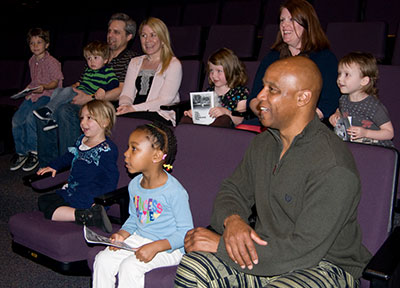 Flatt began her career in the arts by working with Dallas Theater Center in the 1970s, creating "theater in the park" productions all over the city. "I had to create theater that was not exactly mainstream; it needed to entertain a wide age range and be bilingual, as well as highly visual," she says. Flatt's popular shows had a great impact on the community, and when she decided to leave Dallas Theater Center in the early '80s, she wanted to continue with a similar type of work.
She partnered with Dennis Vincent and together they created DCT. "We didn't have much money, but we did have wonderful group of artists that I'd worked with for many years," says Flatt. "They jumped in and helped us get started. We had a lot of professional artistic capital."
That first season they produced five shows, and each year the company grew a little more. By its second season, DCT had toured The Legend of the Bluebonnet to Austin and area schools; by 1990, the season consisted of 11 shows; and by 1996, DCT was sending productions out on national tours. "Professional youth and family theater was really coming into its own in the 1980s," says associate artistic director Artie Olaisen, who's been with DCT for 28 years. "Prior to that it was very amateur—community theater hosted by junior leagues throughout country. It evolved into professional, high-quality theater focused on programming for families."
In 1992, something happened to truly boost DCT's street cred. "A board member put us in touch with Steven Kellogg, and he allowed us to adapt The Island of the Skog," says Flatt. She describes how audiences were astounded at how they brought the cherished author and illustrator's highly detailed pen and ink drawings to life. "It helped put us on the map. We got the exclusive rights to adapt his materials, and Skog eventually toured the country and even played at the Kennedy Center [in 1998]."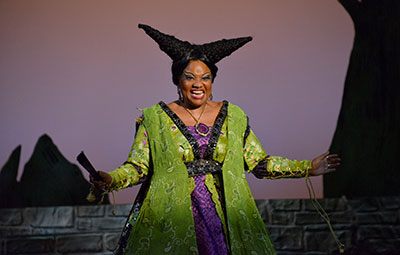 Making connections with authors is one important way DCT discovers and develops new works, but playwright-in-residence Linda Daugherty is the woman who turns the stories into scripts. Having her on board since 2003 has allowed DCT to expand into teen programming, giving the company an opportunity to address issues for an older audience. Bullying, eating disorders, and dating violence are just a few of the difficult topics that populate the original works penned by Daugherty, and now theaters around the world are producing the shows.
"This is part of our mission, to reach out and help kids find ways to solve problems," Flatt says. "I'm very proud that we're not afraid to take on material that others might find difficult. We not only open the discussion, but we provide resources and contacts as well for anyone who might need further information."
DCT is also making sure to address another kind of audience: children with autism and sensory needs. "We discovered there is a whole audience that feels like it's isolated from live theater," says Flatt. Dark rooms, loud noises, and bright lights may overwhelm these kids, making it less likely for them and their families to attend shows. DCT artistic associate Nancy Schaeffer coordinates the sensory-friendly performances, typically one per production, that adjust the shows to be a little less intimidating.
"We worked with local doctors and researchers and people who know about autism and sensory issues, and they did training with us about what to expect," says Schaeffer. "Then they would see the show as we created it and give ideas to adjust. We still want the show to be good and keep its integrity, so this might mean leaving the lights partially up, adjusting sound levels, adjusting the audience area and providing a 'Quiet Room' where kids can go if they feel overwhelmed."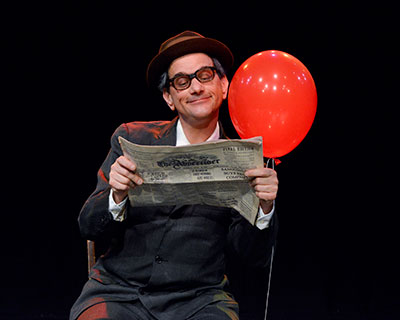 Tip sheets for parents, pictures of the lobby (tours are also available), and training for the actors helps everyone prepare for these performances. "A lot of parents will tell me that it's the first time they've been able to go out as a family," says Schaeffer. "They're in an environment where everyone understands that if their kid has a meltdown, it doesn't mean they are a bad parent."
The ultimate goal is to expand the sensory-friendly approach to the myriad classes DCT offers already, as well as for school matinee groups. Currently, DCT reaches schoolchildren from every zip code in Dallas. "We want to work with any child who wants to come here," says Schaeffer. The classes and workshops have long been a cornerstone of DCT's mission. Even before its first performance, the company was operating classes. Once a month, DCT also conducts workshops in Klyde Warren Park, and it has partnered with the Perot Museum of Nature & Science and the Dallas Opera to present programs and junior operas tailored to the younger set. Schaeffer also works with schools to help make their curriculum come to life, since the majority of DCT's shows are literature-based. Study guides and talk-backs often spark discussion opportunities.
The longtime members of DCT stress the importance of their place in the Dallas community, from the 30 full-time staffers they employ to the 150 or so contractors who work on each show to the interns who learn from them throughout the year. "We were able to purchase our current home with the community's support," says Flatt. "Being able to turn a bowling alley into a beautiful theater, one of the leading theaters in the country for young people, because people want it so much means everything."
— LINDSEY WILSON