Tom O'Keefe, Eric Tucker (back), Andrus Nichols and Edmund Lewis in Bedlam.
Photo courtesy of Bedlam.
---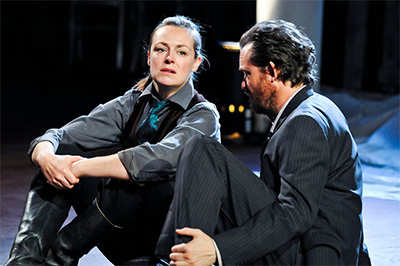 This summer, Houston drama-lovers need to brace themselves for bedlam— stark naked bedlam that is, as a local favorite theater brings to town one of Off Broadway's hottest companies for a new vision of George Bernard Shaw's classic Saint Joan, June 2-18 at Studio 101 in Spring Street Studios.
Eric Tucker, artistic director of New York's Bedlam, believes it was a meeting of aesthetic sensibilities when Kim Tobin-Lehl and Philip Lehl, of Stark Naked Theatre in Houston, first proposed a team up of sorts between the two companies. The Stark Naked founders wanted to give Houston its first taste of the award-winning Bedlam Company by giving them a spot on the Stark Naked season.
Before Tucker and the Saint Joan cast heads to Houston, I spoke with him about the allure of Joan and why Houston and Stark Naked's Studio 101 space will be such a good fit for the company.
Currently, Bedlam's funny and poignant Sense and Sensibility is all the rage with New York critics, but when choosing what show to introduce Bedlam to Texas, Tucker, with Tobin-Lehl's input, decided on the production that put Bedlam on the theatrical map in New York. "I felt that since Saint Joan was our first show, it was a nice one to come to Houston for the first time with it and show what we do," Tucker explained.
Tucker's unique reimagining of Saint Joan is one of the reasons it drew such accolades when it first made its debut in 2012. Shaw's Saint Joan contains over twenty characters but only four actors will take the Studio 101 stage. Samantha Steinmetz plays Joan, while the rest of the cast, Spencer Aste, John Russell, and Stephan Wolfert, will play everyone else. For Tucker, who once tried to mount the play with only three actors, four is the perfect number. "What's nice about it is that it puts the focus on Joan herself, and the three men play all the men. It's Joan in this man's world against church, state and society," explains Tucker.
There is one other reason he and Bedlam co-founder Andrus Nichols chose this four-actor version of the play as their first production. It's a way to do a vast and complex play on the cheap while sustaining and perhaps even enhancing its impact on an audience. Even as the Bedlam's star has risen ever higher in the New York theater constellation they've maintained this mission of intimate productions with smaller casts.
"We first put on this production with four people, bare bones. I'd like to think if I had a million dollars I'd still do it that way. I don't know. Someone needs to give me a million just to experiment, and we'll see what I come up with," laughed Tucker.
The actor/director is excited he'll be able to maintain that closeness between play and audience in this Houston production within Stark Naked's theater, which he feels has "nice energy." "We've done some epic plays in very intimate spaces and I think to see Joan up close like that and to hear the words right in your lap actually is a gift of what these shows do and how we present them."
This leads us to another vital quality of many a Bedlam production, their ability to bring the audience into the play to one degree or another. The company tends to "break down the forth wall in more places than is normally done." They do this for Shakespeare often, but with Shaw they've also found ways to include the viewer. For Saint Joan, the audience will move with the characters from one act to the next. By rearranging the audience between acts, Tucker hopes they will go both a metaphorical but also real, physical journey with Joan.
"You come back in after Act 1, and it's like a reset button because you're in a different spot. There's something about resetting that you feel like you've been sitting with three hours. There's an investment the audience can't help but make in it."
In Bedlam's vision of the play, the audience becomes not just witness or passive spectator to Joan's plight, but much more involved the story's outcome.
"By the end, the audience is made to feel responsible for the fate of Joan herself. There's a great deal of emotion that comes out of that because they've been invested with this sort of power to be judge and jury."
Tucker has been working with Shaw's masterpiece even before cofounding Bedlam, and so when I asked him what it is about the play that continues to draw him back, he answered like besotted admirer. Saint Joan keeps calling to him because of rich language that rivals some of Shakespeare's best, the complexity of Joan as a "fully fleshed out human being," but perhaps most surprising is the comedy of the piece.
"I think the story kind of goes everywhere, and it's incredibly funny. That's something people need to hear," explained Tucker. "The play almost starts out as a farce; it's almost slap stick in a way, and goes on a very pronounced, dark journey. But it's funny all the way through."
Tucker hopes this journey into Houston theater will bring about other opportunities for Texans to experience some Bedlam, and he's very excited to partner with Stark Naked, whose work he admires. "When you have another company who is happy to produce, it's so gracious of them to give us a slot in their season. You can't beat that."
—TARRA GAINES