Hannah Kreig as Peaseblossom, Skyler Sinclair as Moth, Courtney Lomelo as Titania, Regina Ohashi as First Fairy, Robert Leslie Meek as Cobweb, and Molly Searcy as Mustardseed. Photo by Gabriella Nissen.
---
A Midsummer Night's Dream at Stark Naked Theatre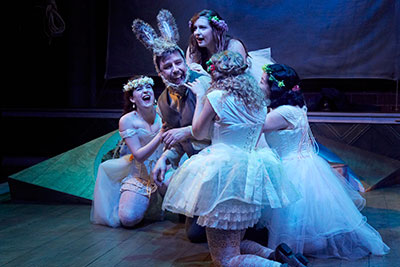 Next up at Houston's Stark Naked Theatre Company is William Shakespeare's A Midsummer Night's Dream, March 5-21, co-directed by Philip Lehl and Kim Tobin-Lehl, and produced in collaboration with the University of Houston.  A + C editor Nancy Wozny caught up with Tobin-Lehl on the swirl around Midsummer going down at Studio 101.
It's been a season of Midsummer. Houston Ballet presented John Neumeier's ballet, while Houston Cinema Arts Festival opened with Julie Taymor's film of her stage production. How did this Shakespeare favorite end up on your season?
Midsummer is a particularly good Shakespeare piece for our strengths as directors to come together and have the most impact for both the audience and the artists we are getting to work with.  Also because the play has everything. It is beautiful, dark, scary, magical, romantic, but most importantly, it is so funny!
We've talked about stripped down Shakespeare before. Where do you place this production in terms of the design aspect of the piece?
There will be a set and some environmental elements, but the focus will be on actors and acting, and the actors will play more than one character. Part of what we love about Shakespeare is that he invites the audience to engage its imagination to help create the world of the play. The language is so rich that big, overly dressed sets can take away from the play itself and diminish the language. Designers are vital to creating this balance.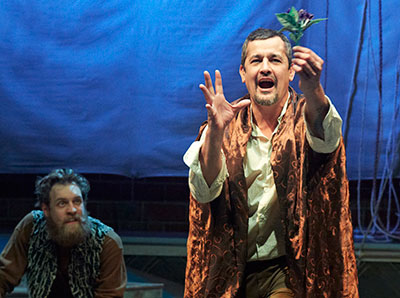 You have gathered a dreamy cast, including Drake Simpson, Molly Searcy, Luis Galindo and Philip Hays. Talk about your casting philosophy in light of this production.
Our casting philosophy is three-fold: we look for people who can handle the language; people who hew to our aesthetic of acting; able to experience real emotion in an imaginary circumstance; and people who can transform their physicality without the aid of costume and make up.
Then there's a handful of actors no one's heard of yet, as in the University of Houston students. How did that collaboration come about, and what's in store for the students in terms of their experience at Stark Naked?
UH approached us, looking for some professional opportunities for some of their students to work in the Houston theater community. Having less stage time with The Alley in The Wortham, they asked if we might partner in one of these endeavors. We thought Midsummer was a great choice! We had the students take part in a Meisner workshop before the production began. It gave the students an opportunity to understand how I (and Stark Naked) work as a director, how they will be expected to work during the show, and what we feel is important about acting and story telling as well as the result we are looking for in a performance. The UH atudents are Skyler Sinclair, Hannah Kreig and Robert Meek.
You are co-directing with Philip Lehl, your co-pilot in life and in theater as you both serve as co-artistic directors of Stark Naked. I see you and Philip as very different kinds of directors. I am interested in how you work toward a shared vision in this piece.
We are actually well suited in this particular environment.  Philip focuses on his approach to the language and his mastery of speaking Shakespeare. He is also terrific with overall vision and coordinating that with the designers and making the initial blocking scheme. I am the relationship and tactic detail micromanager, if you will.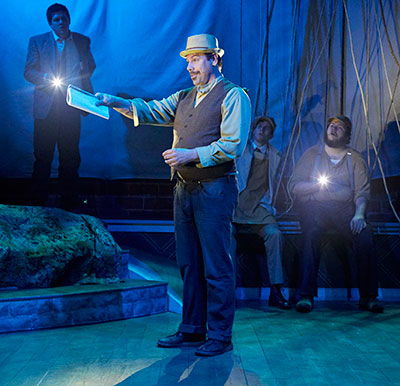 My expertise comes in with the deep script analysis. All my years of teaching and Meisner work give me a strong immediate response to what is true and how people actually behave in any given circumstance. So, once Philip blocks each scene I come in and make it more specific and address the relationships and motivations and make small blocking changes that help address things that need to change to help make what people are doing be more truthful and more  motivated by the given circumstances.
This is a big play in a little space. How can you make that work to your advantage?
I don't think you will feel it is "big" – at Stark Naked we believe the intimacy creates a more memorable experience.  We want you to feel like you are a part of the whole thing.
How does performing Shakespeare keep an actor in shape?
Shakespeare plays are always the highest stakes in theater.  People are always in love that they're willing to die for – and often do!  Kings kill their queens, or brothers, or anyone for that matter!  It is always life or death and love at its highest! So actors must live at the utmost emotional apex truthfully! And don't dismiss the comedies as easy, by the way.  As Mike Nichols said, "Comedy is very serious business!"  Most of the time, comedy is the highest stakes of all.