The problem with bringing a groundbreaking work of art into the world is that sometimes it alters the landscape so much that when we revisit it we might forget that such a wonder didn't always exist. This could be the case for 1975 musical A Chorus Line. Originally conceived, directed and choreographed by Michael Bennett, with music by Marvin Hamlisch, lyrics by Edward Kleban and a book by James Kirkwood Jr. and Nicholas Dante, the show changed the nature of what we expect from storytelling in a musical, winning nine Tony Awards and a Pulitzer Prize for drama along the way. The Theatre Under The Stars recent revival directed by Julie Kramer (through Sept. 22) doesn't try to reinvent the wheel, or line in this case, but does prove Chorus Line still has quite the high kick in its step as it depicts a still relevant vision of that bitter sweet life of artists.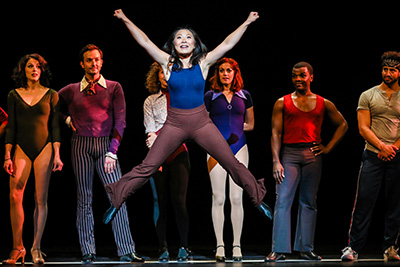 An intrinsic element that made the show so revolutionary comes from the narrative structure. Set during the casting of a Broadway musical, director/choreographer Zach (Clifton Samuels) is looking to find his perfect–meaning perfectly in sync–chorus line of four women and four men for the show. He wants a line that will "frame" the star, the "One, singular sensation" as the show-topping song goes. But in his quest for the line, Zach asks his dancers to go beyond their dancing talent and technical prowess. He wants them to reveal stories of who they are for his perusal, in a way to give his line a metaphorical three dimensions.
The intentional paradox of Chorus Line has always been that Zach is at cross purposes with himself. He's looking for dancers who can move as one so their individual selves become subsumed within the ensemble, yet to get the job they must reveal their real selves as individuals.
Zach removes his real self from the stage early into the show to become just a voice from on high, a directing deity commanding personal confessions from each dancer. The show doesn't give a in-world reason why these stories of their adolescences, parental relationships and occasional their most private memories are essential for the casting process, but each question comes with the implicit threat: no true story, no job.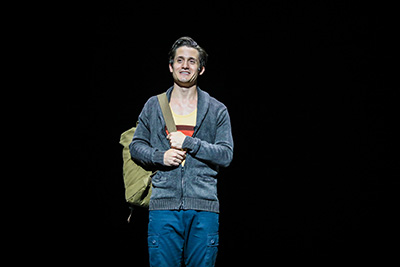 And this is the part where the most innovative and original can become a bit ordinary 44 years later, when the confessional has become the primal stuff of our "reality" competition entertainment viewing. Some of the stories from the Chorus Line dancers, though likely gritty and raw when sung for a mid-70s Broadway audience, probably wouldn't even rate a raised eyebrow on a genteel British baking contest program in 2019, never mind a competitive drag, Orwellian housemate or dating show. Yet even with this now very familiar format, Chorus Line remains unique. The prizes for those types of competitions are to become the winner, the One, not just one more member of the ensemble.
The authenticity of the dancers' stories still has the power to move and occasionally bring a few tears to even the most jaded critics, and this TUTS cast lives up to that material. Sheila (Paige Faure) is still a cynical queen who deserves her own constant spotlight. Cassie (Sarah Bowden), Zach's ex, who risks humiliation to fight her way onto the ensemble, with one solo proves that a great dancer can give a soul-defining soliloquy without ever uttering a word. Diana (Samantha Marisol Gershman) still sings the heights and depths of the artist life in "What I Did for Love," and Paul's (Eddie Gutierrez) heartbreaking and defiant story still stops the narrative and Zach in their tracks.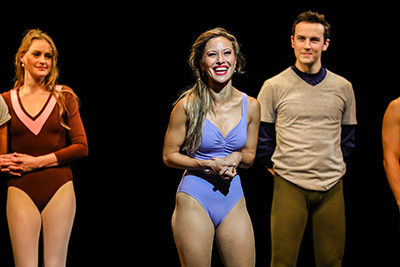 While it's been some years since I last saw Chorus Line, Kramer's vision certainly doesn't seem a radical reimagining for the 21st century. She keeps the show thoroughly grounded in the 70s, aided by Ryan McGettigan's mirrored–with a final golden surprise–set and some fine period costume designing from Colleen Grady. We can practically feel the polyester all the way into the balcony.
One noticeable creative difference from other versions seems a softening of Zach. Kramer and Samuels have smoothed some of Zach's tyrannical edges. As he asks the dancers to emotionally bleed for the job, it appears to stem more from indecisiveness, than a need to flex his control over their dreams. Whether this is an attempt to make the genius-asshole trope more palatable for us in a #Metoo era or to give Zach more nuance I'm not sure. However, for that thrilling finale when they all take their bow by merging their individual specialness into the line, Zach joining in doesn't lessen the triumph.
They all deserve their place as the many become the sensational One together.
-TARRA GAINES