Ellsworth Kelly, Austin, 2015 (exterior rendering). Artist-designed building with installation of colored glass windows, marble panels, and redwood totem 60 ft. x 73 ft. x 26 ft. 4 in.
Image courtesy the Blanton Museum of Art, The University of Texas at Austin.
---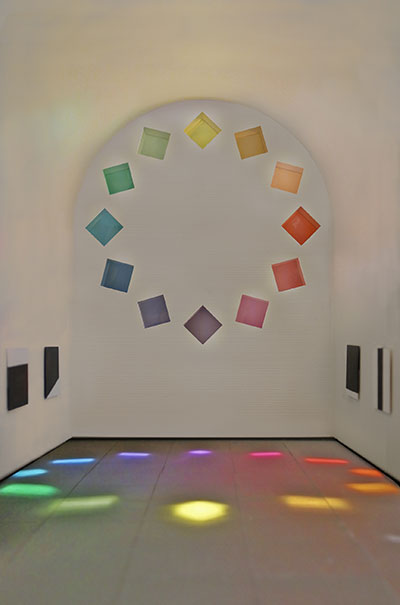 Ellsworth Kelly Brings Austin Home
The plans for a dream conceived in the '80s seem to finally be coming together, and Austin—an artful edifice designed by Ellsworth Kelly, the famed nonagenarian painter — may soon be reality.
A place that will be a haven for contemplation, serenity and even joy, Austin is an ambitious new project that will have its home on the grounds of the Blanton Museum. Veronica Roberts, Curator of Modern and Contemporary Art at the Blanton Museum of Art, calls the project "a gift to the city," for the arts community and the greater public alike.
Ellsworth Kelly is famous for his work as an elemental hard-edge, or color-field painter, typically associated with minimalism and painters such as Agnes Martin and James Rosenquist. In the tradition of the abstract expressionists, his work is noted for a Rhadamanthine adherence to formal qualities and a deeply thoughtful sense of overwhelming transcendence.
Austin was originally conceived for a private collector in California in 1986, but the freestanding building was never fully realized. Hiram Butler, a Houston gallerist and University of Texas alumnus, is credited with introducing the project to the Blanton. The proposed structure is a byzantine, rounded T-shaped structure with colored glass windows on all sides. Large, circular stained- glass windows feature prominently, two on the flanks and a grid of colored glass square windows to the front. Inside the building, a totemic redwood sculpture and 14 black and white marble panels will have pride of place.
Ellsworth Kelly has a long history of christening his works with simple titles that are practical and descriptive. Take for example, the Blanton's own Kelly painting, High Yellow—a hard-edge, tri- color piece with a large yellow circle floating above a green field. Geographic locations are not uncommon in Kelly's works and so, appropriately, the plan is for the building to be called Austin.
To the Blanton's credit, the structure is not meant to be a hidden treasure reserved for museum-goers; instead Roberts emphasizes that the site plan calls for the building to be prominently positioned near the high-traffic Martin Luther King Jr. Boulevard. UT also has plans to increase green space in the area to draw more pedestrian traffic.
An obvious comparison for the building might be the Rothko Chapel in Houston, but Austin is notably different. For starters, every piece of the building was conceived and designed by Kelly himself, from the colors of the glass windows to the graceful arches to the stones on the floor. It's certainly not an inappropriate comparison: both buildings are contemporaries in terms of design, and both seem to possess the otherworldliness of a spiritual space, but while the Rothko Chapel has some religious elements in its history, there is none of that in Kelly's structure. Roberts doesn't hesitate to deny the religious connection, "Kelly is not religious himself, he simply wanted Austin to be a place of beauty and joy and serenity." Spirituality does means different things to different people, though, and I'm sure that to some, Austin will be a place of inspiration, even spiritual enlightenment.
"Working with a ninety-one year old artist, it's been important to work quickly to ensure he can see his vision realized," Roberts says. She's definitely not wasting time. A little over a month after the project was announced, Roberts said she was "hoping to be able to start construction immediately following acquisition of funds, which we should attain in the next two months."
Despite his age, Kelly continues to dazzle with his prolific and dynamic ability to elevate his craft ever further. This will be a new creation, born of the rigor of Kelly's mind and the robust spirit of his vision. Much of this project is uncharted territory for him, and the Blanton is excitedly working to ensure that it is fully realized and executed to his standards. For Kelly's idea to have originated in the '80s and then suddenly be expedited to completion in 2015 is a tremendous wonder.
—CAITLIN G. MCCOLLOM