Michele Carter, Andrew Wojtal, Tina Finkelman Berket, Melissa Bourkas, Miguel Perez, and Guzmán Rosado of BODYTRAFFIC in Hofesh Shechter's Dust.
Photo by Christopher Duggan.
---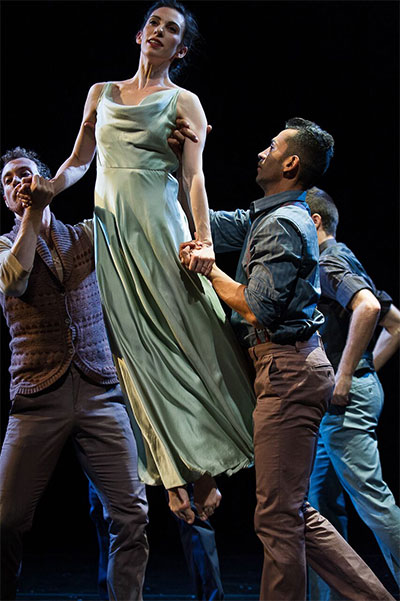 The new year brings something fabulously new to Texas: BODYTRAFFIC, a Los Angeles-based contemporary dance company known for its versatility and sparkling technique, makes its debut in Texas with performances at Dallas' AT&T Performing Arts Center Jan. 22 (part of the TITAS Presents series) and Houston's Cullen Theater at Wortham Center Jan. 23 (presented by the Society for the Performing Arts and sponsored in part by the Evelyn Rubenstein Jewish Community Center of Houston as part of the center's Dance Month). The company's rep includes such outstanding choreographers as Kyle Abraham, Sidra Bell, Stijn Celis, Barak Marshall, Victor Quijada, Zoe Scofield, Hofesh Shechter, Richard Siegal and Dallas-based Joshua L. Peugh.
"We are very excited to share our work with Texas. I am curious to see how Texans respond to our work," says Lillian Rose Barbeito, co-artistic director of the company. She and Tina Finkelman Berkett founded the company in 2007 with the goal of helping to establish Los Angeles as a major center for contemporary dance; given how audiences and critics alike have received the company, they are well on their way.
When asked to describe the movement vocabulary of BODYTRAFFIC, Barbeito says the company's dancers are so well-rounded, they can handle practically anything that gets thrown their way. "Each piece in our repertory has distinctive movement vocabulary. The program might start off with something theatrical and gestural, move into a work based in breakdancing, and finish up with something jazzy. Tina and I enjoy showcasing our dancers' precision, depth and versatility."
In Houston and Dallas, the company performs Shechter's Dust (2015), Siegal's o2Joy (2012) and Marshall's And at midnight, the green bride floated through the village square… (2012).
Shechter, an Israeli choreographer who got his start dancing with Batsheva Dance Company, was interested in the theme of power when he created Dust. Described as "lithe choreography," the work is set to a soundtrack composed by Shechter himself, and takes a dark look at the powers that steer us in today's society. When the dancers perform the choreography, it is almost as though one can see their breath setting their limbs into motion.
In contrast, Siegal's o2Joy is a playful, humorous piece set to great American jazz music. The movement is ballet based, but sprinkled with fun morsels of hip-hop. The sheer joy expressed by the dancers is punctuated with funny gestural moments.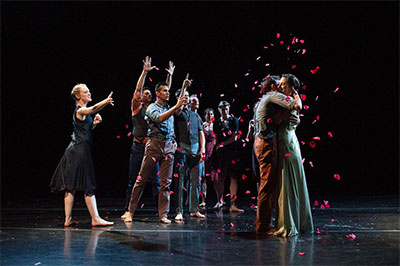 Marshall's And at midnight, the green bride floated through the village square… is based in part on a true story about a family of nine children, neighbors of the choreographer's mother in Aden, Yemen. The neighbors' house came to be known as "The Burning House" because of all the family feuds that permeated the walls. Marshall took this real-life situation and turned it into a story of how jealousy doomed the children to a life of unhappiness. The soundtrack comprises Jewish love songs and hymns from the Yiddish, Ladino and Yemenite traditions.
BODYTRAFFIC's dancers are as diverse as the rep. "Our dancers come from all over the world, including places such as Madrid, New York, Toronto, Oklahoma, Maine and Nevada," said Barbeito. "We're interested in working with dancers who have strong ballet technique, are interested in evolving, and who are smart, friendly and fearless."
In Houston, BODYTRAFFIC is one of many highlights of Dance Month.  Other Dance Month events include Jan. 14-17; Triple Focus (Jan. 30-31); Four in the Mix (Feb. 6); and Tap Jammin' (Feb. 13), an evening of tap dance performed by Acia Gray and Tapestry Dance Company. BODYTRAFFIC will also offer a master class on Jan. 19 for intermediate and advanced-level dance students ages 13 and up as part of Dance Month.
"BODYTRAFFIC recently returned from a five-week tour of Israel and Jordan where we performed and did outreach with all demographics, including people with disabilities," says Barbieto. "Our shows in Dallas and Houston are accompanied by outreach. Since it is an integral part of our company's mission, we are thrilled to connect with locals beyond the stage."
—CLAIRE CHRISTINE SPERA