George Parker in the Catastrophic Theatre production of Will Eno's Thom Pain (based on nothing), through April 24 at 14 Pews.
Photo by Anthony Rathbun.
---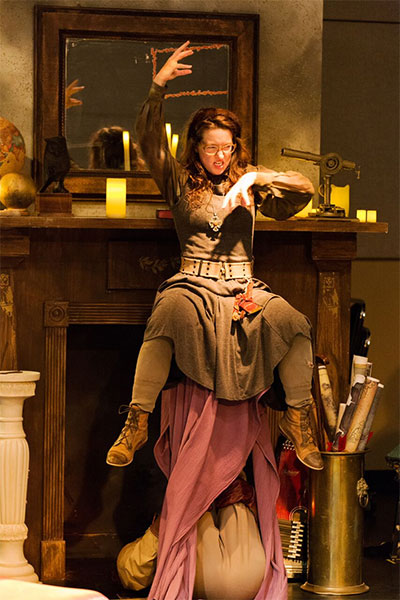 Last winter during a trip to New York, I bought a ticket to a standing-room-only musical. Though the performance was sold out, that wasn't the reason I had to stand, move, dodge actors and occasionally dance along. That show, Here Lies Love, a kind of disco retelling of the life of Imelda Marcos, though set in the 70s and 80s seemed very much a musical for the 21st century thanks to the treatment of the audience. Throughout the performance, ushers moved multiple stages around the room while gently shoving the standing audience around those stages. We became players in the show, acting out as the crowds at political rallies and dancers in the NYC clubs Imelda frequented. But for all the audience action, Here Lies Love is actually a rather tame version of a big trend in New York theater: performances that require the audience to do all manner of participation.
As adults, we understand the classic theater relationship between play and audience. Actors perform, pretending they are other people somewhere not in a theater, while we sit and watch as we would a movie or television screen. Yet one of the ancient allures of theater is that there is no screen separating us. It's live, immediate make-believe and anything can happen. Of course, most of the time anything doesn't because of that civilized, unspoken contract between audience, players and playwright requires we pretend an invisible wall separates us. But what happens when one or all parties in this contract refuse to put up the imaginary wall? As the Player King from Stoppard's Rosencrantz and Guildenstern Are Dead tempts, do we have a secret desire to get "caught up in the action?"
The past few years sampling much theater in Houston with occasional visits to Austin and Dallas, I've noticed many a fourth wall damaged and sometimes demolished, though not many full-on interactive performances. The type of immersive theater that asks an audience to wander around a dilapidated building searching for naked people who are acting scenes loosely based on Macbeth is not generally to found in Texas, not even in Austin. But we are creeping towards the possibility.
In a quest to find and explore the ranges of audience activity in theater, I spoke with Lana Lesley, co-producing artistic director of Austin's Rude Mechs the collective theater company that creates shows that almost always incorporate some type of audience contribution.
"What is always in our heads is our interest and deep care for the audience experience whether or not we ask them to interact," she explained to me when discussing the relationship between the Rude Mechs and their audience. "Our goal when we're making a piece is to keep them engaged in a 100% active way instead of a passive, receptacle way."
Thinking about ways to activate that theater-viewer, I realized there are (imprecisely) four categories of audience participation I'm seeing more and more of in Texas.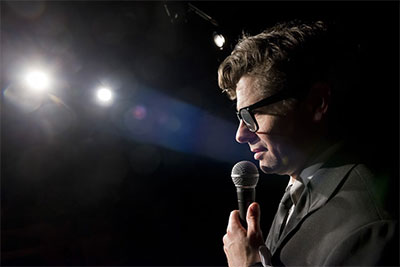 The One (Wo)Man Show
If there's only one person on stage, he or she either has to talk to an invisible someone or acknowledge the audience. This form of performance can encompass everything from cabaret to the monologue play. Both the newish presenters Lott Entertainment Presents in Houston and AT&T Performing Arts Center's Off Broadway on Flora series in Dallas are bringing in several types of one-person shows. But only this month did I see a play the revels in that weird relationship one person on stage can have with an audience: Catastrophic Theatre's production of the Will Eno's Thom Pain (based on nothing). Like one part standup routine/one part poetry slam, with all parts careening and screeching off the rails immediately, Thom's sometimes pleads for love, sometimes hostile relationship with the audience seems like every type of one-performer show rolled into one.
The Audience as Character
Another way to engage the audience within a show is to make them a character. While we're still sitting on our collective asses watching, we're also inside the story and, in our imaginations at least, outside the theater.
At the beginning of Kneehigh's Tristan and Yseult, which was presented in 2015 by the Alley Theatre, denizens from the Club of the Unloved, dressed as birdwatchers, wander the audiences looking for couples to observe and survey in their natural habitat. Later in the show during their retelling of the ancient Celtic legend, the audience becomes Cornish citizens invaded by a particularly vicious and occasionally bitchy Irish king.
Perhaps the best Texas-grown example I've seen of making the audience not only a character but putting them in theatrical jeopardy with the actor, was when Horse Head Theatre built a Geodesic event dome along Buffalo Bayou to become the belly of a whale for their original production, The Whale; or Moby Dick. The audience enters the dome to realize they've been swallowed by a whale and are awaiting digestion inside his stomach. Only party boat entertainer, Philip, can save us by reenacting scenes from Melville's Moby Dick to the whale's satisfaction, wherein he'd vomit the whole lot of us up and out.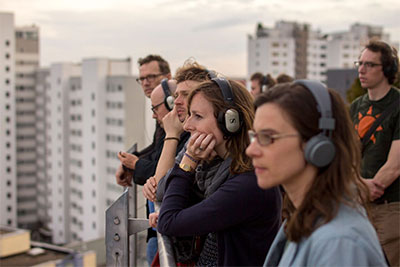 The Meta Play
Sooner or later it seems every playwright writes about creating art, but it's a special kind of play that does renovation to the invisible fourth wall during the performance. Or as Lana Lesley succinctly put it when discussing the Rude Mechs' approach: "We know the audience knows we're not the fictional characters we're putting on that day. And they know we know they know. We all know this and we don't want to pretend that's not happening. We want to exploit that relationship to really be in the room together."
A prime example of that fourth wall demo-in-progress in 2015 was Stages Repertory Theatre's production of Aaron Posner's Stupid Fucking Bird, a contemporary adaptation of Chekhov's The Seagull, which is already about a group of melodramatic thespians and writers, albeit in 19th century Russia. In Posner's version, the characters are self-aware of their staged existence and require the audience to begin and end the proceedings. Without the audience watching they know they can't live out their written destinies even as they embrace and resist them.
Full-Frontal Immersion
While they do seem rare in the Lone Star state, there are some productions that require the audience to be the stars or at least hold supporting roles. The last Rude Mechs work performed in Austin, Now Now Oh Now, asked the audience to perform a series of word puzzles and scavenger hunts in order to proceed from one section and space of the performance to another. The Method Gun, which closes the Lott Entertainment Presents season May 26-28 at the MATCH, has its own magical audience interaction, but I'm not about to reveal it here.
Meanwhile, experimental art festivals like Fusebox in Austin and University of Houston Cynthia Woods Mitchell Center for the Arts's CounterCurrent in Houston can offer the kind of audience interactive projects and performances our favorite theater companies might not have the space or inclination to do. And sometimes partnerships begin. Case in point, this year CounterCurrent will debut Remote Houston from the Berlin-based performance company Rimini Protokoll, April 12-15, in partnership with the Alley Theatre, who will continue the project through May 13.
During Remote Houston, the audience of 50 will also be the only performers. Each member will don headphones, then a computer generated voice will guide them in their exploration of the streets of Houston, occasionally ordering them to do a series of tasks. At times, the participants might see the city as a stage and its citizens as actors. Yet concurrently, ordinary Houstonians on the streets will likely view those participating as strange actors in some weird performance they're only vaguely aware of.
When I had the opportunity to ask Rimini Protokoll member and the creator of Remote Houston Stefan Kaegi about this duel perspective, he promised participants could flip roles throughout the experience.
"The users can easily switch sides to an outside perspective by simply removing the headphone for a moment and looking at some of the strange interactions going on that feel so differently immersive when you are in the sound-cloud."
He also had his own ideas about the 21st century allure of bringing the audience into the performance.
"I guess a generation that has grown up with social media may be asking more from theater than just sitting in the dark and admiring the genius on the stage. Theater has all kind of possibilities to become less one-way-channeled. So in some projects we are trying to become more responsive and more immersive than a frontal stage set-up usually is."
Don't resist Texas, sooner or later, one way or another, you too will get caught up in the action.
—TARRA GAINES