Nina Katchadourian, Lavatory Self-Portrait in the Flemish Style #12, 2011 ("Seat Assignment" project, 2010–ongoing) C-print, 13 5/16 x 10 5/16 in.
Blanton Museum of Art, The University of Texas at Austin; promised gift of Lawrence Banka and Judith Gordon in honor of Catharine Clark, 2016.
---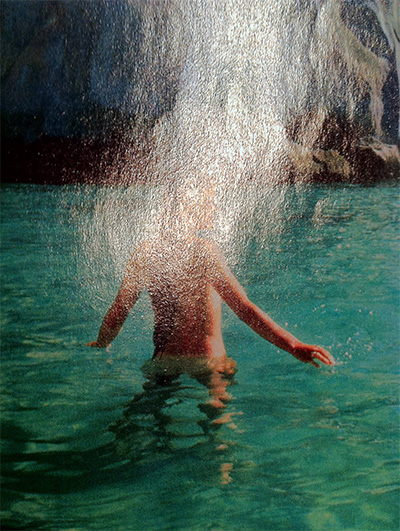 Nina Katchadourian has a mindfulness or awareness that might make a Buddhist blush. Some of the inspiration for her art comes from everyday circumstances and situations that many people try to tune out.
"Anything is fair game in terms of subject matter," Katchadourian says. "There's more subject matter and stuff that's interesting in the world around us all the time than we ever realize. I feel like my job is to look carefully at what we are not looking at, to kind of give everything that seems boring a second chance."
This is not a methodology that runs through all of her projects. But there are certainly examples of Katchadourian working with as little as possible to maximum effect in her midcareer survey at the Blanton Museum of Art, Nina Katchadourian: Curiouser, March 12-June 11.
Curiouser was organized by Blanton curator of modern and contemporary art, Veronica Roberts. This is Katchadourian's first touring exhibition and it showcases ten major bodies of work.
Her ongoing "Sorted Books" project is one of the clearest examples of her ability to make something out of nothing. Working within book collections, Katchadourian draws out new meanings by rearranging the titles to create phrases or sentences. These unexpected results are reminiscent of Surrealist games like Exquisite Corpse or the cut-up technique of Williams S. Burroughs and Brion Gysin.
"I like the limitations that come with specific assignments from other people," Katchadourian says.
For the "Sorted Books" project, she has accepted invitations to tackle a topic, use certain physical sites, or create something for specific situations. The "rules of engagement" are limited and what stays and goes is not up to her. She tries to do a lot with not very much.
"In an everyday world situation there are often a lot of things we don't think are spectacular," Katchadourian says, "even as materials go for making something as 'lofty' as art."
Katchadourian used material many try to ignore for "Dust Gathering," an audio tour she created for The Museum of Modern Art. Interviewing museum staff members, Katchadourian decided to focus on dust and what it takes to keep it off the art and out of sight.
"In every profession we have to train our antennas," Katchadourian says. She grew up in California, but mentions summers spent on a rural island community off the coast of Finland. "It was a very formative experience of inventing things, playing with what was there, observing nature, and noticing how the weather changed. I also had grandparents who were very invested in the observation of nature. This taught me a lot about how to look closely at things. The lesson was to quiet down and pay attention."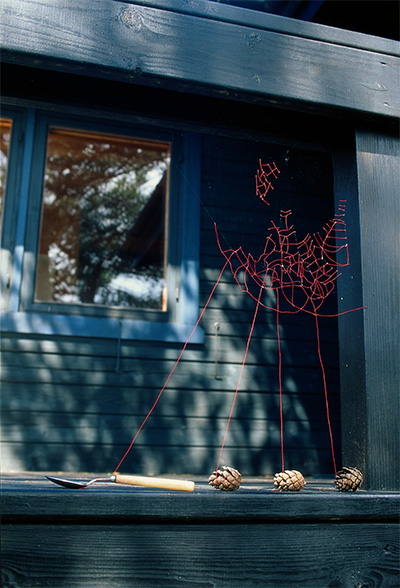 These experiences surely played a part in leading Katchadourian to a group of works called "Mended Spiderwebs." The process involved mending broken spider webs with red thread. The spiders responded by repairing their webs and discarding her patches. This was documented with photographs and framed thread webs.
Now living in New York City, Katchadourian has learned to hone her observation skills to a very different environment.
"The medium could be anything," Katchadourian says, of her concept-driven practice. "It's funny, this word 'conceptual.' I have been called a conceptual artist or a conceptualist. But a lot of conceptualists were interested in not actually making anything at all. They were interested in work that would just exist as an idea. But I really like making things. I really like having material residue or manifestations of my ideas. I do make things that are ephemeral. But more often than not there is stuff involved. There's an idea and you pick the right tool for the job."
But sometimes an idea has to be chased. She once heard birds and mistook them for a car alarm. This resulted in car alarms that sound like birds for a project called "Natural Car Alarms."
"I really like to do things myself, as completely by myself as I can," Katchadourian says. "But I've certainly made a lot of things over the years that weren't possible to make myself."
Katchadourian has worked with an exotic assortment of specialists. She consulted with a group of ornithologists for "Natural Car Alarms." She used a sportscaster for "We Are Proud to Present," a live performance at a museum. A zookeeper helped her put animals in costumes for the "Animal Cross Dressing" project—a rat was disguised as a snake and a snake was used as the tail of a large stuffed rat.
Some are unaware of the contributions they have made to Katchadourian's work. "Seat Assignment" is a large ongoing project of photographs, video, and sound works. A frequent flier, Katchadourian uses a camera phone inflight to capture work improvised only with materials close at hand. She has been known to surreptitiously use her metal seatbelt buckle as a mirror and take distorted photographs of unsuspecting passengers.
"Using the belt buckle as a spy camera is one of the more borderline intrusive parts of the project," Katchadourian laughs. "But more often than not I'm looking at stuff on my tray table. It probably just looks like I am trying to pass the time. I've always enjoyed the fact that the very thing I'm trying not to be is sort of my alibi."
The best-known parts of this project are the self-portraits she made in the lavatory. Back in 2011, she put a paper toilet seat cover over her head and took a picture in the mirror. The image evoked 15th century Flemish portraiture. Katchadourian made several trips to the lavatory during a 14-hour flight and created a large group of these photographs entitled "Lavatory Self-Portraits in the Flemish Style."
Curiouser includes a sound sculpture project called, "Talking Popcorn." This popcorn machine is hooked up to a Morse code translator that translates the sound of popping popcorn. "I've been in the studio running tests on it for the last few weeks and it keeps trying to translate my steam pipes," Katchadourian laughs.
Katchadourian is maniacally creative. Her works are absurd, charming, and infectious.  "All the things I really love doing and care about can be combined under this umbrella of artist," she says. "I feel fortunate to live and work at a time when we have a pretty broad definition of what artist might mean. It's a capacious term."
-JEREMY HALLOCK