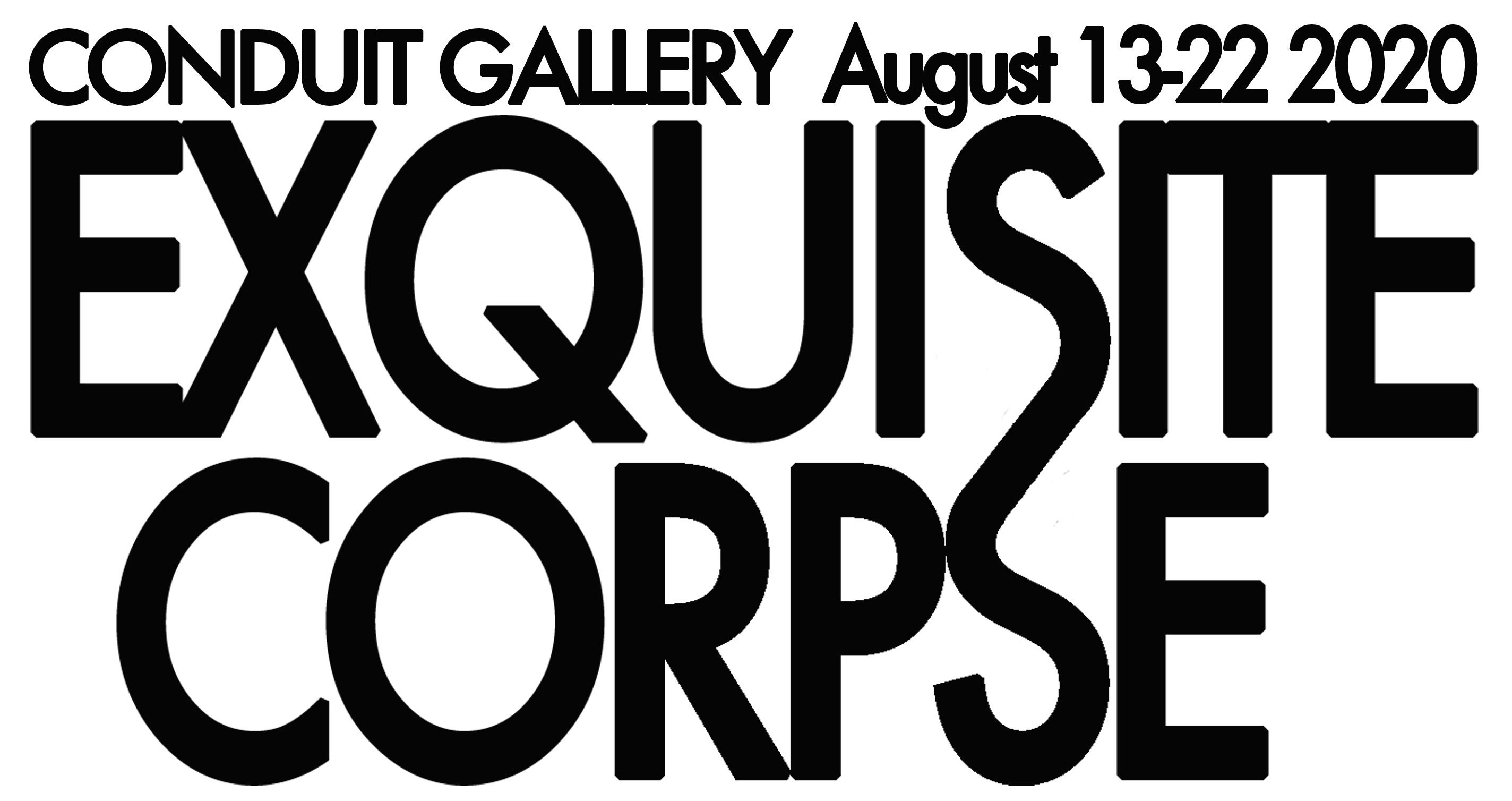 Conduit Gallery will open Exquisite Corpse, a new collaborative group exhibition fundraiser with an online preview, August 12th, 2020 and a physical exhibition in the gallery available to view in person via timed reservations August 15th through August 22nd, 2020.
Online viewing of Exquisite Corpse will be available from Wednesday, August 12th through Saturday, August 22nd. In addition to viewing the works in the exhibition, a "Buy it Now" option will be available online. Beginning Saturday, August 15th, viewing the exhibition in person at Conduit Gallery will be BY APPOINTMENT ONLY. Timed tickets will be available via an online reservation system at conduitgallery.com. Hours for gallery appointments will be August 15th through August 22nd from 10:00am to 4:00pm.
Thirty-three Conduit Gallery artists participated in the drawing game Exquisite Corpse, made
famous by Surrealist artists of the early 20th century. In the Exquisite Corpse, also known as
Cadavre Exquis, participants play by taking turns drawing sections of a body on a sheet of paper,
folded to hide each individual contribution. The first player adds a head—then, without knowing
what that head looks like, the next artist adds a torso, and so on. In this way, a strange, comical,
often grotesque creature is born. Artists were grouped into three participants per drawing and
collaborated to complete one drawing each for a total of 41 artworks that will be exhibited on the
Conduit Gallery website and in the gallery, as well as sold as a fundraiser, with 100 percent of
sales divided equally between Dallas based artist support fund, E.A.S.L and the Black Voters
Matter Fund.
In addition to the thirty-three Conduit artists participating, each artist invited two artists of their
choosing to create additional works. Those collaborations include: James Sullivan inviting Ryan
Goolsby and Frances Bagley; Heyd Fontenot inviting Brian Scott and Erin Stafford; Susie Phillips
inviting Dan Phillips and Jackie Dunn Smith; Annabel Daou inviting Nadia Ayari and Sarah
Anderson; W. Tucker inviting Shawn Smith and Beili Liu; Ted Larsen inviting Ben Dallas and
Amy Ellingson and Susan Barnett inviting Mary Vernon and Michael O'Keefe, among others.
The complete artist list of 96 artists is posted on the last page of this document.
About EASL:
The Emergency Artists' Support League was founded in 1992 to offer monetary grants to North
Texas visual artists and arts professionals in need. Grants are distributed for a medical crisis,
studio damage or other emergencies. Grant applications are reviewed and approved by the 100%
volunteer Board of Directors. All funds are distributed confidentially, as EASL strives to maintain
the artists' anonymity and dignity.
The Dallas Foundation (TDF) is the fiscal sponsor of the EASL Fund, a component fund of The
Dallas Foundation, a 501(c)(3) publically supported charity, Federal Tax ID 2890371. Donations
to the EASL fund can be made through the EASL website or via TDF's website. All donations to
the EASL fund are tax deductible to the extent permitted by applicable law.
About the Black Voters Matter Fund:
The goal of the Black Voters Matter Fund is to increase power in communities by boosting black
voter turnout in elections at every level. Effective voting allows a community to determine its
own destiny. "We advocate for policies to expand voting rights/access, including expanded early
voting, resisting voter ID, re-entry restoration of rights and strengthening the Voting Rights
Act. We also advocate for policies that intersect with race, gender, economic and other aspects of
equity."
For more information visit: Conduit Gallery