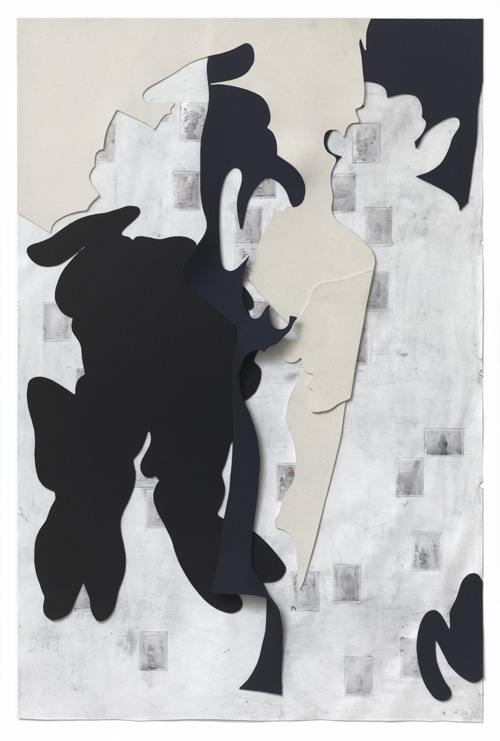 Venezuelan-born artist Arturo Herrera's riffs on magic mushrooms and Walt Disney imagery play off each other – and the Linda Pace Foundation's pristine white spaces – beautifully in the former Artpace resident's current solo outing.
Eight works created between 1998-2002, chosen from the foundation's permanent collection by Herrera and guest curator and interim program director Fairfax Dorn, mingle with newer works created between 2009-2011. In spite of the seven-year time gap, the works unite in
a cohesive whole.
Herrera uses common materials like paper cutouts and felt to support compelling narratives through collage, small steel sculptures and mounted urethane
Common themes include twisted and distorted worlds based on Disney. Mushrooms, 2009, is a collage recalling pop art aesthetics through the
artist's use of colorful paint
smudged across cutout images of mushrooms and German text. Alice in Wonderland integrates with pop-cultural concepts through mushroom imagery. Mushrooms famously altered perceptions physically in the Disney story and mentally in the 1960's psychedelic drug culture.
Herrera achieves a similar juxtaposition with the Rapt series (2011), four large mixed-media compositions consisting of intricately cut felt forms, black and white photographs of a ceramic dwarf (acquired by Herrera at a garage sale) layered over paper visually textured with gritty graphite scuffs. Snow White's lovable friend appears in photographs facing viewers or in profile fashioned like a mug shot. Felt cutouts strategically placed throughout the composition mimic the dwarf's silhouette,
playing on the artworks' negative and positive spaces to manipulate viewer observations as they ebb, flow and pull society's communal memories into the works.
The exhibition's gem, Untitled (2002), is an opulent red wool felt
wall hanging that contrasts with the stark white gallery walls and vibrates with a silent, visual rhythm. Strategically incised voids divide the felt's solidity and create the illusion of overlapping lines comparable to the movement of an action-packed Jackson Pollock drip painting.
Herrera's affinity for felt parallels that of German artist Josef Beuys, who used the material in his art performances. Beuys famously embedded magical qualities into felt, an act that is analogous to magical elements Disney breathes
into its animations. Herrera brilliantly reinterprets enchanted Walt Disney concepts and breaks them down to create an alternate dimension with viewers familiar with the magical world of Disney.
IMAGE INFO:
Arturo Herrera
Rapt #3, 2011
Mixed media on paper with wool felt
86.625 x 59 x 4.75 inches (220 x 149.9 x 12.1 cm)
Artwork © Arturo Herrera/Image courtesy of the artists and Sikkema Jenkins & Co., New York.
---
Arturo Herrera
Linda Pace Foundation
February 22-September 6 (by appointment only)