---
IMAGE ABOVE: From SING SONG, directed by Kathryn Kane.
---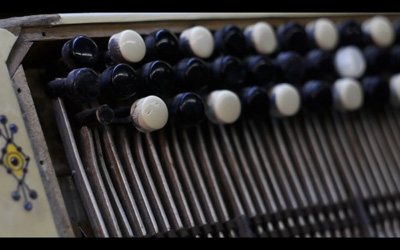 This year, the Houston Cinema Arts Festival (HCAF) added two extra days to their festival called "Spotlight on Houston", which highlighted local filmmakers. Part of this new program was the world premiere of Southwest Alternate Media Project (SWAMP)'s Houston Short Film Fund Films (HSFF, USA, 2013), a project inaugurated to help Houston-area filmmakers develop their craft by giving them a grant of $5,000 each to direct a short film and paired them with professional mentors.
SWAMP is the go-to non-profit for local filmmakers to seek grants, workshops and support. This wonderful media arts organization has been around for 36 years and continues to support the creation and appreciation of film, video and new media as an art form.
"It is my greatest pleasure to be able to give money directly to talented filmmakers to help them gain experience, try new things, and achieve excellence," said Executive Director of SWAMP, Mary Lampe. "It is also important that we not only give recipients cash awards when we can, but give them the opportunity to work with mentors and professionals who serve as a sounding board and guide through the creative process."
The four winning recipients had their world premiere of their short films during the Houston Cinema Arts Festival on Nov. 12 at Sundance Cinemas. It was a wonderful turn out, and all the filmmakers were present for a talk-back after the screening. Their films were accompanied by an earlier work of the artists to make an enjoyable evening of film watching.
Projects included Kathryn Kane's Sing-Song, a '50s-period film following a young girl consumed with resentment toward her older sister; Lauren Kelley's Burlap Interior, a stop-motion animated short that depicts everyday-life situations in the interiors of automobiles; Douglas Newman's Bellows and Buttons, a profile of Houston musical treasure Gabbanelli Accordions; and Jerry Ochoa's This Neighborhood, about a deeply disturbed man convinced he must kill everyone to save mankind.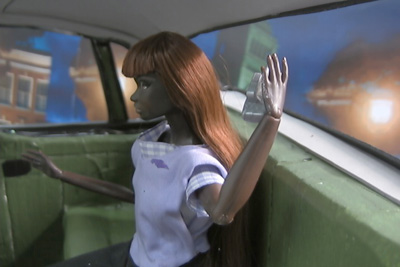 "I've never seen my work projected at the scale that it was shown at the film festival," said Lauren Kelly, who created the animated film Burlap. "Seeing my work on such a large screen compels me to think of new ways to push my medium."
Jerry Ochoa who created the short horror film, This Neighborhood said, "My interactions with my mentor Clay Liford were limited by our respective schedules but we had a very good conversation centered around the post-production process and film festival circuit. The best advice I received from him was to find partners you like and stories you want to tell and keep moving."
When asked if this program—which was funded by an anonymous donor—will continue, Mary Lampe said, "If we receive funding for it in 2014, we will continue the Houston Short Film Fund. Otherwise, we will work to raise additional funding so that we may offer this opportunity in the future."
—CRESSANDRA THIBODEAUX
Cressandra  Thibodeaux is the director of 14 Pews.