Since its founding in 1982, TITAS has been all about bringing the best of the arts to North Texas. The 2020-21 season had been planned to expand upon this mission by featuring, for the first time ever, an all-American lineup of visiting dance companies—until the coronavirus happened. But according to executive and artistic director Charles Santos, in some ways the pandemic has created more opportunities for TITAS, not fewer.

"When it was allowed to, the AT&T Performing Arts Center began focusing on 'live and local,' offering Annette Strauss Square to companies at a very low rate so there could be safe, outdoor performances again," he says. "TITAS is all about touring artists, but here was our opportunity to support the local ones."
The result is TITAS/UNFILTERED, an adult program that premiered in October with The Rose Room On Tour, starring some of Dallas's most famous drag artists. Santos says future ideas for shows are currently being explored.
"We had planned to debut TITAS/UNFILTERED this season anyway, with the idea being that there's a lot of art out there that some people might find, for whatever reason, objectionable," Santos says. "The tagline for this series is, 'if you're easily offended, don't come.'"

Even with this opportunity to provide paying work to local performers, Santos never forgot the crux of TITAS's mission. After a well-received virtual gala where online audiences could see recorded dances from the season's scheduled companies, TITAS doubled down on its commitment to presenting live, in-person performances—as safely as possible, of course.
The first two companies that were originally planned to open the season—Alonzo King/Lines Ballet from San Francisco and Complexions Contemporary Ballet from New York City—have been rescheduled for spring 2021 (Feb. 5 and March 11, 2021, respectively).
As of now, New York City's Parsons Dance will take to the Winspear Opera House stage on Nov. 20, 2020.
"No one will be shocked and appalled if we have to make a change," Santos says. "But right now the Parsons dancers are working inside of a bubble. Once they leave New York, they will continue to live and work in a bubble here. We have a lot of protocols in place with the Center, and have had so many meetings to make sure we maintain this bubble both onstage and off."
Santos points out that even though TITAS is legally allowed to perform to 75% capacity per Gov. Abbott's latest orders, they will only be allowing an audience of 30%. Masks will be required of both patrons and staff at all times, and every other row will be kept empty to promote social distancing inside the theater.
"Most importantly the dancers want to come. David [Parsons] wants to come," says Santos. "We've all learned to work remotely during this pandemic, so we're learning new ways to perform as well. It has been so interesting to watch the creative part of society step up and find a way."
Santos adds that TITAS subscribers have shown enthusiasm for the new programming and have been flexible with the unavoidable changes, but also that he's been impressed with the resilience that those in his industry have demonstrated.
"It's vital that we all share this burden right now, because we're not getting outside help," he says. "If by some miracle we make a profit this season, I'll be happy to do a profit share. But the only way to survive these next 12 to 24 months is to share the pain and figure it out together, or this engine won't restart at all."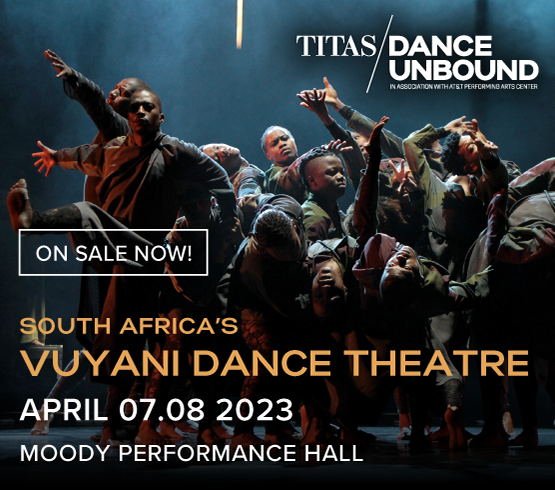 If regulations continue as-is or improve, then TITAS will start off the New Year with Ballet Hispánico on Jan. 15, 2021. Next up is New York's Doug Varone and Dancers on Feb. 12, followed by A.I.M. by Kyle Abraham at the Moody Performance Hall on March 26-27. Closing the season is Aspen/Santa Fe Ballet on April 2-3, also at Moody Performance Hall.
Hopefully, by the time TITAS Command Performance takes the Winspear stage on June 12, 2021, the performing arts world will be getting back to normal—or whatever the new normal may be.
"I'm passionate about this. We will get through this," says Santos. "There will be a lot of closures and sadness, but we're doing our very best to make this season happen. The human race has gotten through pandemics before and we will get past this one, too—science will get us through this. New ideas are coming every day, and I love the creativity that adversity has brought. This is definitely not the end of live performances."
—LINDSEY WILSON