Anna Charlotte Schmid
Gabor and Stefano III, Budapest, 2012
From the series The Other Side of Venus, 2011-2012
Courtesy of the Artist.
---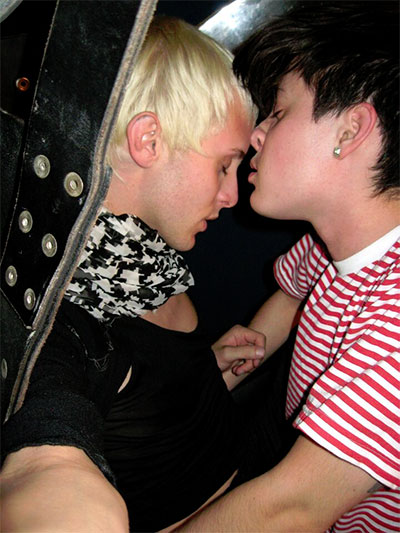 LGBTQ Communities from Within
I Am A Camera, on view at Fotofest International through Aug. 29, features the work of a number of international artists who take as their subjects a diverse array of LGBTQ communities from across the world.
US-based Zackary Drucker & Rhys Ernst's Relationship chronicles the young couple's relationship over five years while one partner transitions from male to female and the other from female to male. Drucker and Ernst juxtaposed their photos in varying scales and placed them into several wall-spanning chunks, ranging from arranged, moody moments, to spontaneous snapshots, the combinations interplaying to create gestures that indicate phases throughout the relationship and their gender transitions. Previously featured at the 2014 Whitney Biennial, Relationship serves as a very private look into how their love and gender expressions evolve, casting casual, silly moments enjoyed in long relationships with the same dreamlike treatment offered the more poignant moments.
Sunil Gupta takes a more sober view of queer culture in the public arena in three bodies of work. In Christopher Street, Gupta documented the pre-AIDS sexual liberation movement, which characterized Greenwich Village in the mid 1970's. As a counterpoint, Exiles documents the Delhi park scene in the 80s, at a time in which India's anti-sodomy law forbade homosexuality and individuals were forced to surreptitiously congregate in public parks to meet and hookup, often facing harassment from law officials. In Mr. Malhotra's Party the artist returns to Delhi to document the gay scene as India's anti-sodomy law is struck down, only to be reinstated four years later; safe spaces, Gupta's implication seems to be, exist only as ephemeral private parties. Any one of Gupta's series functions on its own, but by presenting them together we are able to see the tenuous push and pull between mainstream and queer culture as it plays out in our public spaces.
In You Are You, Lindsay Morris presents a glimpse into a US summer camp for gender-nonconforming children. At face value, the camp appears no different than a family retreat, kids being kids. The space, however, is safe enough for the children to get more creative with their gender expression; a judgment-free laboratory.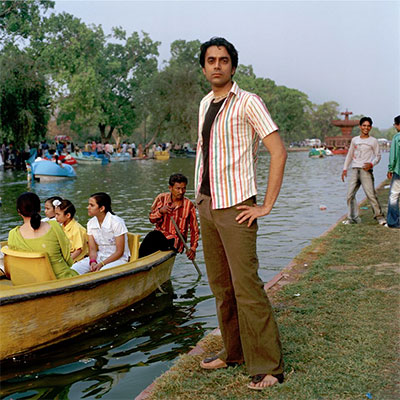 Paris and Baltimore artist Frederic Nauczyciel focuses on voguing, deconstructing the highly stylized movements typical of the dance style in studio-sessions in his series Vogue! He returns to the voguers on a more personal level, creating staged street portraits that channel the grandeur of portraits from centuries past. His video piece A Baroque Ball features the Baltimore vogue group the Fire Flies adapting a Bach concerto into the dancers' vernacular.
Apt. 779 from Russian Irina Popova chronicles life in a communal apartment in Moscow shared by a small group of lesbians. Russia's homophobic backlash marches on so Apt. 779 takes, as its subject, the domestic and personal lives of women just getting by. Popova captures whimsy in her realism, with absinthe parties that feel like tea parties, and intimate lounging on a lazy weekend morning. The youthful simplicity permeates even the lowest moments in their shared narrative.
German-based Anna Charlotte Schmid's The Other Side of Venus focuses on newly pubescent young men in Eastern Europe. Schmid's photos feature one or two figures in abandoned buildings, with cracks in the boarded-up windows artfully streaming light onto their seclusion. The subject's eyes greet the viewer and offer a pure emotion, but it's unidentifiable as if they were savoring a moment of solitude, an escape from a seemingly perpetual state of transition and uncertainty.
Paul Mpagi Sepuya offers the only installation piece in I Am Camera. In Studio Work a wooden crate rests with framed work ready for transport inside; equipment and supplies festoon the walls while small portraits mounted on a panel invite scrutiny. Sepuya gives us a peek behind the prints, making the daily work of a Queer artist known. In the context of I Am Camera, the installation functions as a meta-statement: this is where the worlds of the exhibition and our own converge.
Charan Singh injects class-awareness into the exhibition more explicitly than others. Singh's Kothis, Hijras, Giriyas and Others shows us studio portraits of working class queer and trans people in India. Singh breaks with the clichéd victim narrative that typically falls on these individuals and offers them a means to express their humanity publicly. The artist presents the viewer with flattering, honest images of people historically overlooked by portraiture in India (which was traditionally reserved for high-class, high-caste members of society).
I Am Camera draws a four-decade sample from the Queer experience, from the liberated explorations of sexuality and gender expression to the constrained and unsafe where merely existing can be an act of subversion.
GEOFF SMITH