Chelsea Knight and Autumn Knight in Knight & Knight: Latencies, presented by Project Row Houses and DiverseWorks.
Photos by Jennifer Gardner.
---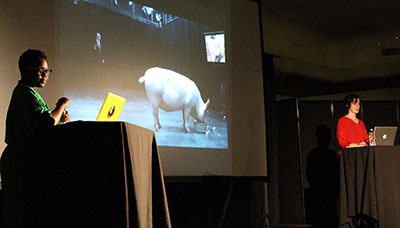 Knight + Knight: Latencies is psychoanalytical spin of a journey into the minds of Chelsea Knight and Autumn Knight. In conjuncture with DiverseWorks' Chelsea Knight and Mark Tribe: Posse Comitatus, Latencies was co-presented by DiverseWorks and Project Row Houses this January.
In this three-part work, Chelsea Knight (a New York-based artist, primarily working in video) and Autumn Knight (a Houston-based performance/video/installation artist) perform a lecture, dinner, and therapy session to explore race and womanhood. Their vignettes transition with help from a female chorus and are punctuated by appearances from Sigmund Freud's "Wolf Man." Latencies can be serious and theoretically dense, but its overall tone is idiosyncratic, and its message encourages honesty and female self-acceptance. In Knight + Knight: Latencies, the two artists weave experiences, assertions, despair, and jubilation to create a picture of lived feminism that allows for fear and doubt as well as a powerful conviction of female worth.
Knight and Knight's first act presents the context of their discourse as Autumn and Chelsea (who identify as black and white, respectively) deliver a lecture on race and gender. They explore ideas including projected identification onto black and female characters in popular literature and the experience of creating a "projected self" by acting less capable to "play the woman" in life. A man in a wolf mask also appears in this vignette to eerily walk the stage. The Wolf Man doesn't interact with the performers, but makes his presence felt (he reprises this act in parts two and three). Autumn and Chelsea eventually distill their discussion into two questions: why women should feel they are worth less when they do not approximate dominant cultural beauty standards; and why black lives should continue to matter less than white lives in Western society.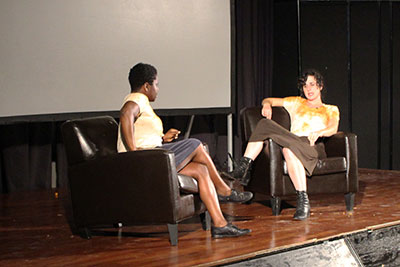 The next parts of Latencies embody the lived experiences of these questions. Autumn and Chelsea's roles diverge. Autumn Knight acts naturally, while Chelsea Knight "others" herself. In Act Two, the pair shares a pasta dinner and a conversation about reality television. However, Chelsea soon becomes distressed by the fact that Autumn is not particularly interested in the trials of the Kardashians. The scene deteriorates as the two cover one another in spaghetti and wrestle to the ground. Autumn largely maintains her composure, but by the end is shouting, "Black don't crack!" While Autumn's cry exhibits a belief of self-worth, Chelsea has become a female caricature, anxious and preoccupied with beauty.
For their final vignette, the two women act as both doctors and patients in an informal psychotherapy session. Chelsea Knight is arguably the primary patient, falling deeper into her "woman" character to explain her feelings of inadequacy and her desire to be considered physically beautiful. Autumn's listens, sometimes chiming in with her own fears, but also admits that she has always felt beautiful. The session ends when the female chorus emerges to ask, "What responsibility does the feminist artist have toward her audience?" Knight and Knight don't respond, but do find solace in one another's arms. Eventually, the entire cast (even the Wolf Man) is slow dancing to a fiddle player's calming tune.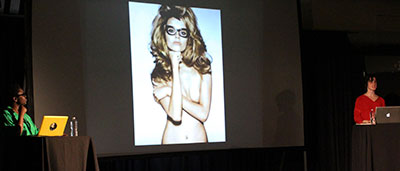 Knight + Knight: Latencies cloaks a powerful, intellectual framework in quirky humor and real experiences to showcase lived contradictions of twenty-first century womanhood. While Autumn acts as a fine example of lived female confidence and self-worth, Chelsea's portrayal—although a characterization—does embody women's real fears/desires about beauty. While of questionable merit, these concerns are authentic and worthy of examination. Together, Knight and Knight present an unusually "full" experience of lived feminism, while also acknowledging their methodology's limitations. Freud's omnipresent Wolf Man acts as a reminder of the possibility and danger that come in attempting to extract truth from the creative musing of the human mind.
—ALEXANDRA IRRERA