James Black as President Lyndon B. Johnson in the Alley Theatre's All the Way.
Photos by Lynn Lane.
---
Lyndon Baines Johnson has surely been called almost every name in every book, especially here in his home state of Texas. But "idealist" hasn't typically been one of them.
In All the Way, written by Texas native Robert Schenkkan and being co-produced by the Alley Theatre in Houston (Feb. 3-21) and the Dallas Theater Center (March 3-27), audiences are invited to dive headlong into the complexities of America's 36th President and risk coming out on the other side. Perhaps LBJ was an idealist after all, the 2014 Tony Award-winning play suggests. Or perhaps one of this country's darkest, most devious political animals decided he could settle for nothing less, within himself and his remarkable time.
"It's striking how incredibly effective LBJ was at legislating," offers DTC artistic director Kevin Moriarty, who is directing All the Way. "He would use any technique at his disposal to get a bill through Congress: cajoling, strong-arming, pleading, coercing. He was unafraid of getting directly involved in making a bill become a law. This is so unlike our recent presidents, who have stayed more removed, and less effective, in dealing with a Congress that rarely passes meaningful legislation, and almost never with bipartisan support. It's fun to watch Johnson pull off these feats of legislative daring, and it makes you wonder what LBJ, with his shamelessness and determination, could achieve with our current Congress."
As portrayed by James Black of the Alley, LBJ is a figure of Shakespearean triumph and tragedy, and the play only hints at how his vision of nothing less than a Great Society later would be dragged down by the Vietnam War. More than ambitious enough to seek the presidency, LBJ ended up playing second fiddle to the charismatic, handsome and (most of all) young John F. Kennedy, only to have an assassin's bullet—in Texas, no less—lead to his own swearing-in beside a blood-splattered First Lady.
Many feared (or hoped) that Kennedy's idealistic New Frontier would crumble without his wit and wisdom to drive it into law, especially the new approach he seemed to have in mind for civil rights and racial equality. No one would have guessed that Johnson, a Southerner nurtured on racism both genteel and violent, would be the man who would and could make Kennedy's dream a reality.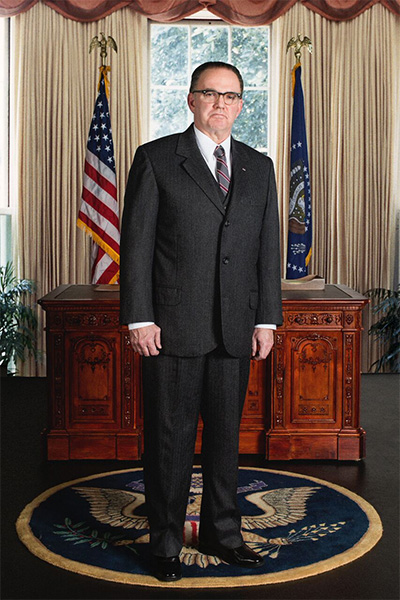 "Many people associate LBJ's legacy with Vietnam, but the reality is, he was a crucial piece of the Civil Rights movement," says Black. "And that historic movement remains part of the current national conversation as these same issues are at the forefront of our youth's political agendas. Younger audiences will see it's important to understand the history of the civil rights movement and LBJ's role in that especially considering the current climate. I admire his ability to work across the aisle, across party lines, to get things done. He may have been perceived as a bully, but he was highly influential in shaping the political landscape, and succeeded in the passage of important Civil Rights legislation."
As the play makes clear in its series of brief, time-traveling scenes—similar to one of Shakespeare's "history plays," like Henry IV, says Moriarty—LBJ entered the White House with all the tricks of the trade  he'd mastered so cynically in the U.S. House and Senate. What he did not have was a clear idea of how he would come to use those tricks to achieve what he came to see as The Right Thing. He even says so in the play. Surrounded by so much typical LBJ bumping and bruising, the simple words come close to being unforgettable. They absolutely force us to acknowledge that, while it was Kennedy's brief reign that got associated with the Broadway musical Camelot, it was even more so Johnson's that was the nation's "brief shining moment."
"In 1963, when Johnson ascended to the presidency, there was great mistrust of his commitment to civil rights on the left," says Moriarty. "In All the Way, we see Martin Luther King, Stokely Carmichael and others constantly trying to determine his intentions and if they can trust him. But with the hindsight of history, it's now more clear to us that, though Johnson was a complicated man who came of age during an era of intense racism, he ultimately chose to wield his considerable power to lead America toward greater liberty and justice for all. This seems timely to me. When given the ultimate political power, Johnson stepped forward and used that privilege for the benefit of the powerless."
Surrounding James Black as LBJ, and often playing multiple roles, are some of the best actors the two Texas companies can gather. The Alley is contributing resident company members Paul Hope as Gov. Carl Sanders, and Chris Hutchison as Robert McNamara, along with David Rainey as the Rev. Ralph Abernathy, and John Tyson as Sen. Richard Russell. DTC is supplying Kieran (Michael) Connolly as J. Edgar Hoover, Hassan El-Amin as Roy Wilkins, Chamblee Ferguson as Sen. Hubert Humphrey, Alex Organ as Stanley Levison, Brandon Potter as Gov. George Wallace, and Steven Michael Walters as Walter Jenkins. Rounding out the cast from DTC are Adam A. Anderson as Stokely Carmichael and Leah Spillman as Lady Bird Johnson, along with Houston-based actors Andrew Cardon as Robert Moses, Michelle Elaine as Coretta Scott King, and Brooke Wilson as Muriel Humphrey.
All the Way was originally commissioned by the Oregon Shakespeare Festival as part of its "American Revolutions: The United States History Cycle." It premiered at OSF on July 28, 2012, directed by Bill Rauch, with Jack Willis originating the role of LBJ. A reading of All the Way was held in January 2013 at Seattle Repertory Theatre as part of the theater's New Play Festival; it was paired with The Great Society, also by Schenkkan.
The play was produced in September 2013, at the American Repertory Theatre (ART) in Cambridge, MA., directed by Rauch with Bryan Cranston of TV's Breaking Bad fame as LBJ. The ART production premiered on Broadway at the Neil Simon Theatre on March 6, 2014, where it ran until June 29, 2014. All the Way was also successfully presented by The Zach Theatre in Austin in 2015.
"The play is a dramatic interpretation of actual events, yes, but it's also a highly theatrical piece of storytelling," Black says. "The LBJ in All the Way is uniquely represented, and I strive to portray the LBJ that Robert Schenkkan has written. My goal is to engage the audience and immerse them in this important time in history. It's a challenge portraying one of Texas' biggest heroes. Most audiences in Houston and Dallas are familiar with LBJ's historical presidency, as his legacy is ingrained in the state of Texas. Many audience members also lived through and experienced his presidency, and I want to give them both the LBJ that they know and invite them to be introduced to an LBJ that they perhaps haven't seen before."
—JOHN DeMERS
---
EDITOR'S NOTE:   James Black had to withdraw from the role due to health issues. We wish him a swift recovery. Brandon Potter will take over the role of LBJ.