Clay Odom/Studiomodo, Flowering Phantasm, 2016-17, mixed media (mill aluminum, gold anodized aluminum, LED fiber, LED lighting, micro-projectors using Arduino and Raspberry Pi.), 3.05 x 2.2 x 1.7 meters.
Collection of the Amsterdam Lights Festival.
---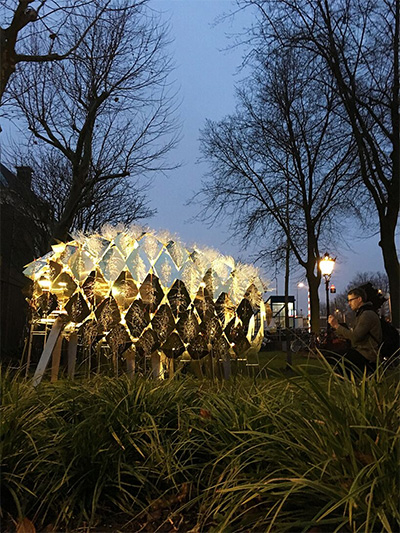 City as the "common denominator" is the main consideration of DATA CITY, an international UNESCO (United Nations Educational, Scientific, and Cultural Organization) exhibition of new media installations by artists from members of the organization's Creative Cities Network (UCCN).   Austin artist and designer Clay Odom has been invited to represent the Texas state capital.
On view through July 13 in the suburb of Enghien-les-Bains in Paris, France, and held in conjunction with the 11th Annual Meeting of the UCNN, this showcase of works from artists around the world is described as a "blank canvas to be mapped with alternative landscapes and new applications…an artistic space which compiles an inventory of possibilities, various virtualities or imaginary artifacts within alternative worlds" by curator Emmanuel Cuisinier, who highlights imagination as a major generative cultural force. For people who can't travel to see the show, or for those who wish to relive their DATA CITY experience through analog means, a bilingual catalogue (French/English) will be published in June 2017.
Odom's participation in the exhibition is embodied in Flowering Phantasm, designed by studioMODO and completed in collaboration with sound artist Sean O'Neill, who also lives in Austin. Odom exhibited the original version at the 2016-2017 Amsterdam Light Festival but, for UNESCO, he situated it on a different armature, augmenting it with additional protruding attachments, video, mini-projectors, and hood.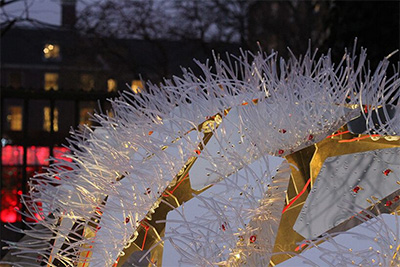 The 10 feet x  6 feet x 5 feet intricate, digital, interactive assemblage contains over 400 anodized gold pneumatic "petals" programmed with modeling software and covered with over 3000 feet of LED fiber "hairs." The petals expand and contract because of an internal network of micro-blowers while more than 40 individual LED light sources, controlled with an internal computer, illuminate the object from the interior. These sensitive, responsive components capture and process external stimuli as people pass by, including movement, light, and sound, creating an internal video, that is externally projected of a seemingly other-wordly space, which in turn generates more movement by and experiences for curious folks.
Odom, who started his undergraduate studies as a music performance major and currently serves as assistant professor at the UT School of Architecture, explains that the size and presence of Flowering Phantasm is important so people feel they can physically and personally address the piece; to achieve this, he made intentional decisions in the design such as giving the sculpture a "front side" in order to make it more approachable. While in the midst of installing in Paris, he explained his interest in voyeurism, data capture and surveillance—the relationship between what we think we see and hear, and what we actually see and hear. From where he was standing, seeing the piece as part of a curated exhibition, in tension and conversation with other works, he says it "holds its own" and is amazed at its capacity to exist in very different contexts, acting as a shape-shifter of sorts.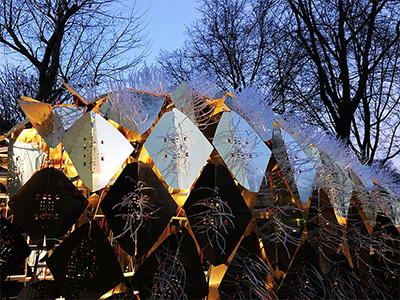 Regarding how Odom was selected for this opportunity, Meghan Wells, Manager of Austin's Cultural Arts Division says, "The Data City curatorial team in Enghien-les-Bains selected Clay, whose proposal most aligned with their goals for the exhibition. Flowering Phantasm perfectly exemplifies the type of innovation routinely happening in Austin, and were pleased to have him represent us." Support from and cooperation with the University of Texas at Austin School of Architecture and the UTSOA Interior Design Program helped make the project possible.
Flowering Phantasm is situated within a lineage of Odom's research and previous projects. Similarly, Odom finds himself in the company of a string of other provocative "Media Arts" cities including Tel-Aviv Jaffa, Dakaar, Gwangju, Linz, Lyon, Sapporo, York, and Enghien-les-Bains. Austin is the only participating U.S. city and the first to receive a "City of Media Arts" designation, which "underscores Austin's position as global leader in the nexus of art and technology, and will provide an international platform for local creatives," says Wells.
"We received the designation in 2015, after an extremely involved, two-year application process," she explains. "In 2012, the City's Economic Development Department completed an International Economic Development Strategy, designed to strengthen Austin as a world-class business city where trade, finance, technology, and a diverse population enable local business to thrive in the global economy. One of the actions identified was to pursue a designation as a UNESCO Creative City to establish opportunities for joint creative industry development with other member cities. We chose the Media Arts field for Austin because it not only reflected our reputation as an innovative city, but it was also an opportunity for many artistic disciplines to be represented – including visual art, music, film, and digital gaming."
The City of Austin has been a member of the UCCN since 2015, and Wells says the relationship helps facilitate productive and meaning connections within and beyond the city—strengthening Austin's international relationships; pairing local media artists with innovative companies; bolstering the economic stability of Austin's arts ecosystem; encouraging cross-sector creative output; and globally elevating the local creative community. Info about UNESCO here.
As for the artwork itself, Odom says, "If people ask if it's real, we have done our job."
—NANCY ZASTUDIL