Works at CAMH Have Sensuality, Surrealism and a Sense of Humor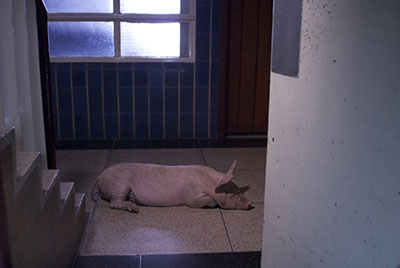 Mexico is widely known for its history of revolutions and struggles. Constant struggles with government and gangs have led artists to work in the political sphere, seeking answers and forcing audiences to take sides. Melanie Smith doesn't offer answers. Instead, she seeks reverberation. Smith's current exhibition at the Contemporary Arts Museum of Houston, part of the museum's Perspectives series, focuses on three video installations: Elevator, Bulto: Fragments, and Xilitla: Dismantled 1.
Although she's originally from Great Britain, Smith is one of the best-known Mexican artists working today. Born in Poole, England, Smith now resides in Mexico City, creating cinematic installations that, in the beginning, showcased the eccentricities of the sprawling chaos that is her adopted city. Her early video work focused on analyzing the bustling markets as well as the physical expanse of the city she lives in. However, her new approach to film has become more sensual, poetic, and surreal.
Smith's cinematic work has been moving towards painting since 2010. This evolution in her practice comes from the transference of the sense of illusion, ever-present in painting, to the screen. It also acts as an extension of the story she was already telling. While before she would focus on her adopted city, she began to extend it into her personal history, adding narrative tension to the newer work. These new components—sensuality, surrealism, and humor—make her latest films and sculptures more seductive than her previous work.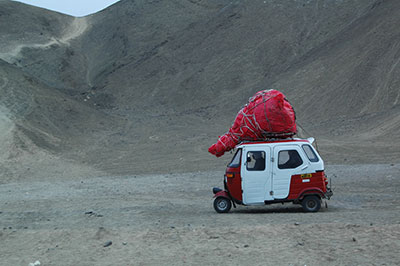 In film, Smith commonly plays with the idea of deconstruction, taking film apart to create something new without necessarily having a real narrative. Working, in a sense, as a collage artist, she creates film out of shuffling stills. In her piece Elevator, she presents the episodic nature of being in an elevator. Every time the doors open, there's the potential for a new scene to take place. Moving with the elevator, the doors opening and closing, scenes appear and vanish, becoming more humorous and surreal as the video plays on. There's also a lot of humor in the soundtrack of the piece. Consisting of gasps, grunts, and bird calls, the sound works to take you in a completely different direction by evoking a sense of distance and broadening the perspective of the image itself. Viewers feel a sense of anticipation, waiting for some sort of connection between everything. However, Elevator does nothing to offer connections, leaving viewers to find either humor or frustration.
Through her films, Smith offers non-linear transportation. She won't take you from point A to point B, but she will take you somewhere new.Xilitla showcases the Mexican city of the same name, focusing on Las Pozas—a surrealist sculpture garden created by the English poet and artist Edward James. In its present condition, Las Pozas is being taking over by the jungle, offering a seductive setting for the natural exuberance of Mexico's landscape. Smith's film seeks to disassemble the enclave James built by distancing it from the natural landscape and projecting its own desire upon itself. People often see the city and comment on the beauty of James's work as nature consumes it, and Smith pulls back the curtain on it, revealing that maintaining it is all the locals can do to keep it from collapsing. The best thing they can do is work to make it stable.
Often commenting on stability and irreversibility in her work, Smith highlights a variety of issues facing Mexico and all of Latin America, disturbing the flow of historical, social, and politicalregisters. Filmed in Lima for the Museum of Art in Lima, Bulto acts as a kind of phantasm that represents a phenomenon that could take place anywhere in Latin America. It's psychological baggage, a shadow of an unresolved identity common throughout the region—something no one wants to deal with but cannot avoid while it's there. The film depicts a series of people carrying the bulto—a large, obstructive package that bears the potential of containing a body—throughout the city, attempting to abandon it in public spaces. Never truly gone, the bulto either is taken upon by another group or reemerges elsewhere—someone else's problem, or rather a shared problem.
—MICHAEL MCFADDEN
---
Melanie Smith
Contemporary Arts Museum Houston
Through June 15