Sara Webb and Connor Walsh in Ben Stevenson's The Sleeping Beauty.   Photo by Amitava Sarkar.
---
Houston Ballet's 2015/2016 Season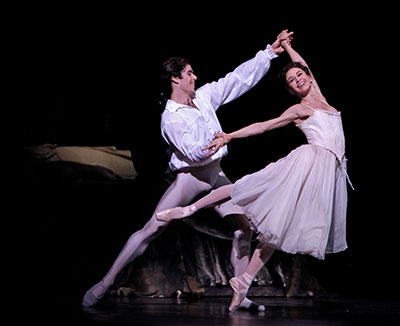 Houston Ballet's Artistic Director Stanton Welch programs for today's dance audiences, who are as likely to embrace a rising choreographer as they would a fresh version of a cherished classic. The 2015/2016 line-up runs the gamut from dramatic full-lengths to bold works created by the world's most in- demand choreographers.
Story ballets form the heart of any Houston Ballet season, and with Manon, The Sleeping Beauty and a new version of Giselle, there's enough variety on stage for fans that prefer narrative ballets. With a company of superb actors on hand, Welch opens the season Sept. 10 – 20, with Sir Kenneth MacMillan's heart-wrenching Manon, a tale of love, sex and money. Set to music by Jules Massenet, Manon contains some one of the most beautiful pas de deux in the ballet canon, and is largely considered one of the seminal works that brought story ballets into the modern era. "It's an iconic ballet that all dancers aspire to dance," says Welch. "It's one of his strongest works, and well on its way to becoming a timeless classic."
Ballet audiences are always growing, which is why it's so important to bring back major works that were also crowd favorites, such as Christopher Bruce's Ghost Dances and Tapestry, which make up two of the three works of the Fall Mixed Repertory, Sept. 24 – Oct. 4. Rounding out the program will be a world premiere by former Houston Ballet dancer turned rising choreographer Garrett Smith in his third work for the company.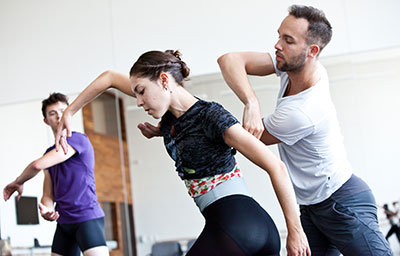 Bruce's Ghost Dances has not been seen on Houston Ballet's stage since 2003, so it's about time audiences get another chance to see Bruce's stirring meditation on political upheaval in Latin America. "It's one of his finest works, and I have been trying to bring it back since I arrived," explains Welch. "It will be new to most of our dancers, and to a good deal of our audience as well."
No season is complete without a princess or two. The winter season brings the joyous The Nutcracker, Nov. 27 – Dec. 29, the annual Jubilee of Dance, Dec. 4, and the return of Ben Stevenson's The Sleeping Beauty, Feb. 25 – Mar. 5, 2016, a ballet deeply embedded in most dancers' DNA. "These are great roles for the dancers that they must have a go at. The dancers really get to test their mettle," Welch insists. "It's time for The Sleeping Beauty to come back."
New works are a steady indicator of the health of any major ballet company. They not only appeal to the audience's desire to stay current with the ballet field, but they also feed the dancers' souls by pushing them in new directions. Three major works enter Houston Ballet's repertoire during the Winter Mixed Repertory, Mar. 10 – 20, 2016: Wayne McGregor's Dyad 1929, Jerome Robbins' West Side Story Suite and Jiří Kylián's Wings of Wax. The trifecta of Robbins, Kylián and McGregor on one bill allows us to see the work of three generations of contemporary masters in one swoop.
With Robbins' centennial approaching in three years, building the rep of this great American choreographer's works is a smart move. Since West Side Story Suite involves dancing, dialogue and singing, Welch sees this as an opportunity for the company to stretch its wings. "I know we have some vocal talent in the house because I brought a karaoke machine to one of our holiday parties," quips Welch. "I love the triple threat aspect of the ballet. They can handle the dancing and the acting. The singing might be scary, but it will also be a great challenge."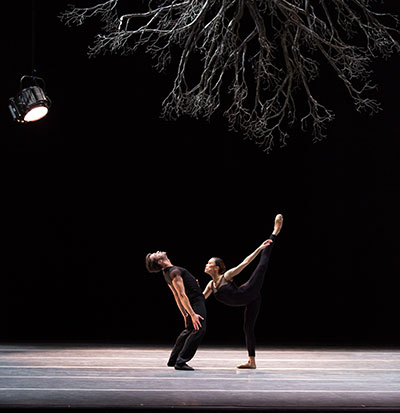 It's also been a company goal to continue to introduce the dancers and audience to the full depth of the Kylián repertoire. Wings of Wax, which features eight dancers under the canopy of a giant tree, is set to music by four great composers: Heinrich Ignaz Franz Biber, John Cage, Philip Glass and Johann Sebastian Bach. "Wings of Wax plays out like an intricate puzzle, and bridges Kylián's black and white phase to his present style," Welch muses. "It will be new territory for us."
Dedicated to the memory of modern dance legend Merce Cunningham and set to Steve Reich's Pulitzer Prize-winning Double Sextet, Dyad 1929 makes a fine introduction to McGregor's dynamic style. "Dyad has not been done in the U.S., so it will be unique to us. McGregor has his own voice and agenda. I see his influences, but he has his own accent. He will inspire the dancers, so it's such a good choice for us."
Welch has knack for combining the old with the new, which is exactly what happens in the Spring Mixed Repertory, May 26 – June 5, 2016, that includes Balanchine's 1934 masterpiece, Serenade, MacMillan's 1980 somber elegy to World War I, Gloria and Alexander Ekman's smart and sassy commentary of contemporary dance, Cacti, also a Houston Ballet premiere. Ekman has set works on such top companies as Boston Ballet, Gothenberg Ballet, Royal Swedish Ballet, Cedar Lake Ballet and Netherlands Dance Theatre, where he serves as associate choreographer. Created in 2010 for NDT II, Cacti is one of Ekman's most playful and successful pieces. "Our audience is going to love this piece," Welch says. "He's such a clever man, the humor and musicality are superb."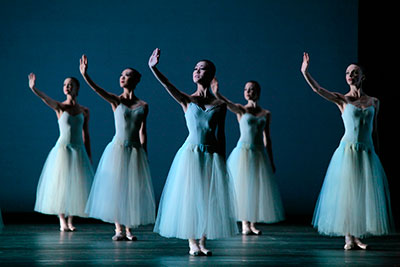 Welch has been charging through the classics at a steady clip, with his own versions of Cinderella, Swan Lake, La Bayadère and a Romeo and Juliet already behind him. Houston Ballet ends the season with Welch's lavish new production of Giselle, June 9 – 19, 2016, the company's first new production of this treasured work in over three decades. Giselle will be paired with Welch's high octane white tutu ballet, Velocity, which not only shows off the choreographer's deft musicality as he brings Michael Torke's score to motion, but the virtuosity of the full company. It's a tour de force that audiences can never get enough of, whether they perform the ballet on tour or at home.
For Giselle, Welch will be working with Italian designer Roberta Guidi di Bagno again to create the look of the ballet. "The second act will have a more tangled oak look, the Willis will be more like plant-like spirits, emerging from the flora. The men will have more to do, of course, and the character parts will be dancing roles."
Welch sees this new production as larger than just the end of the season. "Giselle is a near perfect ballet," states Welch. "And since it's the very ballet that launched the professional company in 1967, with Carla Fracci and Erik Bruhn, it feels right to have a new production in place as we move toward our 50th anniversary."
—NANCY WOZNY
Reprinted from Playbill.