Ron Berry kicking off Fusebox Festival in 2014. Photo by Bakre Shilpa.
---
I have a slight Diaghilev complex. Alright, some might call it moderate to severe. In another life, I would run a festival in some mountainous, quaint village in Europe with an unlimited budget, a velvet martini lounge, and the freedom to present both the famous, the super-weird and the completely obscure. Alas, my Diaghilev-ian nature still manages to express itself here and there: I am not beyond telling presenters who I would like to write about.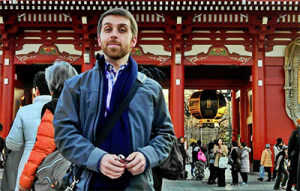 After all, without strong art, these pages are empty. Certainly, there has to be a place for the bossy in this biz, for those who dare to dream up programming that is actually new to us. I appreciate the impresarios among us, and they are among us, right here in Texas. I can spot them immediately: they have a look in their eyes, and, of course, the inventive programming that comes from their speculating minds.
Evan Wildstein, Director of Performing Arts & Culture at Asia Society Texas Center, definitely has that wild look in his eyes. Equal parts mischievous and innovative, Wildstein has put together some fantastic programs this season, but the best is yet to come, when Houston Ballet Soloist Nao Kusuzaki presents Tsuru, June 27-28, based on the story of The Crane Wife. Wildstein worked closely with Kusuzaki to form the creative team, which includes choreographer Kenta Kojiri, director Matthew Ozawa, and koto musician Yumi Kurosawa. This is the kind of original programming born right under the Asia Society roof that Wildstein hopes to continue, where he seeks out local or national talent for special projects.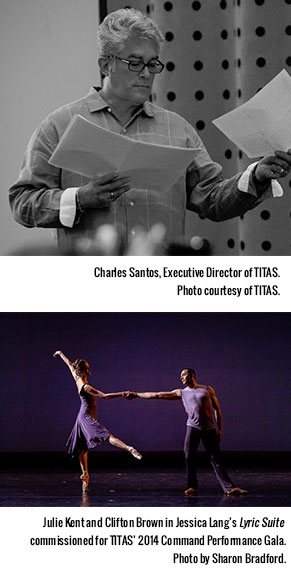 Charles Santos could whip up a dance festival in his sleep. The Executive Director of TITAS' Dallas dance series is a treasured Texas gem. With his elegant dancer posture from his years at Austin's Sharir Dance Company, he even looks the part. It's obvious that he cherishes the curatorial aspect of this job, from hand-picking the programing of his visiting artists to commissioning work for TITAS' Command Performance Gala. He's had an impact on rising artists such as Jessica Lang, from who he commissioned last year's Command Performance. Santos has put together another winning program for this year's Gala on May 16 with a commission by Adam Hougland (Booker T. Washington grad and Dance Magazine "25 to watch"), danced by Clifford Williams from New York and Albert Drake from Dallas. Co-commissioning a new work from the iconic American dance maker Twlya Tharp to launch Tharp's Fiftieth Anniversary Tour on Sept. 18 -19, is his most recent impressarial act. He is also totally on top of the local dance scene too, and did a fabulous job moderating the post-show talks at the Dallas DanceFest. Thinking big, bold and even local is Santos' signature.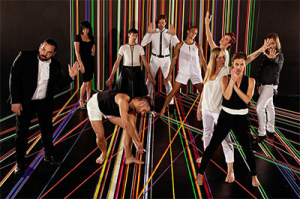 Austin's Ron Berry has a more understated style, yet he's the guy who dreamed up the fabulous Fusebox Festival that places Austin on the forward- thinking arts map. It's a jewel of a hybrid festival, brilliantly curated in way that showcases local, national and international artists in the same proportions. Berry is a master curator of work that defies categorization and often takes a bit of explanation. The blurrier the boundaries, the better! He has cultivated a loyal Fusebox following who expect just that. Often in the presenting biz, there's a tension between local and visiting artists. By showcasing Austin artists alongside outside artists, something altogether different can happen. Now in its 11th year, the festival's lineup this year shows the depth of his thinking: it includes Sam Green and Ymusic's  The Measure of All Things, luciana achugar's Otro Teatro, Daniel Alexander's An Integrator's Manual and Chris Schlichting with Jennifer Davis and Alpha Consumer in Stripe Tease.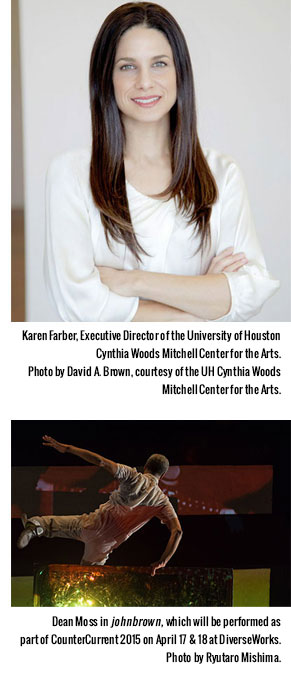 An effective impresario does not operate on an island, and Berry is a superb partner builder. This year, Fusebox expands with thinkEAST, the result of an 18-month community engagement planning process. The thinkEAST site will host everything from food events to installations, and it's just the kind of event that comes from Berry's on-the-ground approach. From Puro Chingón Collective's interactive screening of the film Selena to Allison Orr's newest opus, The Trees of Govalle, thinkEAST takes Fusebox one step further into integrated immersive events.
I have Karen Farber to thank for hiring Orr to create the marvel of Afoot—A Marching Band Extravaganza that took over the Houston's East end as part of Houston Arts Alliance's Transported + Renewed. Farber, the Executive Director of the University of Houston Cynthia Woods Mitchell Center for the Arts, specializes in nurturing artists who employ a collaborative process, and she has been responsible for some of the most riveting lectures, performances and events presented in Houston. Her individually-tailored residencies have supported such renegade artists as Jonah Bokaer, Daniel Bernard Roumain, Marc Bamuthi Joseph and Dario Robleto, to name a few.
She's also the mastermind behind the Mitchell Center's CounterCurrent Festival, April 14-19, now heading into its second year with a stellar lineup that includes Dean Moss's johnbrown (with Diverseworks); Suzanne Bocanegra's Body Cast with Lili Taylor; and Maya Zbib and Omar Abi Azar and the Beirut-based Zoukak Theater Company orchestrating In Walking Distance. With Farber, you get the feeling that she's always thinking about the next cool thing.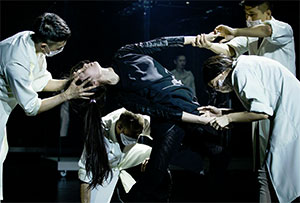 And we can't forget the elegant Nancy Henderek, the chief curator and artistic director of Dance Salad, one of the most unique international dance festivals in the world. Henderek traipses the globe to hand pick choreography for her annual Houston festival, April 2-4 at Wortham Center. She's known internationally as a one-woman United Nations dance-entrepreneur. Henderek also works closely with each choreographer to excerpt the piece so that the whole evening fits together. Highlights include selections from Sidi Larbi Cherkaoui's Genesis, Shell Shock, and TeZuk, Annabelle Lopez Ochoa's Shadow Lovers for Houston Ballet principals Melody Mennite and Connor Walsh, and Australia's Queensland Ballet with its Artistic Director, Li Cunxin (author of Mao's Last Dancer and former Houston Ballet principal), in tow.
I have seen enough drop in the box, prepackaged, commercial programming for one lifetime. Let's hand it to those who fuse vision, expertise and risk-taking in putting a great show or festival together. Make way for Texas' impresarios; these are the folks keeping me in the front row.
—NANCY WOZNY