Texas Ballet Theater dancers Andre Silva, Alexander Kotelenets, Joamanuel Velazquez and Erez Zohar, with Shane Howell, répétiteur for Ohad Naharin, rehearsing Naharin's Minus 16.
Photo by Ellen Appel.
---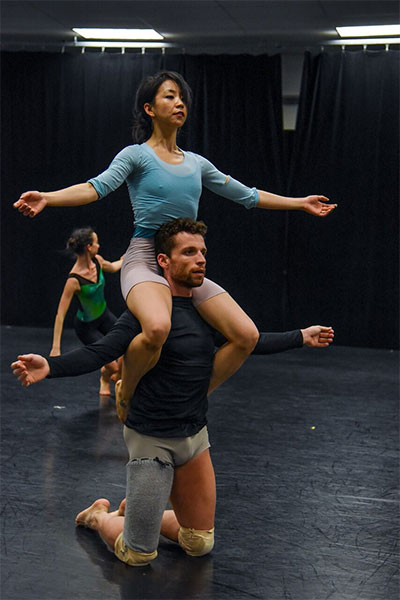 I've been obsessed with Israeli contemporary dance since returning from International Exposure 2015 last December, and for good reason: Some of the best contemporary dance on the planet harks from the tiny seaside city of Tel Aviv. In my trip wrap up, I found myself struck by how many times I have seen Ohad Narharin's Minus series; The work, created by the legendary Batsheva artistic director, has been reconfigured many times, and is often performed as part of Decadance, the great choreographer's mix-tape of hits. Texas audiences have seen this ballet performed by troupes including Alvin Ailey American Dance Theater, Cedar Lake Ballet, Hubbard Street Dance Chicago and others, though TITAS, Society for the Performing Arts and Houston Ballet's Cullen Series. But when Texas Ballet Theater performs Minus 16 this month it will be the first time a Texas dance company tackles this work. The evening, titled "First Looks," also includes Glen Tetley's Voluntaries and the world premiere of Val Caniparoli's Without Borders, May 6-7 at Dallas City Performance Hall and May 27-28 at Bass Performance Hall in Fort Worth.
I called Ben Stevenson to wish him a happy 80th birthday and talk about how the Naharin was going. "I wish I was 18 and not 80," laughed Stevenson, who was eager to tell me how the iconic Israeli choreographer's work ended up on his season. "Well, everyone was talking about him and this work: Dancers, my nephew, a ballet master at the Royal Ballet. There was just this amazing wave of praise about his work." Once Stevenson familiarized himself with Naharin's work, he was on board. "I've always been interested in Batsheva Dance Company. I was so moved by the movement. It's cutting edge dance, and it will be so exciting for our dancers," added the Texas ballet legend.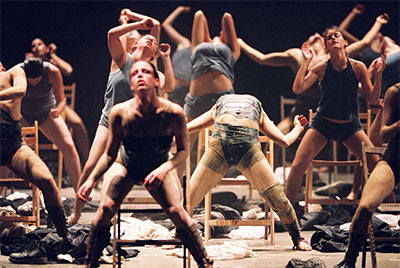 The dancers are taking Gaga classes to prepare; Gaga is the movement method developed by Naharin for dancers to deepen their connection to their bodies. "It's very secretive; they won't let me in," quips Stevenson. "I'm afraid if I took the class I wouldn't make it to 81. Rehearsals have been rather private too. It's all very exciting. They really need to concentrate to be able to work in a different way."
And there's more: next season (March 2017), TBT presents a world premiere by Israeli-American choreographer Avi Scher. "We are stretching," says Stevenson. "We want new works to be the face of the company. We want to spread our wings."
Earlier this season, there was more Naharin action when Mr. Gaga, directed by Tomer Heymann and produced by Barak Heymann, celebrated its North American premiere at SXSW. Mr. Gaga won the audience award in the Documentary Spotlight category, and just recently, the jury award for Best Documentary at the Sofia International Film Festival. Texas' sole certified Gaga teacher, Amy Diane Morrow, worked on getting the film to Texas. "It took them eight years of filming over 41,000 minutes of performances around the world, including footage of rehearsals, Ohad's personal life, and rare archival footage to create the documentary," says Morrow. "The film creates a platform for larger conversations about being an artist and a citizen. It even touches on the patriarchal system in the dance world and credits the dancers for their brilliant interpretations of his movement language, Gaga." Stay tuned for more Texas screenings.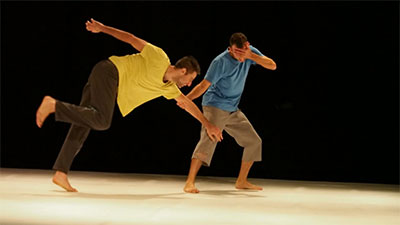 While I was in Israel, I had no idea that plans were underway to bring two of my favorite choreography teams from International Exposure, Yossi Berg/Oded Graf and Niv Sheinfeld and Oren Laor, to the theater in my backyard. On October 1 at Miller Outdoor Theatre, Houston can look forward to CORE Presents Israel featuring, Berg and Graf in Heroes, (Part 2), Sheinfeld and Laor in Big Mouth, Anat Grigorio in an excerpt from Mr. Nice Guy, and CORE Performance Company in a world premiere by Sheinfeld and Laor.
Another standout from International Exposure was Idan Sharabi, a Juilliard graduate and former Batsheva member. Sharabi's work, created through an extensive interview process, explores the concept of home. Morrow, who is his manager, is bringing him to Austin for the Dance USA Conference in June and for a two-day Master Class Series, June 11-12. "Dancers will have the rare opportunity to dive into his most recent work, Now, and learn about his unique movement vocabulary and choreographic toolbox," adds Morrow.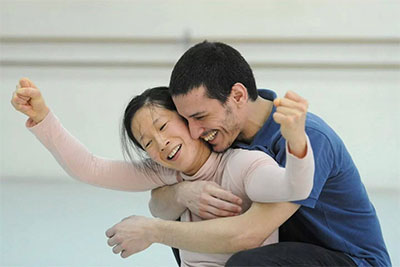 Although it's too soon to reveal the details, Texans can expect more Israeli dance action at the Evelyn Rubenstein Jewish Community Center of Houston's Dance Month in 2017. Who knew that so much terrific Israeli dance would be following me home to Texas?
—NANCY WOZNY