Nathaniel Donnett performing in [Talk] Nathaniel Donnett: No Vacancies Outside the Tortoise Shell, in conjunction with his Project Row House installation, the off-center of invisibility, as part of Round 42: The One and the Many: A Self-Portrait in Seven Parts, curated by Sally Frater.
Photos by Lynn Lane.
---
When Nathaniel Donnett was wheeled in laying inside a coffin at the CAMH for his artist talk, In Memory of… as part of his installation, Nothing to See Hear in Right Here, Right Now: Houston, I wondered how the talking part was going to pan out. In light of recent events, the image of a young black man in a coffin speaks volumes as it is. Donnett's elaborately orchestrated faux funeral was just one of many of his highly-performative talks, which combine images, words, music and action.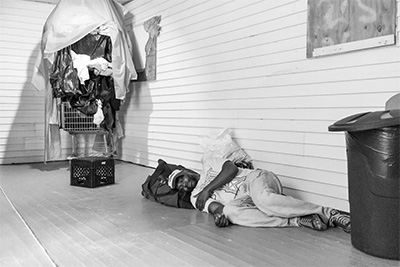 At Dallas' CentralTrak, Donnett's talk took an equally theatrical spin. Sally Frater, former critic/writer-in-residence at CentralTrak, described it as "self-reflexive, dynamic and incorporated elements of rap, history, current events as well as art, ensuring that there were multiple entry points for viewers not only into his performance but his practice overall."
Technically, the artist did not make a sound in [Talk] Nathaniel Donnett: No Vacancies Outside the Tortoise Shell, in conjunction with his Project Row House installation, the off-center of invisibility, as part of Round 42: The One and the Many: A Self-Portrait in Seven Parts, curated by Frater. Instead, Donnett performed inside his piece, turning his installation into a makeshift set. He begins lying down amid his work, eventually moving about the space, while an actual talk is done via a voice-over with Miles Davis' In A Silent Way playing under his voice. The talk itself is very much an artist talk. It's haunting, intimate, claustrophobic and distancing all at once, and indeed aims right at the "off center of invisibility."
Donnett concluded the talk asking, "So why is this talk a non-talk? For me, this talk is a non-talk because I simply wish not to talk about it." Donnett has his own rationale for the piece. "Basically, going the route of story telling and connecting it to art talk through audio with performance mixed in, I figure, why not try talking but not talking?" asks Donnett. "It's finding that space in between the two. At the end of the performance, where I created the makeshift shelter (continuously making and searching for a space-theme of the installation) for myself, I got back into the beginning position. It looks like I disappeared or vanished behind the shelter." Donnett plays with silence, questioning presence and absence, mirroring and re-purposing the concepts embedded in his work.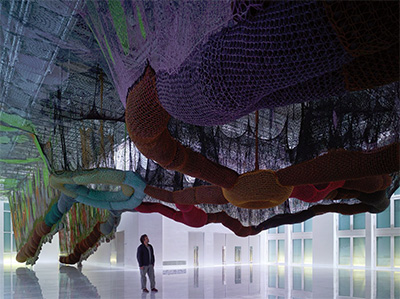 Both the CentralTrak and Project Row Houses explored Donnett's "Dark Imaginarence" concept, which he describes as in a poetic tangle of words as "non-linear, non-specific approach to art, art making and being a creative. It conceptually and aesthetically ties together the sociopolitical conditions, multiple experiences, creative practices, imaginations and cultural expressions of black people in the United Sates (mainly the south) and throughout the African diaspora. It is an attempt to reclaim or rethink these contributions that may have been overlooked, erased or not yet imagined and place them in a form and with content through the lens of the everyday person and contemporary art with more emphasis on the everyday."
Of course, Donnett mixes it up: performance is a regular part of his practice. He was a hip-hop dancer in college. He runs the webzine  notthatbutthis.com. He watches So You Think You Can Dance. Sound and music also factor into his work. Theater is inevitable.
So what if you are going to give an artist talk and just talk? Technically, Brazilian artist Ernesto Neto recently did just that at the MFAH earlier this spring. But it was a sprawling, talk, with animated gestures and tangents in spiraling directions, not unlike his expansive and interactive work. Neto held the crowd captive with his explosive style. He was dressed all in white, too, with wild gray hair, a fitting costume for his over-the-top talk; even MFAH director Gary Tinterow described Neto's talk as a performance. And it wasn't so just because he was so animated. It had more to do with how he approached the event. He took the stage rather than the podium.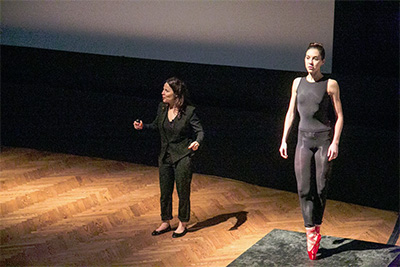 The folks at University of Houston Cynthia Woods Mitchell Center for the Arts figured out the entertainment value of the artist talk a while back. First with Suzanne Bocanegra, who takes the artist talk to the meta-level, especially in When A Priest Marries a Witch, which was billed as Bocanegra's talk, but was actually performed by Paul Lazar. More recently, as part of Mitchell Center's CounterCurrent Festival, Bocanegra performed (sort of) Body Cast at the MFAH, where she began the talk at the podium, but then handed it over to the renowned actor Lili Taylor, who continued the talk with Bocanegra whispering the words into her earpiece. Talk about being absent and present at the same time. When she referenced her 2010 piece, Little Dot, inspired by Georges Seurat's painting Young Woman Powdering Herself, Houston Ballet first soloist Katharine Precourt entered to perform 664 bourées, representing the number of red dots in the painting. Bizarre and wonderful both.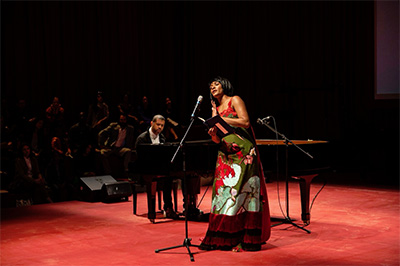 The Mitchell Center's Artist Lecture Series launched with choreographer Bill T. Jones setting the standard for talk as performance. Jones is a commanding presence. "He was so regal, so alive, so connected to the audience," recalls Karen Farber, Mitchell Center's executive director. "He had worked with students earlier that day and it caused him to feel much more rooted here." Last fall,  multi-media legend Laurie Anderson, a consummate storyteller, charmed the crowd with her reminisces of her life and work. It may have been just talk, but her timing was impeccable. The series continues with Jason Moran and Alicia Hall Moran's talk on Sept. 16 at the UH's Moores Opera House. I'm expecting a lot.
More recently, it was artist, curator, and FotoFest Director's Steven Evans' talk at CAMH that proved subtlety can also be at play here. His stoic, solemn and elegant reading of iconic disco song titles from his new book The Number One Song In Heaven evoked an era of celebration, contemplation and loss.
So what does all of this mean? The arts are moving closer to each other. As the visual arts drift toward more time based events, it's simply inevitable that a performaniaic such as myself is going to frame the artist talk as theater. Someday, there will be no boundaries left to blur.
—NANCY WOZNY