Travis Prokop from NobleMotion Dance and Kimi Nikaidoh (Director of Bruce Wood Dance Company in Dallas Texas) in ABC's American Crime, directed by John Ridley and choreography by Dionne Sparkman Noble and Andy Noble. Photo courtesy of ABC.
---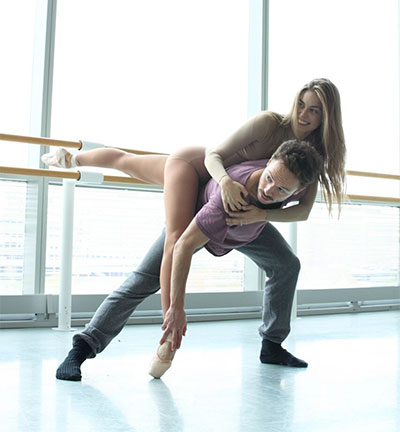 On Feb. 3 some three million folks saw something amazing on network television: contemporary dance that was not part of a reality show. And it was good! Wait, there's more: the choreographers and the dancers were Texans! Executive producer John Ridley (Oscar®-winning scriptwriter for 12 Years a Slave) enlisted the talents of NobleMotion Dance choreographers Andy Noble and Dionne Sparkman Noble to create a moving four-minute sequence for ABC's American Crime.
Dance can be part of people's lives and that's how it ended up playing a role in this story. It's also a very serious use of dance in a larger conversation on intimacy and human connection. "I can see how dance was a great vehicle to show the complexity of relationships, the power struggle and physicality associated with the subject matter," says Dionne. And these are serious choreographers. Next up for the troupe on April 9-10 at the Evelyn Rubenstein Jewish Community Center is L'Dor Vador, which tells the story of Andy Noble's Jewish family's journey from World War II Europe to the theaters of East Texas.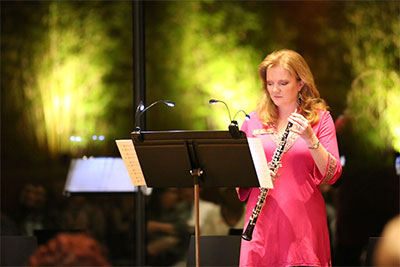 Ballet is more in the public eye. Wasn't that Misty Copeland hanging out with President Obama recently? Sadly, Starz's Flesh & Bone focuses on the cray cray antics of the ballet world representing dancers themselves as narcissistic ninnies. I get it: no one is going to watch the daily grind of 32 grand battements, but does it have to be such dreck? OK, so I only watched one episode. Houston Ballet principal Melody Mennite, who last dazzled us as Carabosse in Ben Stevenson's The Sleeping Beauty, has a few things to say about a show set in the ballet bubble. "It's not that there are inaccuracies as far as how intense and twisted the professional ballet world can become, it's just that they are thrown so hard and all at once so as to numb and stupefy the viewer. The truth is that ballet dancers, like any other young professionals, are faced with moral, ethical and emotional challenges that quite frankly, they are unprepared for." Obviously, Mennite is nothing like the dancers portrayed on the show. She recently organized Project REACH, with Connor Walsh and Oliver Halkowich, an organization that allows company members a chance to choreograph and learn every aspect of production, and raise money for a project they love, Houston Ballet's renowned outreach program X3, which provides after-school programs for free. The show runs April 1-2 at Houston Ballet's Margaret Alkek Williams Dance Lab. Now watching a group of excellent ballet dancers put on a concert in 10 days during their vacation would make a great TV show.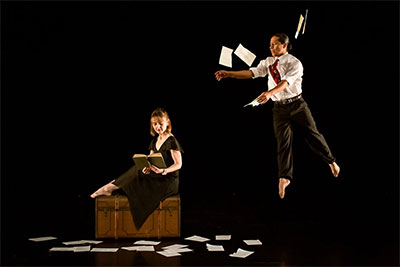 The first season of Amazon's Mozart in the Jungle made me (and probably musicians) cringe, a lot. The second season, less so. But can we really complain about a television show set in the classical musical world? There hasn't been once since forever. After taking home two Golden Globe awards, folks started to pay attention to just how weird it was to have a show that was not about doctors, lawyers or crazy housewives, but people who wield batons, bows and the like. ROCO artistic director and oboist Alecia Lawyer is reading Blair Tindall's memoir, the book Mozart is very loosely based on. She totally gets how her world makes a fit for a TV show. "The classical world is full of highly passionate people," says Lawyer. "It shouldn't be a surprise that that dynamic is carried off of the stage and into their personal lives." I don't imagine team ROCO to be clocking much TV time this month with three April shows: Sliding into Home on April 9, Music Under the Stars on April 22 and Unchambered: "Dressed to the Nines" on April 28. And how's about a show about a can do Texan Juilliard grad (Lawyer) who starts her own orchestra?
Artists are becoming increasingly invisible in pop culture. It reminds me of the scene in Downton Abbey when the opera singer, the entertainer for the evening, isn't invited to dine with the family, yet she doesn't belong with the servants either. Instead, she's marginalized to her own table. The arts are like that, on their own island. And they don't have the currency they once had either. People brag about what they are binge-watching, not the latest play that they have attended. So that's why seeing artists depicted on television is indeed a rare moment. Now if only we get something like Mel Chin's subversive interjection of art into Melrose Place going again.
—NANCY WOZNY