SOLI Chamber Ensemble: Stephanie Key-clarinet, Carolyn True-piano, Ertan Torgul-violin, and David Mollenauer-cello.
Photo by Jason Murgo.
---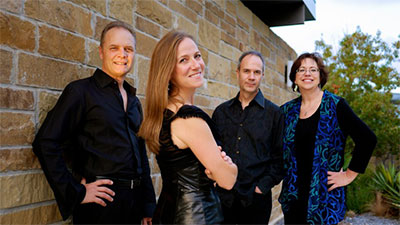 After featuring SOLI Chamber Ensemble in our November "Home/Away" column, we wanted to know more about this remarkable San Antonio-based ensemble. Now is a great time for another SOLI story, as they kick off their 21st season with HEAR, on Monday, Dec. 1, 2014 at 7:30PM in the Carlos Alvarez Studio Theater at the Tobin Center for the Performing Arts, and Tuesday, Dec. 2, 2014 at 7:30PM at Ruth Taylor Recital Hall, on the campus of Trinity University. The show will mark their first concert as Resident Ensemble of the Tobin Center for the Performing Arts.
HEAR features works by Reena Esmail, Felipe Perez Santiago, Erich Stem, and Timothy Kramer.  And, the audience gets to  join SOLI on stage for the grand finale: a 50th Anniversary performance of Terry Riley's landmark composition In C. Also on Dec. 1, SOLI is holding a post concert Double DC release party launching two new, full-length CDs of SOLI commissioned works: Música, por un tiempo (Albany Records) and Portraits (New Dynamic Records). A + C editor in chief Nancy Wozny visited with Ertan Torgul, SOLI's artistic and managing director.
How did you select the rep for HEAR?
When we start the process of creating our season and begin to select repertoire for the individual concerts, we usually end up with at least three drafts before we settle on the version that we feel is THE ONE. We still do a lot of online research for the newest and the latest, but we also have a running list of composers who have approached us to write a new work for SOLI, and also a list of works we would like to have performed but could not program in the previous seasons for one reason or another. The repertoire for HEAR is the fourth and final version of the program. Because we decided relatively late in the programming process to combine the release of our two new CDs with our debut concert at the new Tobin Center, we wanted the repertoire to include selections from the recordings to highlight the new releases. Young composers Reena Esmail and Felipe Pérez Santiago were on the list from the beginning, as was Terry Riley's In C, but we made a couple of changes to include Erich Stem's piece from the new CD Portraits (New Dynamic Records), and a work by Tim Kramer from Música, por un tiempo (Albany Records).
We don't normally associate new music with the city of San Antonio, yet there are you are! Explain yourself.
Yes, here we are, and maybe with the Tobin Center, it's time to change that perception. SOLI's been committed to bringing great contemporary chamber music to the Alamo City for two decades now, and we will continue to push the boundaries for a long time to come. San Antonio is a very diverse city, musically and culturally, and that built-in diversity permeates the whole scene. Whether it is the irresistible flavors of the rich Hispanic culture or the "High Arts" such as the Symphony, the Opera, and the Ballet, San Antonio is an interesting landscape, artistically. Actually, some of the other musical organizations in San Antonio are pretty good about presenting new music from time to time. But SOLI fills a huge gap in that landscape by focusing almost exclusively on contemporary music, and especially by commissioning new works as often as possible, working closely with some of most interesting American composers out there today, and performing at the highest possible level to make this music as vital and accessible to people as we can. Together with our sister organizations, such as Musiqa in Houston, Voices of Change in Dallas, and a few others around the state, SOLI really does work to put Texas on the national map for championing new music and living composers.
How do you expect your new home at the Tobin Center to change the landscape for SOLI?
I think our new home at the Tobin Center will give SOLI a much broader exposure, both locally and nationally. To be a Resident Ensemble of such an important venue is not only an honor for us but also a validation of the importance of contemporary music in the cultural landscape of a city. We would like to see new faces at every concert, and hope that we can make believers out of them and have them come back for more.
How do you navigate teaching at Trinity and your work with SOLI?
They truly go hand in hand. As an Ensemble in Residence we conduct open rehearsals, composer workshops and coach student ensembles when needed. We always try to bring a few of the composers to San Antonio for our live concerts, and we make sure that the students get as much out of their presence as possible, through round table discussions and private consultations about what they might be working on at the time. Our pianist, Carolyn True, is a full professor at Trinity, and the rest of us are in adjunct positions, so we get to shape these young instrumentalists not only in the classic pedagogical sense, but also by introducing them to the music of the 21st century and its ever-changing business side.
So the audience is invited to perform In C. How is that going to work exactly?
This is going to be fun! This year is the 50th Anniversary ofIn C. We have sent out invitations to our audience and we are teaming up with Texas Public Radio's KPAC 88.3 FM to spread the word even farther. So far, we have over sixty participants signed up, and the list is growing. Because the work can be performed with any number and/or kind of instruments, no performance is ever the same. I believe we even have a person who is going to play the ukulele! We have two rehearsals with the participants to make sure everyone understands the basic concept and has a good working knowledge of the piece itself, and after that we will just jam.
What's next for SOLI?
As we launch into our 21st season of performances, we feel more excited than ever. We believe there is still so much to do and so much to explore. We are already working on the concept and repertoire of our 2015-16 season, along with at least three recording projects that we hope to schedule next season. Several exciting new commissioning projects are on their way and we are also in negotiations with several presenters and universities for concerts and multi-day residencies, which we love doing. We are truly looking forward to our third decade.