Over the years, I've realized something as an arts writer and audience member: There's a fine art to programing performing arts. As we emerge from our pandemic isolation to experience live, in-person performances once again, that programming art form becomes even more intricate and complex for artistic directors and presenting directors.
A recent conversation with Meg Booth, executive director of Houston's Society for the Performing Arts, reinforced this realization as she described all the moves and scheduling choreography SPA must make to bring artists and audiences back into Jones Hall and the Wortham Center for their 2021-2022 season.

"We remain concerned about our patrons' safety, artists and staff safety. We continue to roll with the punches. We continue to wax our surfboards," she says with obvious optimism that they'll be able to ride the wave bringing audiences and artists together in-person this fall.

"We're confident we're going to make that happen."

And this is where the programming art comes in as SPA tries to balance the safety and comfort level of patrons, artists and staff, the logistics of who can tour when, while building a lineup of artists and speakers that will deliver thrilling live performances.

"We know that there is a group of people who are pent up and ready to get out and we hope that will be sustained, but we also know that there are some people who are simply not comfortable coming back yet. We don't know how big that population is," says Booth.

To welcome those audiences back, SPA offers a season containing lots of returning favorites like Alton Brown Live: Beyond the Eats (Nov. 2), Jeff Goldblum and The Mildred Snitzer Orchestra (Jan. 28, 2022), Alvin Ailey American Dance Theater (Feb. 18-19, 2022) and David Sedaris (April 28, 2022).

"Leaning a little more commercial this year was intentional," notes Booth. "We want to really encourage patrons to come back rather than maybe introducing more unknowns than we would potentially in the course of a standard balance."

Subscribers will also find a season filled with solo artists and intellectuals like the always contrarian-cool Fran Lebowitz (Feb. 15, 2022), who's now blazing hot, thanks to her Netflix series. Booth acknowledges that there are still many unknowns for those touring, especially international artists. Some individual artists and speakers are ready to hit the road sooner than big ensembles.

Yet with the familiar star power, the lineup also boasts lots of new and innovative artists. As exciting as it is to present Lebowitz, who hasn't been to Houston for a public event in recent memory, Booth says she's just as eager to introduce the city to composer and mandolinist Chris Thile (Feb. 5, 2022), who hosted the variety radio show Live From Here; Korean violinist Seong-Jin Cho (March 11, 2022), a rising star in the classical music world, and choreographer Caleb Teicher, whose show Swing Out (April 9, 2022) breaks down the constructs of swing dancing while celebrating social dance as a way to bring communities together.

Another newcomer to the SPA lineup, Latin Grammy Winner for Best New Artist, Nella, opens the season with a free concert at Miller Outdoor Theatre (Oct. 1, 2021).

The season also finally brings the SPA co-commissioned work An Untitled Love (May 6, 2022) from choreographers, Kyle Abraham and his company, A.I.M (Abraham in Motion). Love was originally scheduled for the 2019-2020 season, as the first SPA commissioned work in several years. Yet because of the pandemic a later SPA initiative, the Houston Artist Commissioning Project, will actually reach the Houston stage before Love does.

SPA planned HACP to support and showcase Houston artists before the pandemic, but then artfully reshaped it as a way to connect audiences with local artists in a time of great separation. For the first year, they divided the commission into two sections, an online portion that debuted last October and two separate live shows scheduled for this fall. Each live show will feature three commission recipients for a genre-crossing evening of world premieres.

Part one of HACP Live (Oct. 15 and 16) showcases music from Say Girl Say with Two Star Symphony and Input Output; a spoken word performance from Patrick Davis and a collaborative music and dance piece from Loop38 and Houston Contemporary Dance Company. Part Two (Nov. 12 and 13) includes Qawwali music from Riyaaz Qawwali, along with the newest work from Urban Souls Dance Company director Harrison Guy, and a one-act play by poet Deborah D.E.E.P Mouton.

"We didn't give anyone a theme," say Booth. "We really wanted it to be authentic to the artist and create an opportunity for Houston artists to be supported not only in the pandemic but outside the pandemic because this is a program we intend to continue." She adds, "I'm just excited because that's why we're in the business: to see artists create. And it gives the hometown a little bit more of an advantage that they deserve."

But Booth also sees the HACP as a way for Houston audiences to get to know their own artists better, giving the example of the internationally-renowned Riyaaz Qawwali.

"They have a great career outside of Houston but very little opportunity to be presented in their hometown. It's just so interesting the level of artistry that we have here that we don't really have an opportunity to see as often as maybe we should."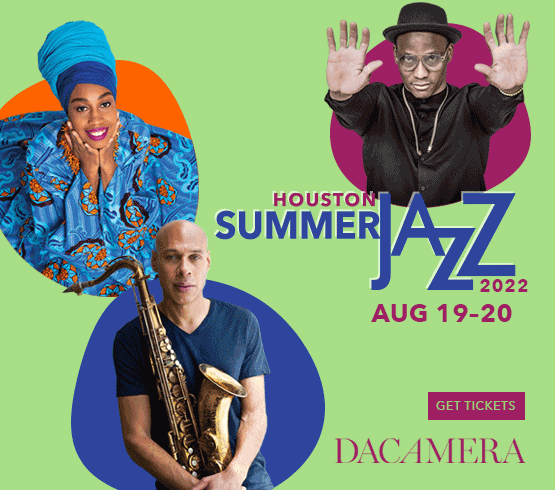 Even as this pre-pandemic project comes into fruition and will likely continue and evolve going forward, and even as some audiences gingerly walk back into the theaters, as others boldly leap, Booth says the last year and a half will continue to reverberate for SPA and throughout the performing arts global community, hopefully for the better.

Live-streamed shows like Choir of Man and the outdoor, immersive Art Heist were successful experiments SPA might revisit in different forms. Booth says taking shows into non-traditional venues might be a possibility in the future, as well as recording artists' conversations and arts education programming to make available online before performances.

These are changes the audiences will see, but perspective shifts might happen behind the scenes as well. Speaking to Booth reminded me very much of my recent conversation with Ron Berry, founder of Austin's Fusebox Festival, in that both seemed to think that relationships between artists and presenters might be changing.

"When you contract with an artist it's not just: You perform at 8:00, and see you later. I'll give you a check at 10:00 when your show is over," Booth explains. "But from the day that you enter into a relationship with them, they're developing what they're going to perform. They're working with musicians, artists, and designers. It's not just a performance that a presenter is contracting for. It's the lifecycle of what it takes to get to that performance, and then hopefully continue the relationship so that your audience can continue to appreciate the career of that artist."

Perhaps it's these evolving relationships between artists, presenters and audience that become the central melody in this art of programming.

—TARRA GAINES