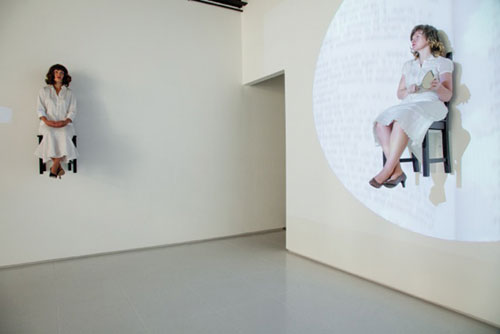 The Bridge Club Heads to Currents New Media Festival
If the medium is the message, as philosopher and media analyst Marshall McLuhan famously proclaimed, then The Bridge Club performance collective reveals the (digital) writing on the wall with their performance of Medium at Currents: The Santa Fe International New Media Festival.
Currents is the first technology-specific festival in which The Bridge Club has participated, and it is the first year that Currents has had submissions combining installation and performance in an exhibition setting rather than a theatrical presentation. The Festival is a city-wide event complete with just over two weeks of exhibitions, multimedia performances, workshops and more. It is organized and produced by Parallel Studios, a non-profit organization that has been realizing large and small scale events in Santa Fe since 2002 and of which Frank Ragano and Mariannah Amster are the founders and operators.
In 2010, they laid the groundwork for Currents as it exists today, identifying that year's event as the pilot project and paving the way for the festival to become an international destination for new media artists. "Our emphasis is more on the artistic side of New Media Arts rather than the purely technological, says Ragano. "The artistic merit must be equally as strong as the gadgets, hardware, and programming employed, which is especially a concern with interactive media."
Currents's showcasing of the transformative power of art and technology is enhanced by Parallel Studio's commitment to maintaining free admission to the festival, as Regano explains. "We believe that access to the arts is a fundamental right and that the creative process needs to be re-established as a basic component of a healthy and vibrant society. The visitors to Currents cross all social, ethnic and economic demographics."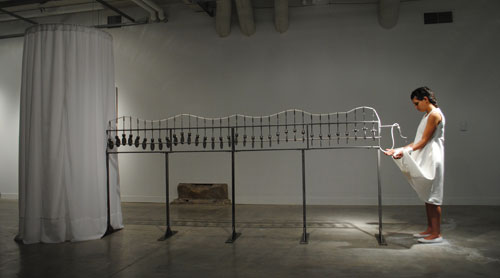 Medium on the Road
The Bridge Club collective includes Annie Strader, Christine Owen, Emily Bivens and Julie Wills. They performed Medium as a one-night event at Art Palace in Houston last year. The "haunting and visually stunning" character of the work is what enticed festival organizers/co-executive directors Ragano and Amster to include it in this year's Currents line-up – two days of three performances at El Museo Cultural de Santa Fe (two other Texas-based artists Kayla Anderson and Paula Gaetano-Adi are also on the festival roster).
"Finding artists that are able to combine performance and video in a powerful and integrated way is rare," says Ragano. That rare quality is due to The Bridge Club's ability to create site-and audience-specific artworks that expose the particulars of a place that make it distinct as well as what connects it to more general themes and concerns. Invoking what they recognize as "an anonymous collective persona," they combine digital media and live performance, using traditional art venues like galleries and museums or appropriating more mundane locations such as a storefront, city bus, or laundromat, to animate local histories, stereotypes, and conflicts.
The Bridge Club's use of special agents help transcend expectations about a specific place yet address universal complex themes such as gender roles, social behaviors, and personal experience. For example, The Bridge Club outfits themselves and their environment with equivocal elements (clothes, wigs, objects, attitude, sound) that enhance vague historical theatrics, resulting in what they describe as "an unsettling normative air to odd or uncomfortable situations."
Medium is a gallery-and-gallery-goer-specific performance and installation in which The Bridge Club literally embodies the exhibition by interacting with digitally projected video and sound. And then, there are those chairs – Shaker-style, one hung on the each of the gallery's four walls, providing an individual perch for The Bridge Club women, respectively.
Strader explains, "The white box is where art usually resides – people gravitate toward the center of the room and look at art on the walls. With Medium, we wanted to invert that and situate artists as the content of the work, emphasizing the notion of the medium both in art materials and psychic terms."
The four color-coordinated costumed women sit – suspended, feet secretly falling asleep, legs slowly numbing – interacting with props such as a porcelain cup and saucer, a stack of old books, and a hand-held mirror. One Bridge Club member continuously looks around the room, shifting in her seat while watching the mirror deflect the projector's light onto the wall beside her as an eerie, floating blob. An ambient soundtrack emanates from one of the performers, filling the room with a faint high-pitched tone punctuated by the sounds of a telegraph machine and the tapping of Morse code.
For those of us who are a bit rusty when it comes to channeling, Strader explains,  "When we were developing Medium, we were thinking of the how the artist becomes the transmitter of a message. Knowledge is always changing and so we incorporated references to the practice of seeking and dispersing knowledge through interactions with the divine or the intangible – things like séances and reading tea leaves, the flight patterns of birds, clouds or even instructional texts."
As if divinely orchestrated, The Bridge Club is finding things falling into place for them in the world of new media arts – a message that is coming through loud and clear.
—NANCY ZASTUDIL
Nancy Zastudil is an itinerant curator and writer who can't seem to stay away from Houston.
---