Sam Lilja and Taylor Trensch in Samuel D. Hunter's Clarkston at Dallas Theater Center, through Jan. 31.
Photos by Karen Almond.
---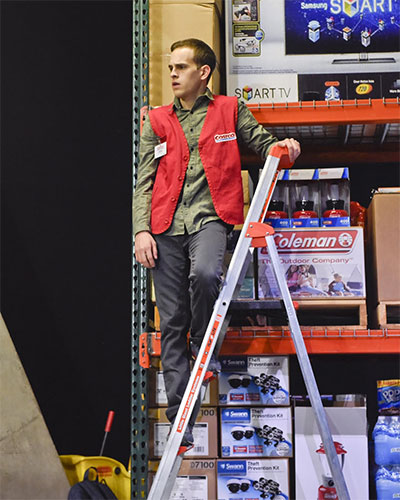 Tis the season most every theater company in town is unwrapping tales of Santa or Scrooge.   But not every theatrical story is gift wrapped in shiny bright paper and tied together neatly with a bow. In Clarkston, now playing an extended premier run at Dallas Theater Center through Jan 31, playwright Samuel D. Hunter uses familiar holiday themes of loneliness and redemption to gift us an endearing story filled with plenty of good spirits but also hurt, heartache and an interpretive ending.
It's a simple story of finding meaning in life, but one acted bravely by a cast of three. Set in the cold vastness of a Costco store in the small town on Clarkson, Washington, two young men bond while stocking television sets and cola in the wee nights hours. The pay and benefits are good for these loners as they pine away about dreams and hopes of escaping the isolated town in search of a more happy existence. But they are both trapped; one by his fear of discovering his true self, the other by his guilt of deserting his druggie mom. It's all heady stuff but in the hands of New York-seasoned actors Taylor Trench and Sam Lilja, the story unfolds in spurts of charm and innocence.
Playwright Hunter's dialogue is spot on, capturing that twist of awkwardness fighting longing when two people meet and are strangely attracted to one another, although neither has the guts to admit they are more than just friends. A homosexual tryst near the beginning of the plot is coyly handled, and only adds to the complexity of emotions that eventually seep out onto the stage. To keep the plot from sinking into despair, Hunter tosses in plenty of laughs to counter the deeper pent-up emotions of the characters. In the end, many of the lighter moments are just as memorable as dark ones.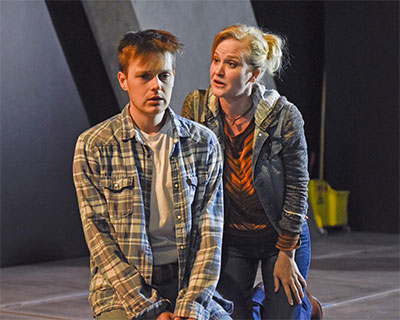 With a less capable cast, the story could go south, fast. But the two leads share spades of chemistry on stage, even as the characters they portray are often fragile and sometimes frightened of each other, making their more intimate scenes of bonding sweetly earnest.
As the mother, Heidi Armbruster gives a very nuanced performance of a women who knows all to well the meaning of manipulation and isolation; a mother that knows how to play her son.
Tech credits are all on target with lights and sound adding shading to the plot. Scene design is sparse, but highly effective in it's remoteness. And that simplicity pays of late in the story when the two men finally decide to act on their ambitions to embark on an adventure that will take them into new territory physically, mentally and, untimely, spiritually.
It's a journey of the heart thus making Clarkston worth the effort to visit.
-SCOT C HART