Tapestry Dance Company: Siobhan Cook, Jeremy Arnold, Zeke Zimmerman, Acia Gray, Tony Merriwether, Andrea Torres and Michael Love. Photo by Caryn Corley-McCaskill.
---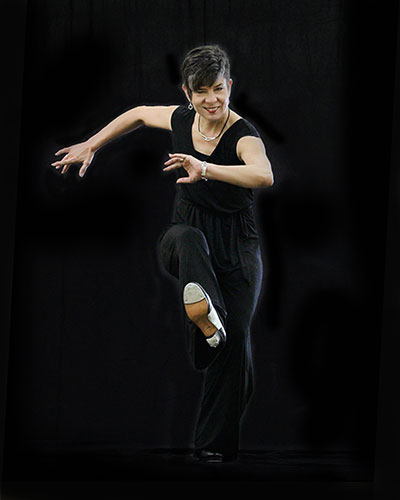 Although Austin's Tapestry Dance Company is entering its 26th season, artistic director Acia Gray has never experienced a massive turnaround of its company members—until now.
The six-member troupe, established as a professional company in 1994, is the only fulltime repertory tap company in North America, and it's hitting the "refresh" button for the 2014-2015 season, with dancer Siobhan Cook (daughter of co-founder Deidre Strand) its only returning member.
Gray herself is newly back fulltime at the helm of Tapestry after a bout of poor health from complications associated with ulcerative colitis. In her absence, she had upgraded long-time company member Matt Shields to associate artistic director in 2012: "He took over my vision of what I wanted to see happen when I was too sick," she explained.
When Gray was ready to resume her responsibilities, she revisited her inventory of company members and, though not by design, wound up retaining only Cook, who will serve as dance captain. Though Gray was prepared to hire seven new company members, she ended up with five due to visa issues in bringing over U.K.-based Avalon Rathgeb and Canadian Kylie Somerville. Two days prior to our conversation, Gray found out hat the visa request for Rathgeb had been denied.
"I'm not a happy camper. It's a big bummer, but we go forward," said Gray. "What's nice is when you get artists who are coming because they want to work with you, and I feel that from all the new company members."
Tapestry opens its season at Austin's Rollins Studio Theatre at the Long Center  (where it is a resident company) Oct. 31 – Nov. 2 with Soul/Sole Connections. On Jan. 31, the company performs in Houston as a part of Dance Month at the IW Marks Theater Center's Kaplan Theatre. The troupe is back in Austin with Esprit, April 10-19, a restaging of a 2008 collaborative production featuring world dance traditions and music. Closing the Austin season is the 15th annual Soul to Sole Festival June 12 – 13, which will include a roster of special guests.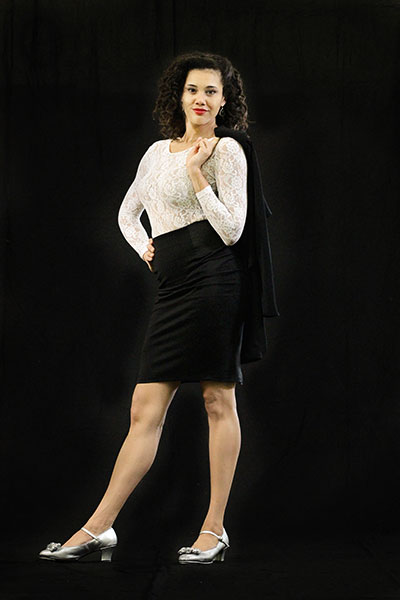 Though Tapestry has historically hired what Gray calls "soloists," she said in having the opportunity to rebuild the company from scratch, she wanted to shift her focus to ensemble work; another goal was to get back to the interdisciplinary roots upon which Tapestry was founded, by hiring dancers who excel in dance styles beyond tap. "We're multi-form, and what makes us different is the tap dancing," said Gray. "The possibilities are endless. I've missed that choreographic opportunity, because I tend to be fairly theatrical in my concepts."
Take new company member Jeremy Arnold: The Philadelphia-trained dancer is not only a solid tapper (he was inspired as a boy by Savion Glover on Sesame Street), but also an accomplished contemporary dancer. Gray met Arnold in Austin last spring when he was dancing with Charles O. Anderson's Dance Theatre X at the annual Fusebox Festival. Said Gray, "He comes with a very sophisticated taste and ear."
Like Arnold, Michael Love hails from the East Coast. Originally from Washington, D.C., where he trained at Knock on Wood Tap Studio, Love has toured throughout the country with the Mike Minery-choreographed TAP: The Show! His talents as a hip-hop dancer and musical theater artist round out his resume, making him a perfect hire for Tapestry.
Andrea Torres, Tony Merriwether and company apprentice, Zeke Zimmerman, are all Texas born-and-bred. Torres, who grew up in McAllen in the Rio Grande Valley, not only has tapped on Comedy Central's The Colbert Show, but is also a gifted contemporary and street dancer. Merriwether and Zimmerman are both native Austinites who grew up dancing in the Tapestry Academy ("They're 'from scratch,'" said Gray).
Merriwether became interested in tap at an in-school outreach program conducted by Gray and Tapestry at Matthews Elementary School. From enrolling in the Tapestry Academy on scholarship, Merriwether went on to dance with the pre-apprentice training program, Visions In Rhythm. In 2008, he made his debut with Tapestry Dance Company for the first season of the troupe's National Endowment for the Arts American Masterpieces tour, and has since been working out of Houston. Gray knew she wanted to invite Merriwether back to the company in light of his talent as a musician—"Jazz, contemporary, he plays a little of everything," said Gray.
Like Merriwether, Zimmerman is also a musician, playing bass. He comes from a family of musicians, which includes his father (Austin trombonist Randy Zimmerman) and mother, vocalist Tina Marsh. Zimmerman started tapping with the Tapestry Academy when he was eight years old and is a graduate of McCallum High School's Fine Arts Academy, as well as Texas State University's dance program.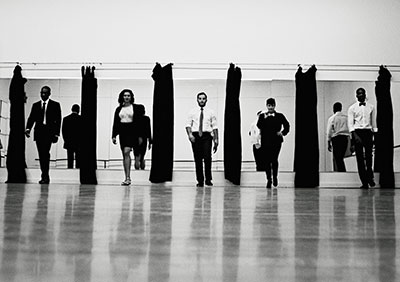 "What's really nice about this company is that they're all mature—they're 26, 27 and 28-year-olds," noted Gray of the troupe's six dancers. "They're all really different, which is going to be a challenge for me but very fun at the same time." In preparation for conceiving the new company's debut production, Soul/Sole Connections, Gray asked a set of questions of each dancer.
"When I first hired them, I asked them what their favorite music was when they were a kid and what it is now, what excites them, what makes them angry and why, what upsets them. I was setting those parameters of expression to jump from…My plan is to thread commonality through these individual souls to show we have a common bond. I want to collaborate with them in and around the choices of music they gave me. It's my plan to utilize their talents as a contemporary dancer, hip-hop dancer, and tap dancer, all of these things, to develop the production. Ensemble work will be the thread that pulls the whole work together."
Gray looks forward to seeing how the new company members ultimately gel together, and has high hopes as Tapestry enters its next quarter century: "The life cycle of the company is being refreshed," she concluded with a smile.
—CLAIRE CHRISTINE SPERA