Houston Ballet Principal Ian Casady will be honored for his twenty spectacular years with the company during the Margaret Alkek Williams Jubilee of Dance on Nov. 30 at the Wortham Center. Casady joined the company in 1998 and was promoted to Principal in 2007. He visited with ACTX editor in chief Nancy Wozny on his long career.
Congratulations on 20 years with Houston Ballet. I've had the great privilege of watching you for all 20! You never age. What's your secret?
One word: beer. It's an excellent preservative.
Ha! Who knew? What else?
But seriously, that's very kind of you to say. I have been extremely fortunate to have had such a long and fulfilling career. As far as never aging…I think I have to disagree! There are some days that I certainly feel like I've been at it for two decades! I can't say that there's one secret to staying young. Sometimes I think that it's taking care of my body. Sometimes it's running around after my six-year-old. Sometimes it's just enjoying the work itself.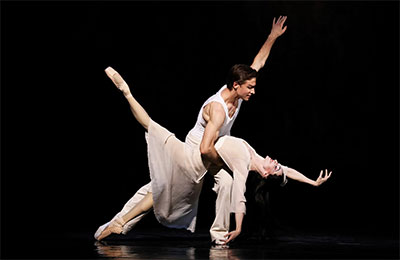 What are you looking forward to as you approach the Jubilee?
What immediately comes to mind is that I couldn't have made it 20 years without the support of my family. They'll all be here for this special night and that means everything.
Do you have one threshold role that put you on your path? Which one and why?
There were a few roles that I think helped to set my direction as a dancer: Marc Antony in Cleopatra, Pinkerton in Madame Butterfly and Ghost Dances. All of these roles came early on in my career and they all pushed me further than I had been pushed before, both physically and emotionally. At that time, the sheer physical difficulty of the roles and the pressure and nerves that came along with it was a challenge for me, but they all ignited a deeper love for dancing and a deeper understanding of my own abilities and sensibilities as an artist.
Christopher Bruce's Ghost Dances is mentioned as a breakout role in your bio. You have danced the entire Bruce rep! How do you see your skills matching to his choreographic imagination?
It has been an incredible gift to dance so much of his work. I can only hope that I have done it justice.
You were involved in the creation process of Marie, which is coming around again this season. Do you have a treasured memory of the creation process?
Having a role in an original full-length story ballet created on you is a very special thing. It's not something that happens often, so I feel very lucky to have originated the role of Louis August. It's hard to pick out one moment or memory from the creation process because it was all very exciting and immensely rewarding. It's a role and a ballet that will always be special to me.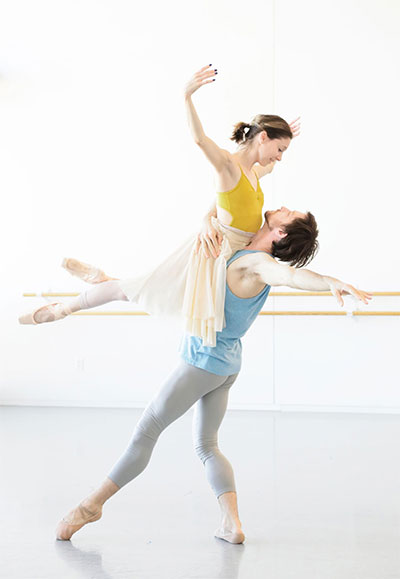 The season is rich with storyballets; what are you ready to dive back into and why?
All of it! We haven't done any of them in quite a while, and they are all wonderful ballets. It will be interesting to work on them again at this point in my life, especially Marie, as like Louis, I now have a daughter of my own.
You have danced quite a bit of the Jerome Robbins rep. What excites you about the Robbins mix that Stanton Welch has planned?
I have had a wonderful time dancing the Robbins's work throughout my career, and I'm so glad that in addition to bringing back The Concert and Fancy Free, we'll also be doing The Cage. They are three very diverse works, and since it will be new for me, I'm very excited to do The Cage.
It was truly a great joy to see you dance at Jacob's Pillow this season. How was it for you to be at this great dance festival?
Dancing at Jacob's Pillow was a highlight. Not only is it a beautiful place to dance, but the sense of history, and the magic of sharing the space, if not the time, with so many amazing artists that have come before, was truly special.
This past October, while most of the company was in Dubai, you were in Leipzig. How did that go?
Yes, Karina Gonzalez and I were in Leipzig, Germany, performing Stanton's "Tutu" with Leipzig Ballet. Leipzig and Houston are "sister cities," and this year marks the 25th anniversary of the partnership. We had a wonderful time dancing a beautiful ballet with a beautiful company in a beautiful city!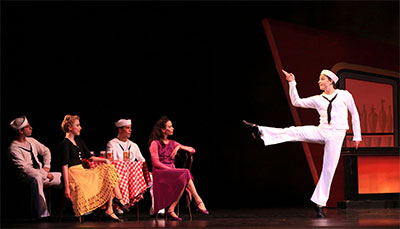 I know that you are devoted father as well as a devoted dancer. How do those two roles work together?
Well, obviously, being a dancer is a very demanding job. Not only is it physically exhausting, but the hours are long and change between rehearsal weeks and performance weeks, which can make it difficult when it comes to finding time to be together. But there's always a way to find a balance. And starting a family changes everything, including one's perspective. It adds to your life experiences that you can draw on as an artist. It has calmed me as a performer because I know that no matter what happens in a rehearsal or a show, the most important pieces of my life are waiting for me at home. And being calmer helps me work smarter and perform more fearlessly. Having a child also reminds you how important it is to have as much fun as possible, and that is a big part of being a performer.
What advice do you have for a young male dancer who longs for a 20-year career like yours?
Remember that what is important is the work, whether in the studio or on stage. Work as smart as you can every day and most of all enjoy it, because it will be done some day. There's a saying that goes "the days are long, but the years are short." That captures it perfectly.
—NANCY WOZNY