IMAGES: The 2015 Immanuel and Helen Olshan Texas Music Festival Grand Celebratory Opening.
Photos by Jeff Grass Photography.
---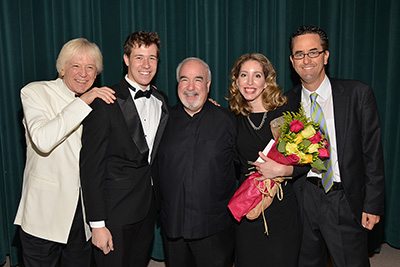 The 26th annual Texas Music Festival (TMF) is wrapping up its summer season at the University of Houston's Moores School of Music. Founded in 1990 and endowed by philanthropists Immanuel and Helen Olshan, the intensive month-long festival attracts talented young artists from around the nation and abroad, who attend on a full fellowship. This year, 95 musicians were selected from 425 applications from the US and eleven other countries.
While the level of playing at the festival has always been very high under the direction of general and artistic director Alan Austin, the organization has achieved an unprecedented artistic height in this year's season opening concert on June 6. The celebratory event began with an appropriate fanfare, Short Ride in a Fast Machine, by American minimalist master John Adams, commissioned by Michael Tilson Thomas and premiered by the Pittsburgh Symphony Orchestra in 1986. It's for good reason that the piece has become one of the most frequently performed orchestral works written in the last thirty years; it's fast, loud, short and ablaze with frenetic energy. It's also marked by rhythmic precision from start to finish, which the TMF Orchestra, under the direction of Franz Anton Krager, delivered in abundance.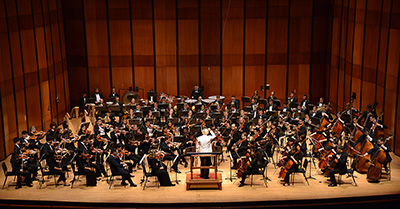 Former New York Philharmonic Concertmaster Glenn Dicterow took center stage for a performance of Samuel Barber's Violin Concerto. Written in 1939 and premiered in 1941, the piece was virtually unknown until the 1980s. In the years since, it was become a staple of concert repertoire and is recorded frequently. Dicterow's deliciously sweet, yet robust sound complimented Barber's lyrical writing in the first two movements. He also took the notorious final movement at a tempo that allowed the myriad of intricate notes to be heard for their harmonic inventiveness, as opposed to their sheer volume and speed. While violinists often approach this movement as an opportunity to show off just how fast they can play, Dicterow was restrained. He played at a steady, yet virtuosic clip, keeping the energy and excitement throughout, while showing his audience harmonic details within all of the passagework as if they were new discoveries. While there are inherent balance problems in Barber's writing for the orchestral accompaniment, Krager kept the musicians in order and mostly not too loud. Oboist Elizabeth Gaines offered a highlight of the evening, with her thoughtfully phrased and expressive solos in the second movement.
Richard Strauss's autobiographical tone poem Ein Heldenlebn (A Hero's Life) isn't necessarily regular fodder for a student orchestra. It's a gargantuan work requiring a very large ensemble (think nine French horns, two harps, a full battery of percussion, and an army of strings), which pushes its performers to their technical and physical limits. But then the TMF Orchestra is not a typical student ensemble. Each and every section of the orchestra played with surprising maturity. For example, the horn section, lead by Spencer Park, was robust throughout, managing to conserve their chops and show off their prowess for the entirety of the fifty minute-long work. Alas, all too often do young brass musicians start with a bang and end with a whimper when performing a piece of this scope. The woodwind section showed precision throughout. They were well-blended and articulate, especially in second part, "The Hero's Enemies," where Strauss depicts the cacophonic chatter of his critics. The percussion section was unrestrained throughout the evening, occasionally playing too loudly, as in one notable moment during the "Hero's Field of Battle" where they seemed to drown out almost the entire brass section.
One of the most notable features of Ein Heldenleben is its extended violin solos depicting "The Hero's Companion." Violinist Ingrid Hunter, a DMA candidate at the Moores School of Music, played them with elegance and panache. They were the perfect compliment to an otherwise stunning evening.
—CHRIS JOHNSON