The Tobin Collection of Theatre Arts contains artifacts dating back centuries, and its exhibitions sometimes revel in that broad historical panorama. But The Great Stage of Texas, running through July 24 at San Antonio's McNay Art Museum—the collection's home—could hardly be more contemporary.

It spotlights nearly 50 productions of plays, musicals, operas, ballets and other events. One is a staging from mere months ago of the 2020 Pulitzer Prize-winner for drama. Another is a presentation of Euripides' Medea streamed on Zoom during the pandemic, and many others date from the 21st century. The 13 designers at the show's center have one thing in common: Their paths have led them through Texas.

Michael Locher left his native California to become the design director at Houston's Alley Theater, where he designed that virtual Medea. Arnulfo Maldonado, born and raised in Texas, set his sights on a theatrical career as student at San Antonio's University of the Incarnate Word; his Broadway debut came last year, and he designed the sets for this year's Washington, D.C., production of A Strange Loop, that Pulitzer winner. Montana Levi Blanco, who designed the costumes for that same staging of A Strange Loop, grew up in New Mexico, and yet:

"He's McNay family," says R. Scott Blackshire, the Tobin collection's curator. Blanco interned at the museum in 2012, before heading off to the Yale School of Drama. He recently made a double-barreled Broadway debut: A revival of Thornton Wilder's The Skin of Our Teeth, with costumes by Blanco, opened April 25, and a new iteration of A Strange Loop opened the very next night.

­­­

The Great Stage of Texas showcases designers who span generations.

The husband-and-wife team of Sam and Steve Gilliam met as students at San Antonio's Trinity University, where Steve went on to teach for 31 years, and they've worked together for decades. Yvonne L. Miranda grew up in Dallas, spent five years in the U.S. Marine Corps—including a tour of duty in Iraq—then earned a master's in stage design at Southern Methodist University.

The exhibition conjures up their works through not only sketches and renderings, but costumes, models of sets, video clips and even a 40-foot-wide backdrop—the last, based on a Santo Loquasto design hinting at sky and sea, produced by Austin scenic painter Karen Maness for a staging of Paul Taylor's ballet The Uncommitted. To widen the perspective even further, the show draws on the Tobin and McNay collections for works by the likes of Waco-born theater innovator Robert Wilson, pop-inspired artist Keith Haring, and McNay museum founder

Marion Koogler McNay, who was an artist in her own right. Could Locher's virtual Medea be the first pandemic creation to land in a museum? The Alley Theater's cast members had to perform from their homes, Blackshire explains, so Locher designed backdrops that were shipped out and set up behind each actor. The McNay show puts Locher's drawings alongside video clips from Zoom.

Locher's designs place Medea "in a rather futuristic setting," Blackshire says. "They're architecturally forward—lots of arching, sloping walls with minimal foliage around them." The backdrops also help make up for the lack of face-to-face contact between actors.

"One of the beautiful things is that he has placed other characters off to the side, so that you see other people in the scene—but they're just shadows in the background," Blackshire says. It's mesmerizing."

If Medea via Zoom represents today's technology projecting a classic tale, A Strange Loop takes us to contemporary subject matter. Michael R. Jackson's meta-musical focuses on a character named Usher: "a black, queer writer writing a musical about a black, queer writer writing a musical about a black, queer writer," as the show's website puts it.

As Usher struggles to reconcile his identity with his religious upbringing, his imagination periodically summons up black historical figures to counsel him, Blackshire says. Blanco's drawings, complete with fabric swatches, show how costumes help transform cast members into icons—including abolitionist Harriet Tubman and pop-culture diva Whitney Houston.

In A Strange Loop's final scene, Blackshire says, Usher's mind ventures back to the religious services he attended as a child. Maldonado's set helps the audience go with him. Usher's living room, represented by a model, is festooned with "neon lights and church banners," Blackshire says. "It's very colorful. It's very vibrant."

"It's an apartment scene that has been turned into a rather raucous church revival that he is thinking of from his past…(remembering) how he was raised in the church," Blackshire adds. To recreate more of the theatrical zest, the exhibition flanks the model with the Washington production's actual banners, emblazoned with flames.

Sam and Steve Gilliam's curtain designs for two productions of Damn Yankees—one from 1998, the other 2010—let viewers see artists taking two views of the same subject. The earlier curtain features a collage of scenes from Washington, D.C., home of the musical's fictional Senators baseball team; the later one centers on a baseball that could be hurtling into the viewer's face. Another item by the Gilliams sent curator Blackshire reaching into the McNay vault.

"We have (the couple's) proscenium design for My Fair Lady," Blackshire says. 'It has a beautiful floral motif. I immediately thought of a painting by Marion McNay of her peonies. I thought, 'I need to bring that out, to have that (visual) conversation—and to recognize her as the heart of the museum.'"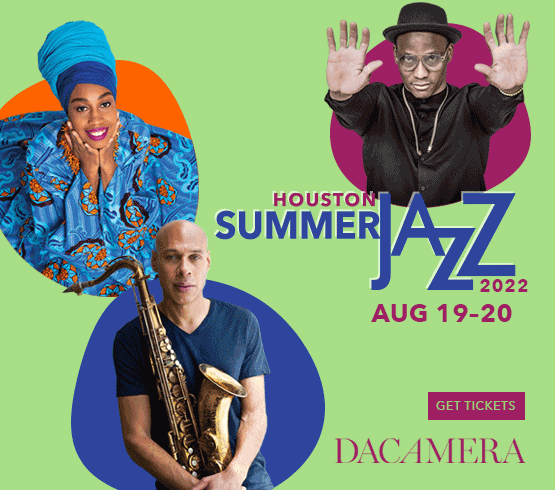 Another matchup came to mind when Blackshire gazed at a curtain that Christopher McCollum, who teaches at University of the Incarnate Word, designed as a prop for a scene from Tchaikovsky's Nutcracker. "We have this beautiful artwork by Robert Wilson," Blackshire says. "It's called 'Curtain Design for Alice'"—as in Alice Through the Looking Glass, an opera Wilson created with Tom Waits and Paul Schmidt. The Great Stage of Texas unites the two.

"There's a lot of similarity in the color and the feel and the mood," Blackshire continues. "I like that pair together."

The Tobin collection's exhibition schedule is back on track after the pandemic interrupted it, Blackshire says. He's looking forward to mounting one show that had to be yanked—featuring puppets and set pieces Tim Burton used in his classic of stop-motion animation, The Nightmare Before Christmas.

"We've decided to move the Tim Burton show to the fall of 2023, which is the 30th anniversary of The Nightmare Before Christmas," Blackshire says. "That will be a great moment to bring those artworks out of the vault."

-STEVEN BROWN