For some artists, the work happens away from the studio. It's embedded indistinguishably in the fabric of daily life—a process of careful observation fed through the artistic filter until it wends its way thread by thread to the studio. For others, the work is found in labor, measured by an accretion of minutes into hours into days that begin to build only through process into a final form. Marshall Harris appears to be this second kind of artist.
The 2013 Hunting Art Prize winner describes the entire universe of a body or an object with subtle tones and pencil marks on translucent Mylar—a surface so delicate that one swipe of his hand could smudge it irreparably. In this way it is reminiscent of Buddhist sand mandalas, an effort of time and "intense study," as the artist puts it. But Harris's objective is not the eventual symbolic obliteration of his feat. He's after permanence. A thin mist of fixative solidifies the gentle gradations of his large-scale photorealistic drawings, recording his observations (and even his careful eliminations) for posterity. Harris is currently in residence at Fort Works Art, where we met over the holidays to discuss his latest body of work.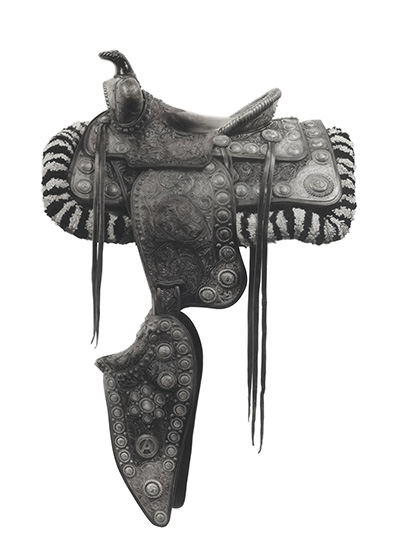 Time is fundamental for Harris's process, but the residency provides him with yet another hard-to-come-by commodity: space. The former professional football player towers, making his grandly-scaled drawings feel like a natural fit. Fort Works has allowed him to branch out from a small spare bedroom to a proper working studio. He has outfitted every inch of his space with the tools of his trade and papered it with imagery and drawings-in-progress and eclectic small objects collected in individual Ziploc bags to spur his creativity.
"The opportunity to work in a dedicated space with adequate room does more than expand my physical realm of practice," says Harris. "It also unleashes a pent-up potential that was forced to reside as thumbnail sketches and napkin drawings held in folders and notebooks and in piles here and there." The added space has also provided room for Harris to employ some of his sculptural prowess—he earned an MFA in sculpture from UARTS in Philadelphia—in the making of "props" to aid his drawing practice.
Several Styrofoam heads sit atop vitrines near the broad studio window. One sports studs of black pencils protruding cactus-like from its blind eyes, another a crown of branches, and a third a gradient of outstretched feathers. The drawings these props are created for "are sort of Cindy Sherman-esque self-portraits of me wearing several costumes transforming into one of three personalities—the artist, the mystic and the muse." A large black and white photograph of the artist crowned with branches peers from the opposite wall. It's yet another step in a laborious process. "I don't always use the same crayons to create with," he quips.
Color is also slowly creeping its way into the drawings. A nude in high-resolution graphite is layered with a subtle band of red. Its geometry plays against the dancer-like helix of a female body. But Harris isn't interested in using color for its symbolic power. "The dimensionality of my media is what I'm playing with," he adds.
He relishes the idea of leaving certain kinds of visual information in while editing other bits out. "You can take the exact same image produced in color and black and white, and the latter, for me, most always is more interesting and engaging. Maybe it's because not all of the visual information is there." What is there is telling: scars, moles and wrinkles tell the physical realities of a life spent in a specific body, but the viewer is left to fill in the narrative details.

Marshall Harris, Ivan's Error- Russian Custom Marksman's Rifle
Graphite on Mylar
16" x 60"
This game of hide-and-reveal is taken even further in a particularly intriguing new series titled Books Without Pictures. Contained in shadow boxes, the drawings at first appear to be printed books opened to a reader. Closer inspection reveals that each letter is painstakingly drawn by the artist's hand, an exercise that seems part Ed Ruscha, part On Kowara. "Several words correctly assembled create a sentence and multiple sentences create a story," Harris explains. "That story generates a visual that manifests in the reader's mind. So, does a realist artist have to draw a realistic depiction of a physical scene or can they draw a depiction of text in pages of a book and allow the vision to occur in the reader's mind?"
As a keen observer of aesthetic detail, and a ruminant on the act of looking itself, these last works feel especially edgy—a philosophical game played by an artist whose work not only takes time to make, but also seems to request time from the viewer. For his upcoming show and the culmination of his Fort Works residency, Harris has selected the title The Needle Just Skipped. He is just fine with creating "works that scare me a little bit, or a lot, but that has always been part of my process."
—CASEY GREGORY