Xu Bing
Book from the Sky
1987–91
Installation of books and scrolls printed from carved wood types of invented characters; ink on paper.
Dimensions variable Installation view at Taipei Fine Art Museum, Taiwan, 2014.
Courtesy of Xu Bing Studio.
---
#10: Xu Bing at the Blanton
AUSTIN—For its first exhibition in Texas, Xu Bing's Book from the Sky subsumes nearly 1,500 square feet of the Blanton's galleries. The installation's media encompass historical Chinese writing from sources ranging from traditionally bound books, to Buddhist sutra scrolls, to Chinese memorials. But none of the 4,000 characters meticulously hand-carved onto wooden blocks and then typeset by Xu Bing over four years from 1987-1991 hold any meaning—in Chinese or any other language. Using a nonsense poem to draw English speakers into the exhibit is also a subtle nod to the work's original title and rich history, on view through Jan. 22.
Installed view of Xu Bing: Book from the Sky at Blanton Museum of Art, TX, USA 2016. Courtesy of Xu Bing Studio and Tianchu Xu.
---
#9: Mary Poppins at the ZACH

AUSTIN—The Zach Theatre lightens our summer with Mary Poppins, based on the stories of P. L. Travers and the Walt Disney film, original music and lyrics by Richard M. Sherman and Robert B. Sherman; and book by Julian Fellowes, July 20-Sept. 4 in the Topfer Theater.
Jill Blackwood plays Mary Poppins at the ZACH.
Photo courtesy of the artist.
---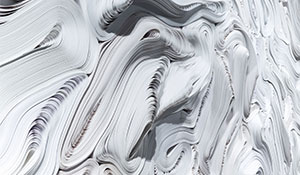 #8: Jae Ko at the CAMH

HOUSTON—For her installation flow, Jae Ko reacts to her experiences with nature as well as the space that each installation occupies, making each iteration unique. She brings the natural world to the interior of institutions, drawing visitors into different worlds. On view at CAMH through Sept. 18.
Detail of the installation of flow  at the Contemporary Arts Museum Houston, 2016. Photo by Paul Hester.
---
#7: Dance Theatre of Harlem at Miller

HOUSTON—Some 8,000 folks showed up to see Dance Theatre of Harlem when they came to Houston two years ago for a rare show at Miller Outdoor Theatre. DTH returns to the Miller stage on Aug. 17 in a program that includes Ulysses Dove's masterwork, Dancing on the Front Porch of Heaven,  Robert Garland's Brahms Variations, Helen Pickett's When Love, and Nacho Duato's Coming Together.
Chyrstyn Fentroy and Jorge Villarini in Coming Together #1.
Photo by Rachel Neville.
---
#6: Paolo Pivi at Dallas Contemporary

DALLAS—In Paolo Pivi's current exhibition—her first U.S. solo museum exhibition—the varied works compete for photographic attention over clear interpretation of content. The show is one of sensory pleasure and inexplicable discovery, with life-sized ploar bears, images of zebras amidst snowy mountain ranges, a buffalo, spinning bicycle wheels and more, Pivi uses an artistic vocabulary that seems to be in her own secret language. This enormous show is on view through Aug. 21 at Dallas Contemporary.
Paola Pivi, It's not fair, 2013.
Photo courtesy of Galerie Perrotin, NY.
---
#5: Modern Dance at the Modern

FORT WORTH—Contemporary Dance/Fort Worth presents their 13th Modern Dance Festival at The Modern, with the legendary choreographer, performer and writer Gus Solomons Jr., who will perform his solo I Used To Be Taller. Contemporary Dance/Fort Worth company will also perform Solomon's Steps #13: Thirteens, along with several film screenings, July 23-31 at The Modern Art Museum of Fort Worth.
Gus Solomons Jr. in I used to be Taller.
Photo by Yi-Chun Wu.
---
#4: Kusama at MFAH

HOUSTON—Yayoi Kusama's At the End of the Universe, on view until Sept. 18, unties two of the artist's signature infinity rooms: Aftermath of Obliteration of Eternity, a recent acquisition by the MFAH that places visitors on a platform surrounded by water as lights slowly ignite, and Love is Calling, a cavern of Kusama's surrealist/pop aesthetic that envelops visitors in polka dot-covered tentacles as they pass through the room.
Yayoi Kusama, Aftermath of Obliteration of Eternity, 2009.
Image © Yayoi Kusama.
---
#3: Tamarie for Prez!
HOUSTON—It's not really summer in Houston without a musical by the city's iconic theater heroine, Tamarie Cooper. This summer, Catastrophic Theatre presents Tamarie for President, (Greatest Hits Volume II),  Cooper's annual summer musical extravaganza, created by Cooper, Patrick Reynolds, Ronnie Blaine, and friends, July 8-Aug. 6 at The MATCH.
Tamarie Cooper
Photo by George Hixon.
---
#2: Clint Willour's Farwell at Galveston Art Center

GALVESTON—Clint Willour's legacy reaches far and wide, through his museum donations, influence on artists and curators, founding of major public art events, and his ability to pull Texas artists into the national art conversation. The GAC celebrates and honors him with Twenty Five: The Celebration, on view through July 10, followed by Twenty Five: The Conclusion, which opens July 16.
Clint Willour
Photo by Keith Carter.
---
#1: QFEST

HOUSTON—QFEST kicks off its 20th film festival with a party on July 20 at DiverseWorks. The outstanding line up features The Night Porter, Next to Me Women, He's undressed and Uncle Howard, the legendary Patty Duke in Valley of the Dolls and more, July 21-25 at venues including MFAH, Rice Media Center, Aurora Picture Show, The Houston Museum of African American Culture, and Asia Society Texas Center.
Uncle Howard screens on July 24 at the MFAH.