Betelhem Makonnen, untitled (our misunderstanding of time, of ourselves)
2020, Detail, Rocks, watches, simulacrum grass, Image courtesy of the artist.
---
Tito's Prize Winner Betelhem Makonnen at Big Medium
AUSTIN—Betelhem Makonnen is the 2019 recipient of the Tito's Prize, a $15,000 award funded by Tito's Handmade Vodka, which includes a solo exhibition at Big Medium. "My practice is obsessed with capital 'H' history," says Makonnen, whose show Rock Standard Time runs through April 4. "We insist on the linearity of history. We insist on a separateness of past, present and future. But that leads to a constant misperception of history."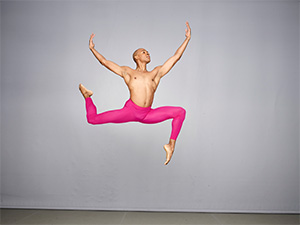 Alvin Ailey American Dance Theater at TITAS
DALLAS—TITAS/DANCE UNBOUND presents Alvin Ailey American Dance Theater in a program that includes works by Jamar Roberts, Azsure Barton, Camille Brown, Judith Jamison, Jessica Lang, and Alvin Ailey, on March 13 and 14 at Winspear Opera House.
Francis Bacon at MFAH
HOUSTON—The exhibition Francis Bacon: Late Paintings comes to the Museum of Fine Arts, Houston (through May 25), brings new insights and a fresh perspective on a modern art giant. Originally organized by the Centre Pompidou, Musée National d'Art Moderne, Paris, the MFAH will be the only other museum in the world to present this exhibition that brings together some of Bacon's greatest later works.
Forged in Houston at Houston Ballet
HOUSTON—Trey McIntyre, who grew his choreographic talent right under the Houston Ballet roof, premieres Pretty Things, his first new work for the company in nearly two decades, as part of Forged in Houston, which also includes Christopher Bruce's brilliant Hush, and Jorma Elo's wonderfully whimsical ONE/end/ONE, March 12-22 at Wortham Center.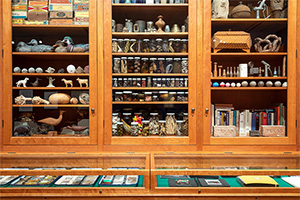 Mark Dion at Amon Carter
FORT WORTH—Mark Dion, a conceptual artist, has spent the past four years tracing four characters' journeys through Texas for the exhibition The Perilous Texas Adventures of Mark Dion, which runs through May 17 at the Amon Carter Museum of American Art in Fort Worth. The exhibition, his solo Texas debut, creates "a cross between Pee Wee's Big Adventure, Borat, and Lewis and Clark's expedition," says  curator Maggie Adler, "There are these things called artist-explorers; there are these people called our explorers."
Ido Tadmor with Open Dance Project and Houston Jewish Film Fest at the J
HOUSTON—The Evelyn Rubenstein Jewish Community Center of Houston presents An Evening with Ido Tadmor and Open Dance Project Company, with a program that includes a commissioned work especially for Dance at the J, performed by Open Dance Project, and Annie Arnoult's Stalemate, March 7. And Houston Jewish Film Festival runs March 21 to April 1 at several Houston venues.
San Antonio's Jenelle Esparza, Joey Fauerso, and Mari Hernandez at Crystal Bridges
SAN ANTONIO/BENTONVILLE—San Antonio is having a moment, and it's a good one. The city is in the spotlight as part of State of the Art 2020, an exhibition of works by contemporary artists across the US, on view through May 24 at Crystal Bridges Museum of American Art and The Momentary, the museum's new satellite venue. Of the 61 artists in the exhibition, seven are Texans, and San Antonio is home to three: Jenelle Esparza, Joey Fauerso, and Mari Hernandez.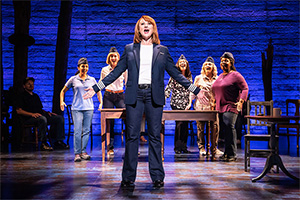 'Come from Away' at Hobby Center and Dallas Summer Musicals
HOUSTON/DALLAS—The true story of how Canada's easternmost province found room for so many frightened and sometimes grieving travelers became the inspiration for one of Broadway's recent hits, Come From Away, which wraps up its Texas tour at Broadway at the Hobby in Houston March 3-8, and  Dallas Summer Musicals, March 10-22, Music Hall at Fair Park.
'Nick Vaughan and Jake Margolin: 50 States: Louisiana' at DiverseWorks
HOUSTON—The artistic duo Nick Vaughan and Jake Margolin found their way to their home in Houston while doing research for a series titled 50 States, which uncovers hidden queer histories state by state across the U.S. Commissioned by DiverseWorks and on view through April 18, 50 States: Louisiana is the sixth iteration of this series, but for the artists, it's a continuation of their anthropological process.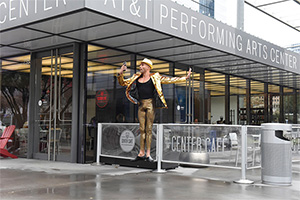 Dallas Opera and Dallas Black Dance Theatre Collaborate for 'Pulcinella'
DALLAS—Candace Evans directs the Dallas Opera production of  Pulcinella, which has been paired with another short opera, La Voix Humaine, or The Human Voice, running April 3-8.  Evans sets the opera in a present-day Italian café and uses projections to establish the surroundings. But the big news is that Dallas Black Dance Theatre's Sean J. Smith has choreographed the opera and dances the title role. Dallas Black Dance Theatre dancers are also part of the production in this unique collaboration.