TITAS stands for Texas International Theatrical Arts Society, but not since the 1999-2000 season has the presenter put so many international acts on stage. Over the next nine months, TITAS is bringing six international dance troupes to Dallas—four making their Texas debuts—the most since dropping music shows from its schedule and going all-dance four years ago. "I've been spending a lot of time these past few years connecting with consulates and with festival directors around the world," TITAS director Charles Santos says in an interview at his 18th floor office in downtown Dallas.
That has turned him into a world traveler because he doesn't like to rely on video or word of mouth when selecting groups for his season. "Especially with companies I don't know, I have to see the work in person," he says. Lately, Santos been been looking in Asia; that's reflected in the inclusion of companies from China and South Korea in the 2019-20 season, along with troupes from France, Mexico and Canada.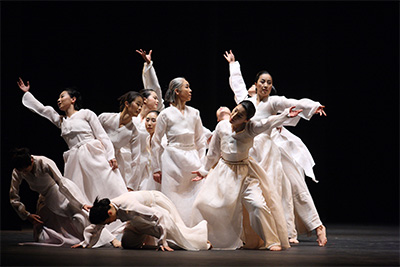 Seoul's ChangMu Dance Company (April 11, 2020) and its founder, Kim MaeJa—"the godmother of contemporary dance in Korea," Santos calls her—have been touring the world for 35 years. "When she walks down the street, people bow to her," says Santos. ChangMu's aesthetic mashes up a variety of traditional Korean styles, including shaman, Buddhist, folk and court dances, "but it's very contemporary in its presentation," Santos says. "They use very stark, modern white lighting, but they'll be wearing traditional Korean costumes, and they'll move elegantly with a lot of gestural work. They take their time, which we really don't do over here. It's so luscious to look at."
BeijingDance/LDTX (Feb. 28-29, 2020) was founded in 2005 as the first independent contemporary company recognized by the Chinese government. Lei Dong Tian Xia, or LDTX, translates to "thunder rumbles the universe." Santos, who takes a curator's approach to the TITAS season, selected Arc, the first evening-length work created by the company's Mongolian resident choreographer Adiya, for the Dallas program over another piece that was offered. Other presenters agreed, so LDTX is performing Arc, which deals with life's ebbs and flows, at other tour stops, Santos says. "You see the Chinese roots and the Mongolian roots in the way they use their feet, the way that some of the movement is structured. I love that though it's very contemporary, there's a sense of history inside the work, and there's an abandon in the movement that I really like. It's just very clever."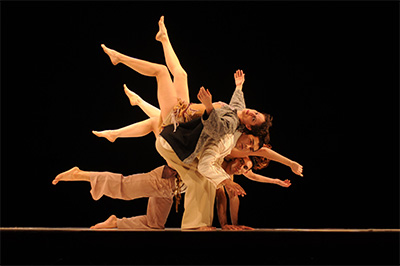 The other international troupes making their Texas debuts in the 2019-20 TITAS season are also performing evening-length works. México's Mazatlán-based Delfos Danza Contemporánea (Jan. 31, 2020), founded in 1992 by dancer-choreographers Claudia Lavista and Victor Manuel Ruiz, will bring Cuando los Disfraces se Cuelgan (When the Disguises are Hung Up), described as "a reflection on appearances and the disguises we put on in order to navigate a world." Their names may sound familiar because in 2016 they created new choreography to Stravinsky's The Firebird around the theme of migration for the Meadows Dance Ensemble at Southern Methodist University.
Meanwhile, Rubberbandance Group of Montreal (May 1-2, 2020), distinguished by Los Angeles-born Mexican-American choreographer Victor Quijada's deft mashup of breakdancing and ballet, is presenting Ever So Slightly, to be accompanied live by a DJ and a guitarist. "Sometimes I feel when I see hip-hop oriented pieces that there's this moment where they go, 'OK now I'm going to do my tricks' and there's a pause in the energy, and I hate that," Santos says. "I found Victor's work much more organic. He's one of the people that has successfully bridged two different kinds of dances without looking clunky…It's sexy."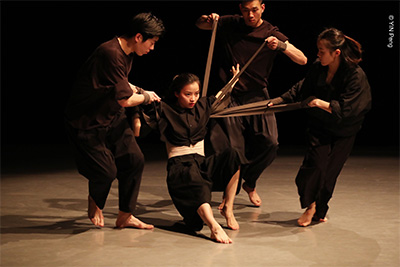 The season already opened with the return of Ronald K. Brown's Evidence, A Dance Company out of New York in September, to be followed this fall by Los Angeles-based Bodytraffic (Oct. 25-26) and Vancouver's Ballet British Columbia (Nov. 8-9), both repertory companies featuring the work of leading national and international choreographers, and Connecticut-based MOMIX (Dec. 13), with a greatest hits spectacle called Viva MOMIX.
One of the most sought-after tickets of the season will be Alvin Ailey American Dance Theater (March 13-14, 2020), if for no other reason than to see Ailey's popular signature work, Revelations, at the end of every performance. Before that, France's Malandain Ballet Biarritz (Feb. 7-8, 2020) will take a second shot at bringing artistic director Thierry Malandain's version of Prokofiev's Cinderella to Dallas. Originally part of the 2014-15 season, the sets and costumes for Cendrillon never made it off the boat after traveling from France. (A new repertoire was devised on the spot and included a shopping trip by Santos to Home Depot.) The season closes with the TITAS Command Performance fundraising gala featuring duets and solos by star dancers (June 6, 2020).
"I don't want to pander, but I also don't want to throw away the audience we have," he says about creating balance between the familiar and the adventurous. "I think we have helped Dallas build a more informed dance audience because we're bringing such a diverse roster of artists every year."
—MANUEL MENDOZA