After almost a year of construction, The Amon Carter Museum of American Art is starting a new chapter. With an opening celebration on Sept. 14, the Carter celebrated a visitor-centric renovation that not only broadens the galleries' sightlines and offers more generous space for works of art to be shown, but also reconsiders the relationships between the collections and the museum's visitors.
"It's an exciting time," says director Andrew Walker. "We've moved from more domestically-scaled spaces to grand spaces, where the paintings get to be envisioned a bit differently." That new vision includes LED lighting that evokes daylight, a new modular wall system that can transform the exhibition spaces, and new hardwood flooring. It includes new accessible entrances with an integrated ramp system, and expanded photography vaults. That is to say: there are visible and invisible changes that are the result of years of planning by the museum administration and board members.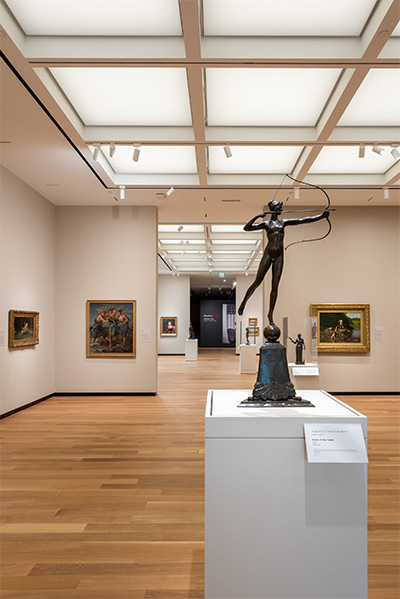 Walker describes the renovation as integrating the building with the museum's mission; he says that rethinking the exhibition and scholarship opportunities the building allows was part of a concerted effort to connect historical work with contemporary life. "In the opening gallery, for example, we are looking at the foundations of our nation," he says. "That beginning moment, when there was a jostling for identity that, ultimately, found expression in the conflict of the Civil War. There's a sense of the newness of the national school, moving into this period of genre painting and landscape that was engaging the issues of what it meant to be an American, then, in a very real way. As the political issues around indentured work and slavery led to armed conflict, we find ourselves in one of the most challenging moments of our national history." With the revised exhibition, the curators have paired contemporary works that engage with that violent history and consider an ongoing dialogue around race and identity, today. Glenn Ligon's work responding to advertisements for runaway enslaved people now sits among the historical works that the museum is known for, pushing up against earlier versions of American history. "These issues are not frozen in the past," Walker says. "Issues of identity are ones that can bring a nation together and can continue to rend it apart. We want to continue to have these interventions so our visitors can have these conversations."
"The galleries now are big and gutsy; they have this beautiful light coming from coffered ceilings that mimic outdoor light, so there's this even glow… There's a sense of scale of the spaces that aligns with the masterfulness of the works being displayed. It provides all kinds of new opportunity for doing this kind of intervention which would have been much more difficult in the galleries of the past," Walker says.
As the museum reopens, it is featuring an exhibition of early work by photographer Gordon Parks. Two installations by living artists are site-specific engagements with the collection: Camille Utterback's digital work provides an immersive experience alongside an exhibition of kinetic work by other artists who identify as women. Justin Favela's Puente Nuevo installation uses piñata-making materials to construct an immersive landscape that responds to the museum's collection of 19th century Mexican prints.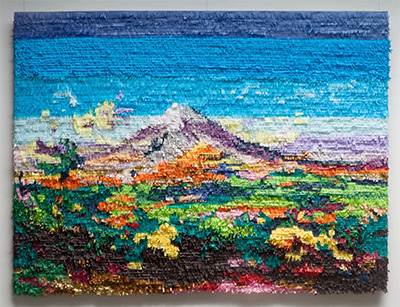 "From its founding, the Carter was kind of an innovator for its time," Walker says. In the 1970s, he notes, the museum's priorities were directed toward building a significant historical collection of American art. "This happened simultaneously with our long-term commitment, throughout the museum's history, to be a knowledge creator. We're very committed to scholarship. We're trying to be conscious creators of content that is contributing to the larger story of American art."
One of the structural innovations—new lighting technology—allows for the breadth of the collection to be shown together: paintings, photographs, and works on paper can be shown in the same space now, because the light can be modulated for each kind of work. This expands the kinds of exhibitions that can happen, broadening the possible dialogues across different mediums.
A new study room, Walker adds, offers unprecedented access to the collection and paves the way to develop a fellowship program for researchers. "We're providing that platform for the next generation of thinkers to expand our understanding of American creativity."
"This institution has a history, but also a belief that stories matter, that facts matter," Walker says. "History leaves a footprint. We've been committed for over 60 years to preserving that footprint and providing it to the public… There's complexity in those stories that make up the American experience. Because we are so comprehensive in our holdings, in fine arts, book arts, photography, archives – you can have a really holistic experience of what it means to be a part of this nation's history. It's important to not be simplistic about it. The real wish of the Amon Carter is that everyone is welcomed here, invited to have that exploration, and to make up their own understanding."
—LAURA AUGUST