Fine Arts Chamber Players with Carter High School Full Choir; 2018 DADF grant recipient for Dream Collectors, a free education outreach program performed at the DMA.
---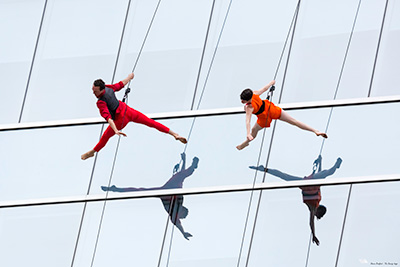 The arts communities of Dallas—like many art communities across the country—are prone to tribalism, which plays out across disciplines, geographies, ethnicities, career stages, education levels, politics, and incomes. Very rarely does anyone in this cultural ecosystem—from grassroots to large institutions—consider the entirety of the ecosystem. Most are too preoccupied about their own place inside it to have much time to worry about anyone else. This leads to very myopic thinking and planning. Our largest arts institutions and funders are historically most guilty of this.
Often the story goes like this: Big Institution X reveals some new initiative that will consume a lot of the city's limited resources. Grassroots Organization Z (usually artists or activists) points out some flaw in the new initiative—maybe it doesn't serve people of color, or women, or consumes too many resources, or doesn't involve the local arts community, or does the opposite of whatever it intends.
There is online chatter via social media. Maybe some plucky writer writes an article about the controversy. Big Institution X becomes offended that the people aren't appreciative of whatever it is trying to do. Grassroots Z is annoyed that Big Institution X isn't listening and is reinforcing the structural problem in question.
Big Institution X continues on with its new initiative—maybe with a promise to review it after the first round. Big Institution X stays big and continues to occupy a disproportionate portion of the cities limited resources because that is its primary job. Grassroots Z becomes distracted with the next problematic thing another big institution is doing, or has to concentrate on making art, or figuring out how to pay for food or rent, because survival is its primary job.
Luckily the story of the Through The Lens competition, a collaboration between the Dallas Arts District and HALL Group, deviates from this normative script and could serve as a model for how larger institutions of all types interact with local arts communities.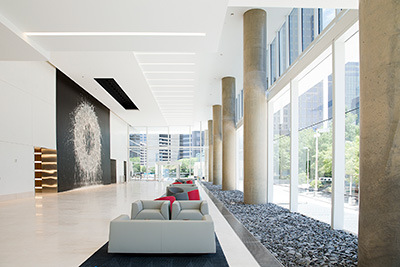 Goliath
Craig Hall is the founder of HALL Group, a private company that focuses on real estate development. HALL Group, perhaps best known for its 2.5 million square feet office park in Frisco called HALL Park, expanded into the heart of the Dallas Arts District with their development called HALL Arts.
The first phase, already completed, is KPMG Plaza at HALL Arts, which consists of 500,000 square feet of office space and three restaurants. The next phase, HALL Arts Hotel and Residences, which includes private residences and a boutique hotel, is in process. HALL Park's Texas Sculpture Garden is the largest private collection of contemporary Texas sculpture made available to the public.
A longtime supporter of the arts, Craig Hall conceived a fundraiser for the Dallas Arts District Foundation that would produce a signature coffee-table book full of original photographs of the Arts District. The Dallas Arts District Foundation is the Arts District's grant-giving arm, and there was an opportunity to significantly increase its reach through this kind of fundraiser.
When Hall approached Lily Weiss, the executive director of the Arts District, she was thrilled. The Arts District and HALL Group decided to collaborate on the project which is known as the Through The Lens competition. They would offer up the opportunity for any photographer, regardless of experience or skill-level, to submit images that captured the essence of the Dallas Arts District to be published in the signature book. Quickly, a star studded panel was assembled to help select the winners, including Michael Rawlings, Mayor of Dallas (Honorary Chairman); Jeremy Strick, Director of the Nasher Sculpture Center; Dr. Agustin Arteaga, Director of the Dallas Museum of Art; and Dr. Sam Holland, Dean of the Meadows School of the Arts at Southern Methodist University. The chairs of the review panel are art curators Patricia Meadows and Virginia Shore.
The competition launched in June of 2017 and a problem was quickly realized. The prizes for the winning artists were missing one thing: money.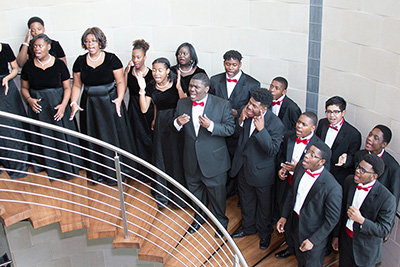 David
Giovanni Valderas had seen this before. A Dallas-based artist, activist, and arts advocate, he was familiar with businesses and nonprofits not valuing artists, or at least not valuing them enough to compensate their work with money. Valderas, whose own artwork often confronts gentrification in neighborhoods of color driven by large real estate developers, co-leads Arts Equity Now which mobilized the artist community against the City of Dallas in a $15 million dollar bailout of the AT&T Performing Arts Center.
When he saw the competition in his social media news feed and read the details, he immediately noticed there was no honorarium attached to having one's photographs selected. Valderas decided to call out this discrepancy via Facebook as the most recent example of the Dallas Arts District exploiting artists to help everyone but artists. His posts were soon trending across many local artists' and art workers' newsfeeds, and dozens of artists shared his critique and hundreds more liked it, voicing their concern that such a large company would not be compensating artists for their work.
The Aftermath
This was not what HALL Group intended. Suddenly there was a huge backlash to the competition they had begun in order to do a good deed for the arts community. As the debate raged on social media, other arts leaders with access to the HALL Arts team were voicing their concerns privately. The competition was temporarily pulled offline paused as the Dallas Arts District and HALL Group met to decide how to proceed.
After weighing all the concerns, they decided their critics were right and they should provide the winning photographers with honoraria. When they re-announced the competition, the prize now included a $500 honorarium for each selected artist. They also announced via HALL Arts's Facebook page with a photograph that said "You talked. We listened." Valderas responded to the post with, "Thank you for listening to artists."
Why It Matters
It should not be newsworthy that a large organization listened to artists and changed their program, but it is. Unfortunately, this rarely happens in Dallas. What normally happens, as described earlier, is that the large organization retrenches, attempts to isolate or blackball whomever is leading the resistance, and either pulls their program entirely or continues onwards with their original program.
Rarely does listening, compromise, and improvement happen. Yet, because it did happen in this case study, Dallas has a better, more equitable photography competition. More artists will submit photographs, the coffee table book has a better chance of being high quality, and a high quality book will sell more copies which will generate more money for the Dallas Arts District Foundation.
The foundation is changing also—the Dallas Arts District Foundation is now for the first time allowing individual artists already approved by the City of Dallas Office of Cultural Affairs, to apply directly for grants from the Arts District.The HALL Group's initial mistake was not made out of malice or disrespect but from ignorance and oversight. Valderas and the many other individual artists who critiqued the competition did not do so because they don't like or want to support the Dallas Arts District, but because they are passionate about individual artists being able to survive off their art. Our arts community needs the Dallas Arts District, the HALL Arts of the world, and the Valderas's of the world.
When we listen to each other we don't have to cast the other tribe as villains. When we listen to each other, we all have the opportunity to be heroes.
—DARRYL RATCLIFF