Randy Pearlman (Chick) in Bruce Graham's Funnyman.
Photos by Tim Long.
---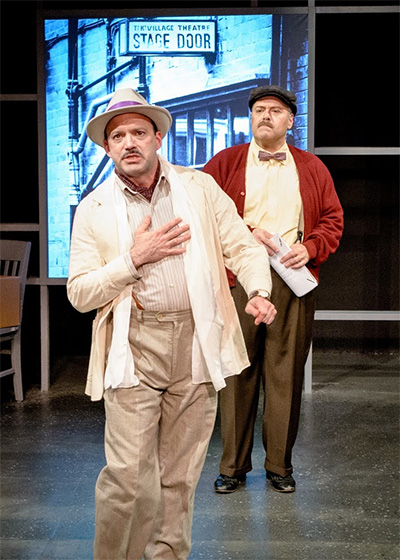 The title, Funnyman, is a little misleading.  Sure, this tightly-structured work by Philadelphia playwright Bruce Graham has its chortles, but at heart it's a story about the seriousness of comedy, and those who create it.
The scene is New York City, 1959. An aging vaudevillian comic is fighting with the director of his latest commercial promoting a digestive aid. Know for zany shtick since he was a child performer, Chick Sherman hastily spits out his line and mugs for the camera. In every performance, he's known for his trademark catchphrase, "Wowza!" But with the changing tastes in comedy, work is becoming scarce for the caustic comedian, until an offer to star in an off-Broadway absurdist play is tossed his way by an adoring (read: gay) playwright, played with comical ease by Jakie Cabe.
The central relationship that unfolds is between Sherman, played by Randy Pearlman, as the perfectionist performer yet tormented soul, and his estranged daughter Katherine, nicely underplayed by Melissa Rosenberg, who's been overshadowed by her father's celebrity all her life. Dad has not only kept his only child at a distance, he's even hidden his real name and the details of her mother's death. Wowza, indeed.
Graham keeps their relationship taut, and shows us the underpinnings of fame and fortune. As they say, money can't buy you love. And, it appears, getting laughs and actually being a funny person are not always the same thing. The script goes to some lengths to show the exhaustive work that it takes to create comedy, and how a passion for performing can sometimes drain you of emotions for dealing with real life friends and family. Even Sherman's longtime agent confesses to not knowing much about the famed comic, even though they are best of friends.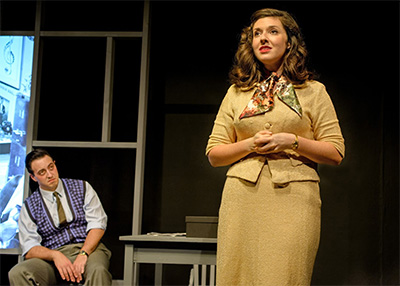 The regional premiere at Circle Theatre in Fort Worth is loosely based on the real-life story of Bert Lahr, a veteran of vaudeville but better known world-wide for his portrayal as the Cowardly Lion in a little film called The Wizard of Oz. As his star was fading, Lahr was offered a role in the avant-garde play, Waiting for Godot, by Samuel Beckett. After much deliberation about how the role may be rejected by his beloved fans, Lahr won acclaim from critics and audiences for taking a chance, and proving to skeptics that he indeed was a very capable actor.
As Sherman, Pearlman commands the stage as the seasoned pro staring at his future through dark grey glasses. His body worked-over by the physical demands of comedy; his heart closed to everything but the sound of laughter and applause. He's not so much bitter, as he is tired. And scared to talk to his now grown daughter who has come home to roost, hoping to mend their fragile relationship. As Katherine, Rosenberg aptly delivers us the pain and anguish of only knowing her father as a famous public persona. In a key scene, she mimes one of her father's famous roles, as Dad looks on. In his face, we see him recall his forgotten youth. In hers, we see a grown daughter still aching to find the love of her daddy.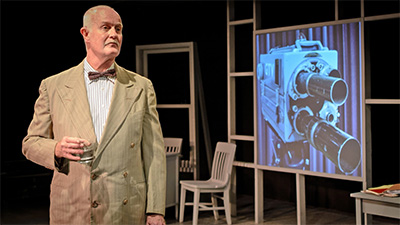 Funnyman is not what you expect on the surface. It entertains but also impresses with a telling story and characters that rattle your heart. To bad attendance for opening night on Oct. 22 was modest. It's the task of the theater management to make sure butts are in the seats, especially for unknown titles. This is wowza work by all involved, and deserves to be seen.
–Scot Hart