We're still holding our breath, knocking on a forest full of wood and sacrificing chicken-shaped tofu to Dionysius, but it looks like in-person, inside-an-actual-theater, theater will finally take the stage this fall. In a weird bit of Texas calendar power even before blockbusters like Hamilton reopen on Broadway and before many of our favorite hometown companies begin their 2021-2022 seasons, two witches in Dallas and one fair lady in Houston will usher audiences back inside the big venues once more.

Ironically for musicals, there's only a tiny bit rhyme and a myriad of scheduling, timing and presenting reasons why a given show stops at one Texas city but not another. We're probably familiar with our local subscription series, but many Texas cities have big presenters that bring in touring Broadway and London musicals throughout the year, including Broadway in Austin and San Antonio, Broadway at the Hobby Center in Houston and at Bass Concert Hall in Fort Worth, Dallas Summer Musicals, and the AT&T Performing Arts Center Broadway Series. Some self-producing organizations like Houston's Theatre Under The Stars also present the touring shows.
In honor of our return to theater season, and as Arts and Culture's occasional theater cartographer, I thought I'd try to map the to and fro of the big tours, looking for trends, must-sees and the occasional reason to take the Texas highways and byways to see that best show in (some other) town.
While these lineups defy pigeonholing (and gravity), there's no denying the ladies will be the first to bring us back to our seats and then keep the spotlight for themselves. Those Wicked(ly) good witches spread musical magic to reopen the Dallas Summer Musical season (August 3-September 5). In Houston, an Eliza Doolittle for the 21st century in Bartlett Sher's acclaimed My Fair Lady revival will do much dancing-all-night at the Hobby Center (September 14-19). These two shows set the tone for a year of disco divas, ice princesses, Constitutional debaters and high school queen bees touring across Texas.

­­­
The fashion to turn successful films into musicals is less a trend than a way of life now, so we shouldn't be surprised to see three of the latest film-to-stage musicals:
Tootsie
,
Mean Girls
and
Frozen
. They also accentuate our season of women in a myriad of stories and forms.
Tootsie became a 1980s comedy classic with its premise of a difficult male actor becoming so desperate for work he takes on a female persona to land a plum role on a soap opera. Since theater about theater is about as ancient as theater itself, this gender-bending satire gets both updated with a 21st century sensibility and set into the world of Broadway. The show won the Tony for best book and earned critical acclaim for its comedy. Tootsie dons a dress in Houston (Nov. 16) and then comes back to Texas for performances in Austin (February 22) and San Antonio (March 22).
Next up for cinematic nostalgia, Texas tries to make Mean Girls happen and it will happen almost everywhere. This musical take on Tina Fey's satire on high school social Darwinism becomes the Lone Star Spring Fling queen with stops in Dallas (May 3), Fort Worth (July 26), Austin (Aug. 2), San Antonio (Aug. 9) and Houston (Aug. 16).
Finally, summer 2022 gets cool with Disney's Frozen drifting into Houston (June 30) then Dallas (July 20). While little girls around the world wouldn't "Let It Go" and parents might still be having flashbacks to the obsessive playbacks, we can't deny the story of princess sisters who save each other contains a powerful message. A real life diva also gets her due this season with Summer: The Donna Summer Musical. This jukebox show features some of Summer's greatest hits during a depiction of her life in three different stages: Duckling, Diva and Disco Donna. Dancers will shake their hot stuff in San Antonio (April 19) in Dallas, as part of AT&T Performing Arts Center Broadway Series (April 26), and Austin (May 3).
Of the women I'd road-trip to see, What the Constitution Means to Me rates high on my list. I saw this play in New York in 2019 and even post-election I believe it will resonate. Actor Cassie Beck will take on the role of Heidi Schreck (playwright and performer of the Broadway production), telling the story of her personal relationship with the document that holds our republic together. Though not a musical, the show argues the case for the dynamic risks and rewards of live theater when Beck enters into a new debate with a young woman each night on whether the Constitution should be scrapped and replaced. As of now, Dallas's AT&T Performing Arts Center Broadway Series will be the only Texas presenter (January 4-9).
Also on my list of shows worthy of travel is the latest
Oklahoma!
revival, directed by Daniel Fish. Nicknamed the sexy
Oklahoma!
during its limited run in New York, this intimate production mined the darker elements of the Rodgers and Hammerstein classic and hit a theatrical motherlode. However, this tour seems to want to stay close its namesake border as only Dallas Summer Musical at AT&T Performing Arts Center (May 31) and Fort Worth (June 21) will host the hoedown.
I'm also curious about the only show resurrecting from a London revival, Andrew Lloyd Webber and Tim Rice's 1970 smash, Jesus Christ Superstar. This production embraces Superstar's rock album origins and is staged like a concert; it won the 2017 Olivier Award for Best Musical Revival. An outdoor summer run in 2020 London gave audiences a brief, communal experience of theater once more. Jesus appears in Dallas (April 5), San Antonio (July 5) and Fort Worth (July 12).
But before we make it to heaven, the hottest show to beguile us for the 2022 new year has got to be Hadestown. Winner of the Tony for best musical in 2019 before all hell broke loose, the musical intertwines the mythic love stories of Orpheus and Eurydice, and god Hades and Persephone. The road to hell, paved with twangy, bluesy rock, and music, lyrics and book by Anaïs Mitchell, detours into Houston (January 4), Austin (January 11) and Dallas (January 18).
Many of these Broadway in Texas seasons also round out with several returning shows, like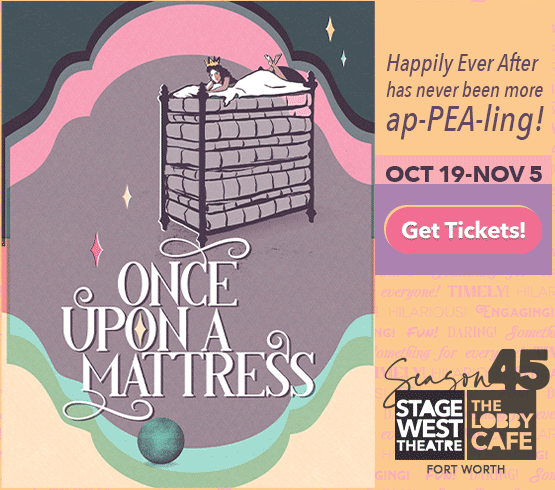 Jersey Boys
,
Disney's Lion King
and
Waitress
. The biggest name of all,
Hamilton
brings the revolution back around to Dallas (Nov. 16), becomes the first touring musical to hit a reopened Austin (Dec. 7) and then heads into San Antonio and Houston in early 2022.
But the one returning show on my must-see-again list, Come From Away seems more relevant and needed now more than ever as it flies into Fort Worth (Oct. 19-24) before it's presented by Houston's Theatre Under the Stars and Dallas Summer Musicals in March, 2022. Come From Away tells the true story of a small Newfoundland town that welcomes and shelters thousands of international passengers grounded when all flights were forced to land on 9/11/01. This celebration of local and global community and human connection in the shadow of great tragedy was the last big musical I saw before the pandemic shut down the world and made a stranger's very breath a thing of anxiety and paranoia. I can't wait to breathe it all in as part of an audience once more.
—TARRA GAINES