AtticRep at the Tobin Center
---
IMAGE ABOVE: AtticRep's artistic director Roberto Prestigiacomo and managing director Rick Frederick in fron of The Tobin Center. Photo by Christopher Novosad.
---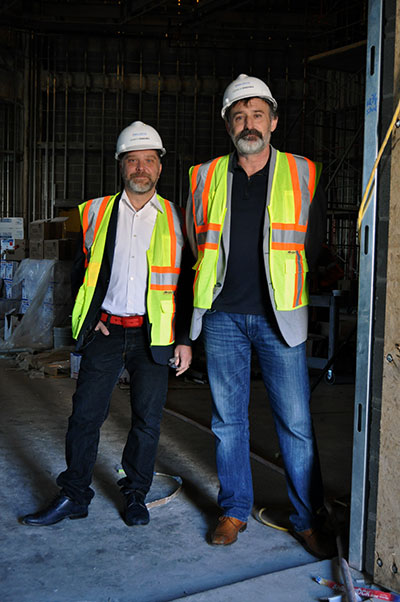 "The main question was: after eight years of doing the work we have done, and achieving some success, what is the next cycle? How do we keep improving? Or has the time come for us to stop doing theater altogether? We thought about that, too; We could stop here and be happy with what we have done." Roberto Prestigiacomo explained the quandary that AtticRep found itself in on learning that their residency at Trinity University's Attic Theater was ending—not for lack of love of the San Antonio repertory company, but due to increased demand by students for use of the university's performance loft in the 2013-14 school year. As both artistic director of AtticRep and director of theater at Trinity, Prestigiacomo found himself pinched by success on both fronts.
Since 2005, AtticRep has presented intimate productions in the tiny black box theater stuffed upstairs in Ruth Taylor Fine Arts Center, which have thrilled audiences and delighted critics. Though based at Trinity since its formation, AtticRep is professional theater, and is one of the few companies in San Antonio that has mounted Actors' Equity productions. A relative newcomer compared to The Playhouse, which has presented professional theater in the Alamo City for over 100 years, AtticRep has received consistent critical praise during its short life. But, as both Prestigiacomo and managing director Rick Frederick told A+C TX, even before they learned about the loss of their home, it was becoming apparent that they needed to grow—or die.
Fortunately for San Antonio theater-goers, the Tobin Center for the Performing Arts added AtticRep as its resident theater company last fall, giving them just enough time to plan their first season starting this September at San Antonio's grand new venue. "We were looking for a different set of stimuli to keep things exciting," said Prestigiacomo. "So we started to look, and the universe opened and many opportunities came to us. The Tobin was the most exciting." Finishing construction on the site of the old Municipal Auditorium located on the San Antonio River, the Tobin Center will provide residencies to nine performing companies, including the San Antonio Symphony, Ballet San Antonio, and The Opera San Antonio, which will perform in the 1,759-seat H-E-B Performance Hall. SOLI Chamber Ensemble and San Antonio Chamber Choir will share the schedule at the Alvarez Family Studio along with AtticRep,
"The studio theater is a black box, flexible space," Prestigiacomo explained. "That means that we can continue using space in the creative ways we have done at the Attic at Trinity. But it is bigger and has high ceilings. This will allow us to be more creative, and to improve on the quality of work that we bring there. For instance, the added height will allow more choices in lighting."
AtticRep'sfirst season at the Tobinwill revisit its past, with new stagings of plays in their repertoire. It will open September 10-14, 2014 with God of Carnage by Jasmina Resa, a 2009 Tony Award winner; the play escalates a playground tussle between two 11-year-old boys into a brutal conflict among their parents. Described by the New York Times as "A study in the tension between civilized surface and savage instinct, this play is itself a satisfyingly primitive entertainment."
Edward Albee's notorious 1962 classic, Who's Afraid of Virginia Woolf? will appear November 12-23, 2014, followed by True West, running January 28-February 8, 2015.One of Sam Shepard's funniest and most brutal plays, it pits a successful Hollywood playwright against his vagabond brother; resentment and jealousy merge with escapist fantasies, movie myths, and lost dreams of the frontier.
The final play in AtticRep's regular season will be The Irish Curse by Martin Casella, presented March 25-April 5, 2015. Obsession with body image is the topic in this uneasy comedy, in which a small group of Irish-American guys get together at a support group for men with small penises. "Casella is at his best when he's going for laughs," says the New York Times. "He gets a lot of them."
Though repertory theater is embedded in its name, AtticRep also maintains a forum-theater practice, creating community empowerment by incorporating techniques pioneered in the 1970s by Brazilian director by Augusto Boal (Theater of the Oppressed). Past forum theater projects in San Antonio have situated community members in improvisatory works dealing with border issues, homelessness, and breast cancer.
This year, AtticRep will partner with theater company Crea Shakthi in Chennai, India, in a forum theater project to be determined through input from the Chennai community, that will be facilitated by San Antonio's Department of Culture and Creative Development.
"We will go to Chennai for a three-week residency at the end of June," said Prestigiacomo. The date for the performance of the Forum Theatre Project is July 18, 2014. "We will see if we can stream it live on our website." Later, from June 3-14, 2015, From the Mahabharata,will be staged during the new International Theater Festival of San Antonio to be held at the Tobin. Working with performing artists from San Antonio's Indian community, AtticRep will create an adaptation of a section from the Mahabharata for contemporary audiences.  Enacted in India as dance theater for almost 3,000 years, the ancient Sanskrit epic contains the Bhagavad Gita and the philosophy underlying Hinduism.
"We'll take one episode out of the Mahabharata, and see how they do it traditionally, then translate it so that we can work with these phenomenal dancers and storytellers," explains Prestigiacomo. "That story is the soul of Indian culture. Our problem is to learn how to work together with the Indian artists, and learn how they do it. That is the beauty for us as artists—working with new material. We are not just doing this by ourselves. And for the San Antonio community as a whole, this will create an exchange that is creative and intellectual."
—SCOTT ANDREWS