At the beginning of 2019, Dallas Theater Center announced Jonathan Norton as its new playwright in residence, but the history between the two actually goes back much farther: Not just to 2015, when DTC commissioned Norton to write what would eventually become penny candy, a play set in the Dallas neighborhood of Pleasant Grove that is being presented this summer as part of the company's main season…Nor even 2013, when Norton was part of DTC's inaugural Dallas Playwrights Workshop.
It goes all the way back to when Norton was in sixth grade and saw DTC's A Christmas Carol at the now defunct Arts District Theater. It was the first play he had ever seen.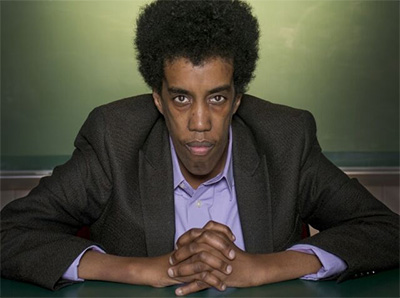 "My relationship with DTC is a classic meet-cute story," says Norton. "I was expecting something like the Majestic or the Music Hall, where we went to see student matinees of the symphony, opera, and ballet. So I was angry when the school bus pulled up to the ADT because it was basically a big white barn. I was not impressed and wanted my money back."
But the theater's sparse layout and bleacher seating reminded Norton of Saturday Night Live—in fact, SNL's production designer, Eugene Lee, had designed the Christmas Carol set—and when the ghost of Jacob Marley flew over his head, Norton was sold. "It was the best eleven dollars I ever spent," he says.
Now one of his works is receiving its world premiere at DTC, and Norton is poised to assume the duties vacated by the company's first playwright-in-residence, Will Power. Norton will lead six emerging playwrights in a free program that focuses on both the craft and business of the profession, and will work with DTC director of education Morgana Wilborn to create a robust playwriting curriculum for the Adult and SummerStage programs.
PlayPenn, a Philadelphia-based organization dedicated to the development of new plays and playwrights—where Norton workshopped penny candy in 2017—is a model Norton plans to emulate for his programs in Dallas.
"Our time at PlayPenn was a true gift—we had three weeks to experiment and play," he says. "At PlayPenn, we made some incredibly crucial discoveries that shaped the play audiences will soon see in June. Here in Dallas, we're imagining a series of courses that provide an intensive focus on specific topics like character development, tackling historical drama, combating writer's block, or a boot camp about self-producing. This will also be a great way to create DTC teaching artist opportunities for local playwrights."
Though North Texas audiences might be familiar with Norton from his work at African American Repertory Theater, Soul Rep, Theatre Three, and many others, this new position, which is funded through the TACA Bowdon Family Foundation Artist Residency Fund, gives him the opportunity to reach more than ever before. Norton cites Power as having been "an absolute dream mentor," and hopes he can continue what Power started with expanding DTC's role both onstage and in the community.
"[DTC artistic director] Kevin Moriarty was certainly familiar with my work and a great cheerleader, but Will is the person who really brought me into the DTC fold in a more formal and significant way through the Dallas Playwrights Workshop," says Norton. "He also played matchmaker and introduced me to Derrick Sanders, the director of penny candy. Will gave me the best advice about approaching the commission, saying to remember that I'm writing a play for a company with a lot of resources so I shouldn't think small and I should use all the crayons in the box. ALL. OF. THEM."
So what's next for Norton? Another DTC commission, and while the details must remain under wraps for now, it sure sounds like the new resident playwright will once again be using every single crayon at his disposal.
"It's about African American women and fashion," he reveals. "Act one takes place in the late '60s/early '70s, when Black is Beautiful galvanized the people. Act two takes place in the mid-'80s, when greed and excess dominated. Act Two will be serving Dynasty realness! That's all I can say so far."
—LINDSEY WILSON