Apollo Chamber Players
Photos by Cris Stephens.
---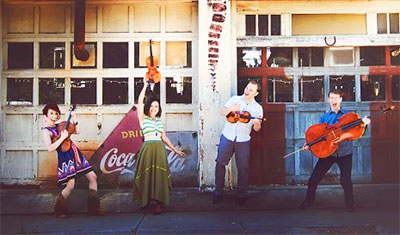 Like many new musicians, when he left Rice University with his Master's degree of music, Matt Detrick struggled to find paying gigs.  But true to his ceaseless optimism, Detrick took a risk that would broaden his goals as a musician and help him to serve a Houston community hungry for new classical music that is approachable and diverse, like the city itself.
Detrick co-founded  Apollo Chamber Players in 2008 with a group of Rice musicians. "We wanted to perform, and you have to make things happen when you get out of school," says Detrick. "You're not getting a job. We were doing auditions and had some success but not landing anything." The group took a precarious leap into the nonprofit world, spurred by the Houston community. "A gentleman from the Greek community of Houston approached me about doing a concert of some Greek folk melodies and some Bach, so we put together our inaugural concert," Detrick explains.
After their first concert, Apollo honed their unique mission over the next season: A focus on intersections of culture in folk and classical music. They began to use themed concerts and collaborations to French, German, Venezuelan and Spanish influences.   For Detrick, the focus is personal. He grew up the son of a minister who hosted immigrant and refugee families in their home. But for the group, exploring folk and cultural influences can link audiences to their own ethnic heritage, which in a city like Houston can span from Mexico to Croatia to Israel. They remain one of the only organizations in Houston to embrace this focus.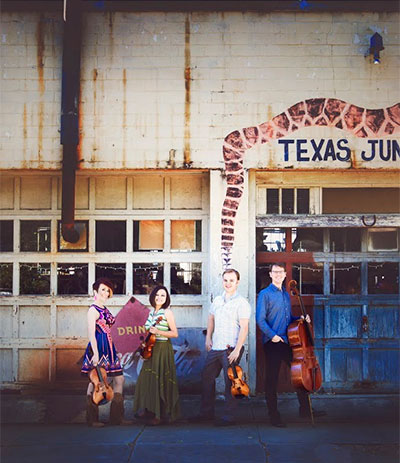 All that risk-taking paid off. The group, which consists of Matt Detrick and Anabel Ramirez on violin, violist Whitney Bullock, and cellist Matthew Dudzik, performed at Carnegie hall in 2013, toured the country from Seattle to Little Rock, collaborated with Houston METdance for productions at Wortham and Miller Outdoor Theatre, provided educational outreach through Young Audiences of Houston at local schools and the Healing Arts program at Texas Children's Hospital, and in 2014, embarked on an ambitious project, 20 x 2020, which aims to commission twenty new works of culturally-inspired classical music by the year 2020.
This last challenge showcases the organization's spirit and resolve. Whether because of a perceived audience backlash to so-called modern music, or a desire to save costs, orchestras and organizations are less eager to feature new works and often rely on traditional standbys. Detrick explains that when the commissioning of new works does occur, it often transpires on a large scale, with symphonies from across the nation sharing premieres in different cities. Funding is a challenge, even more so for a small chamber orchestra that spends most of its time as a string quartet. As Detrick states, "Some of the top composers' fees are rather exorbitant for good reason." But Apollo thrives off of the experiment, relying on the diversity of Houston to fund the project, through city grants as well as individual benefactors responding to the group's mission. "The commission for the April show, Croatian Connections, is being funded by one of our patrons. He came to us and said 'I want to be a part of this. I trust you to pick the composer.' He wanted it to have something to do with Croatia, because he had a Croatian ethnicity in his family." In response, composer Alexandra du Bois' created her new work String Quartet No. 4.
In another bold step, Apollo Chamber Players will play their 2015/16 season at the newly built Midtown Arts & Theatre Center Houston (MATCH). Detrick didn't see performing at the MATCH as a risk, but an opportunity to reach new audiences. "Living and working and being a part of the Houston community, as diverse as it is, has given us an opportunity to present classical music in a way that's more approachable and a more meaningful experience, when people can connect through their culture to classical music," Detrick states.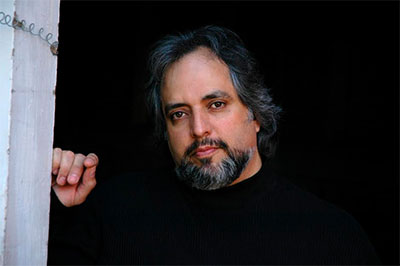 And what better way to connect to the diversity of Texas than by commissioning a work by a Texas expat? On Jan. 8th, the group performs Texas Roots, featuring a new composition by Arthur Hernandez, the fifth composer in what Apollo Chamber Players hopes to make twenty. Detrick explains how Hernandez's piece represents the multifaceted culture of Texas, "The piece is an arc, so it starts out with night sounds, sunrise, spring, and the woodlands area just north of Houston. It blossoms into where he arranges folk melodies, Texas fiddle tunes, Spanish motifs and Tejano songs weaved into the second movement, and the last movement is quite evocative of the west Texas deserts, Franklin Mountains, and Big Bend area – the beauty but also the harshness of the landscape."  The experience of composing about his native state made an impact – Hernandez will return home to El Paso in 2016. Texas Roots is also a collaborative effort, integrating a multimedia experience with images by Houston photographer Jesus "Chuy" Benitez, who explains how his work fits with the music: "My photographs are muralistic and cinematic views into the contemporary life of Latinos, which is a wonderful mix of old and new Mexican traditions set in the Texas landscape."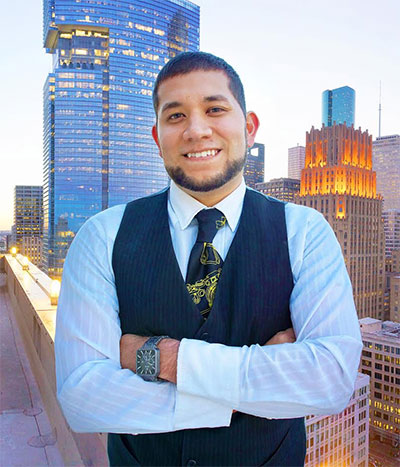 By the end of the 2015/16 season, Apollo Chamber Players will commission and perform world premieres of new pieces from seven composers of various cultural backgrounds and folkloric influences. "This season is looking at blurred boundaries between classical and folk music, as well as other genres, like rock and jazz…We are exploring how composers use oppression to inspire them to write beautiful music in the process of composing," Detrick states.
In the ever-changing arts climate, organizations like Apollo see the benefits of blurring the boundaries of tradition. For Apollo Chamber Players, commissioning new works allows the musicians to interact with their audience's ethnic heritage while, providing a context for modern classical music.
HOLLY WALRATH