Jake Buchanan (Billy), Linda Leonard (Alice), Bill Jenkins (Bill Sr.) and Kelsey Milbourn (Jane) in Clever Little Lies by Joe DiPietro.
Photos by Tim Long.
---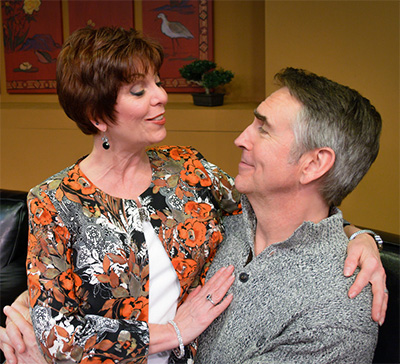 Clever Little Lies is one of those droll comedies that made Neil Simon so popular back in the 1960s and 70s. A throwback dramedy written by Tony award-winner Joe DiPietro (I Love You, You're Perfect, Now Change, Nice Work If You Can Get It) not so many years ago, Lies just completed playing Off-Broadway starring Marlo Thomas, best known for her popular 1960s television show, That Girl.   And while the New York production may have been a stroll down memory lane, the current regional premier of Clever Little Lies at Circle Theatre in Fort Worth (through Mar. 5), must stand on its own merits with an all-local cast. Happily, it's no lie to say the locals carry no shame.
But shame does spur the plot as parents Alice and Bill (real-life couple Linda Leonard and Bill Jenkins, respectively) go to extremes to save the marriage of their son, Billy (Jake Buchanan) and daughter-in-law, Jane (Kelsey Melbourn), who is also nursing a newborn grand baby. But while Jane is home spending all her time being a parent, her hubby forgets his role and is in hot pursuit of a young gym instructor, whom he believes is his soulmate, or at least a better sex partner. Billy, a frustrated jumble of nerves and guilt, confides his infidelity to dad after a game of tennis, but swears the elder to secrecy. Of course, there's not much you can hide from a nosy mother, and soon the parents are on the phone insisting that the youngsters drop evening plans to visit them for talk of "this and that." The ambush is set, and the plot generally plays out exactly as one would expect.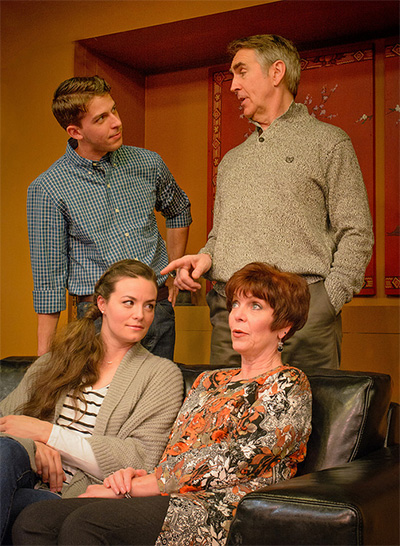 Unlike the more PG-rated Simon scripts of decades ago, Lies is tarted up with a splattering of four-letter words and vulgarities presumable for today's more open-minded audiences. But those modern blemishes aside, DiPietro gives each of the characters some shading, making them far more human that your average sitcom. It helps that Jenkins and Leonard's off-stage chemistry pairs them perfectly natural as the anxious parents, with mom carrying a secret of her own which she uses as a remedy to confront her confused son. It's a revelation that slows the paced laughs in the funny script, but adds a touch of poignancy that fits nicely into the storyline, and helps to contrast the different generations and expectations that come with maturity.
Buchanan's anxious performance plays nicely against Jenkins' more grounded presence, with the elder able to wring laughs from a simple shift of the eyes or subtle gesture. Melbourne also gives a nuanced performance as the put-upon wife who is battling her own inner demons about her role as mother and spouse. Leonard makes the most of her own moments, striking some of the bigger guffaws but also displaying some needed tenderness to get the show grounded.
But for all the shouting and confessionals, the tone remains light with the chortles plenty, especially in the first hour of the 90-minute play. One thing that is nice about Circle Theatre productions—and is the case here—the set and technical aspects of the show are straightforward, and work to set each scene without over emphasizing the story or worse, engulfing the performances, which in Clever Little Lies ring true.
-SCOT C HART