Gerald Taylor II and Charli Armstrong in Dallas Children's Theater national touring production of John Steptoe's Murfaro Beautiful Daughters: An African Tale, June 23-July 9.
Photos by Karen Almond.
---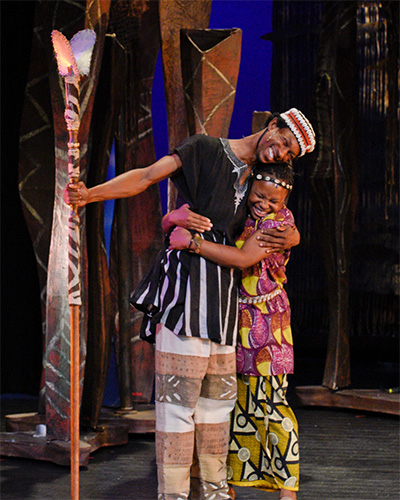 At first, the schoolchildren who are filing into Dallas City Performance Hall with wide eyes and the occasional giggly outburst might seem excited simply to be out of the classroom and on a field trip. When they return to the lobby an hour later, however, that excitement is clearly the result of what they have just experienced: a live musical version of John Steptoe's beloved book Mufaro's Beautiful Daughters—An African Tale.
This isn't Dallas Children's Theater's first brush with Mufaro; the company also produced it, with Karen Abbott's adapted script and music and lyrics by S-Ankh Rasa, to great critical acclaim in its 2008-09 and 2011-12 seasons. However, for these kids, it's likely the first time they've seen the Caldecott Award-winning book brought to life onstage. For some in the audience, it might be their first experience with live theater, period.
For that very reason, touring has been an integral part of Dallas Children's Theater's mission from the beginning. In 1985, during its second season, DCT traveled to Austin with a production of The Legend of the Bluebonnet. By 1989, the company was touring statewide and regionally, and 1996 saw the launch of its first national tour. DCT went global in 2006, performing at the Shanghai International Children's Culture and Arts Expo in China. The company even counts a tour as its major turning point: the stage adaptation of Steven Kellogg's The Island of the Skog in 1998, which was ultimately presented at the Kennedy Center.
"I've never known a world without the theater, so it blows my mind that our show might be their first experience, one that they may not have had otherwise," says Charli Armstrong, who plays Manyara, the selfish and egotistical sister in the Cinderella-like tale of Mufaro. "That means the world to me."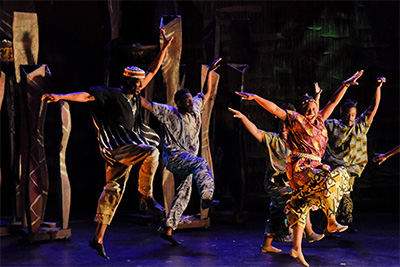 Armstrong is a DCT touring veteran, having played Manyara in both previous productions and appeared in The Musical Adventures of Flat Stanley in the 2014-15 season. This year's tour, which is directed by DCT artistic director Robyn Flatt, visited 64 cities between September 2016 and June 2017, when it returns to Dallas and the Rosewood Center for Family Arts for 10 performances.
Steptoe's story tells of the African villager Mufaro, who is eager to accompany his daughters Nyasha and Manyara to the palace when he hears that the Great King is looking to select a wife from among the land's "most worthy and beautiful daughters." Manyara believes herself to be the better choice, and sets out alone the night before. She has several mystical encounters on her journey, and does not always deal with them wisely. Nyasha endeavors to rescue her sister, proving that kindness and selflessness are truly the most beautiful qualities.
Though school matinees are a large part of the tour, there are also public performances. Armstrong notes that it's not unusual to see kids from the school performances at the public shows; she reports that the parents will say their child insisted they come back and see it again. Schools often also organize talkbacks, which allow the children to ask questions of the performers and crew, while the venues will usually host meet-and-greets following the public shows. It's during these events, Armstrong says, that she truly gets a sense of how much of an impact DCT is making.
"We're always surprised by what we get asked," Armstrong says. " 'Is the fire real?' 'Is the food real?' 'What makes the lights?' 'Are you actually sisters?' Today it was 'What inspired you to be an actor?' and I had to tell myself not to cry. Sometimes I'm  asked, 'Why are you so mean? Are you mean in real life?' and then the rest of the cast answers for me. But I appreciate that question, because it means I'm doing my job right."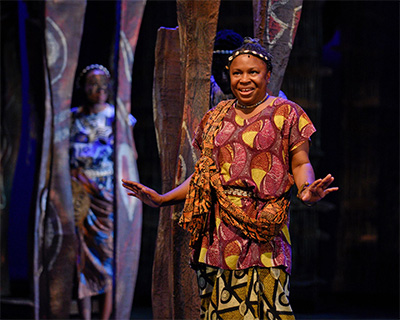 John Michael Moss II, who has worked with DCT since 2007 and is the stage manager and technical director for Mufaro, also loves the Q&As. He sees them as an excellent opportunity to introduce children to all the components of live theater, from designing to directing to stage managing and beyond.
"They get to see that it takes a village to create a show and put it all together," Moss says. "An experience like this could spark an interest in them, and make them want to pursue something they previously might not have even known about."
The talkbacks also drive home the importance of literacy and reading, which are at the core of everything that Dallas Children's Theater does. Previous tours have included such literature-based titles as The BFG (Big Friendly Giant), Stuart Little, And Then They Came for Me: Remembering the World of Anne Frank, If You Give a Pig a Party, and The Stinky Cheese Man and Other Fair(l)y (Stoopid) Tales. "In order to be an actor, you need to be able to read. If bringing literature to life is how we keep kids in school, then that's how we do it," Moss says.
Dallas Children's Theater's reputation for high-quality production values doesn't waver on the road. Mufaro, for example, utilizes Randel Wright's abstract design for African terrain, Barbara Cox's colorful African garb, and Linda Blase's evocative lighting.
"We hear frequently from parents that our show was the best that they've ever seen at that venue," Armstrong says. "We're always so flattered when we hear that, knowing that we're able to give Mom and Dad a great experience too, something that they can all enjoy together."
—LINDSEY WILSON